June 28, 2008
0

found this helpful
Best Answer
Use a fly mask for his face.
By iluvtwh (Guest Post)
August 21, 2008
0

found this helpful
Best Answer
I use Gordon's pony and horse spray. It works really well, and I also use a fly mask on my horses. But here is my secret; I put like 2 ounces of mineralized salt in their food. Once the salt is through their system, when they poop, the flies do not hang around the poop in the stables. People always comment about the lack of flies.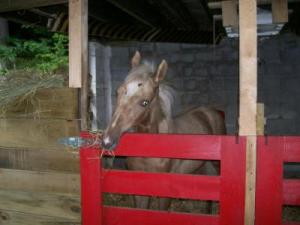 October 2, 2008
0

found this helpful
Best Answer
I have 10 cats, a dog, 5 cockatiels, a goat and chickens and just started using Diatomaceous earth. I bought FOOD GRADE Diatomaceous earth because I want it IN the animals as well as ON them and around their sheds/coops/bedding, etc.
Make sure if you try it, to use only the FOOD GRADE Diatomaceous earth.

August 20, 2009
0

found this helpful
Best Answer
I started using Bug Check for my horses this spring and boy, does it work! Give it about three weeks from the time you start feeding it and you will see the difference. I buy mine through KVvet, in the 10 lb. size. It has garlic and diatomaceous earth in it plus some other things. By the way, if you give your livestock diatomaceous earth, you do not have to worm them.
By Teri Moody (Guest Post)
June 27, 2008
0

found this helpful
I use kerosene, water and dishwashing liquid (any kind) mixed equally. Put in spray bottle avoiding eye area. I have been doing this for years and it has always worked for me.

June 30, 2008
0

found this helpful
Avon's Skin So Soft.
It also works to keep fleas off dogs. My mother rubbed it on her little poodle when she bathed him.
It seems like I have heard that it has been used at county fairs on horses to keep flys off, And it smells nice !
By Cranberry's mom (Guest Post)
August 6, 2008
0

found this helpful
I was just reading about how to get rid of gnats on another site and I keep seeing where people were using vinegar, and some dawn dish soap in a shallow bowl to ATTRACT the gnats over, then they would drink the vinegar and would die from ingesting the soap. So how does the vinegar work as a repellent as well? I have had pretty good success with Absorbine Jr. as a repellent around the faces of my camels, zebras, horses as well as myself. I have just moved down to South GA and the gnats were about to carry us away. Hope this will help some of you as well.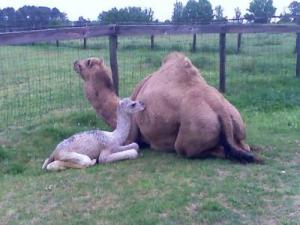 June 10, 2009
0

found this helpful
Betty, try apple cider vinegar, put it in a spray bottle and spray it on your animals. I do this for my pets and chickens.

June 23, 2016
0

found this helpful
There blankets to ward off flies and insects. They are striped like zebras, and are buenisimas.
Look at this article, here explains it best: