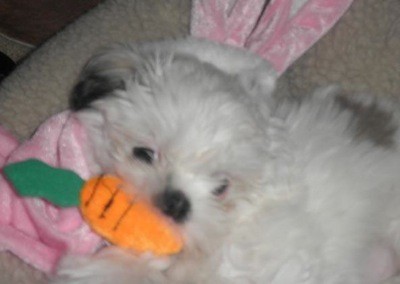 Lil Missy is 4 months in this picture (Easter). She is a Shih Tsu. Lil Missy is my Birthday gift, I'm 52. I have always wanted a small doggie. Lil Missy is three 1/2 pounds. Lil Missy is like a baby doll, a baby that won't grow up to be big.
I wanted a puppy to stay very small. She's my baby at 52! Can't beat a puppy that wants to be held all the time like a baby!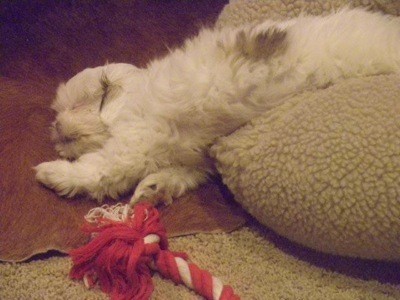 Lil Missy plays with her toys, a bunny rabbit (big as her), a stick from outside, a red and white chew toy, til she wears herself out! She snuggles in her snuggley bed. She runs around trying to get her furry little shih tzu tail, It's so cute.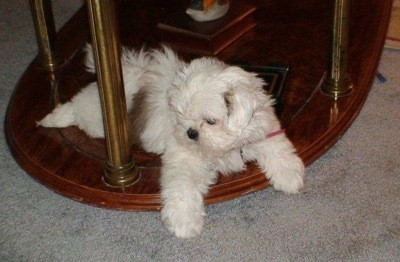 Lil Missy was at Easter with our family, she had a blast chasing the children around outside, hunting Easter eggs. Center of attention. Once the Easter egg hunt was done, we went inside as shih tzus don't like heat.
She ran under my Mom's coffee table and just lay there happy to be alone.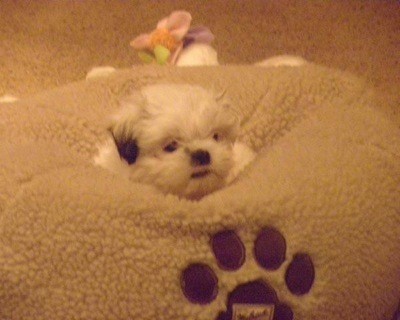 By Janet Hicks