I grew up in a family who knew The Great Depression. They made a Great Impression on how I lived, as well.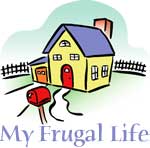 My Grandpa raised his own hogs, and showed me how to make a ball out of a hog bladder early on. (You just tie up one open end, blow it up, then tie off the other end.) He and my Grandma both showed me how to garden, save the seeds for next year, and use leaves plowed under to fertilize the soil so no fertilizer ever had to be purchased for their farm. My grandma made most if not all my clothes, some from empty flour sacks and feed sacks.
Grandma also taught me to make my own toys and to play with nature's gifts. I used scraps of cloth to make doll clothes for paper dolls I had cut out of magazines and pasted onto pasteboard which came out of newly bought dress shirts, etc. I used scraps of soap to make my own bubble solution, and used her empty spools from thread to blow the bubbles. They work much better than today's bubble stuff, too.
Grandpa was thrifty with power and heat, as well. He sat by the fireplace in the evenings of winter, lights out, singing hymns with us. We loved it, and cherish those memories to this day. When it came time for bed, the fire died down, and out came the horse-hair blankets for our bed. We were plenty warm without any heat in the house, and Grandpa would be up and heating the house back up before we got up. We used a nice, fresh snow to make snow ice cream, rather than buy it, and would put extra in the freezer to make ice cream on July 4th every year.
Life was simple then - no cellphones to answer, no TV to mess with our minds as it does many today (I do not watch TV even now, though my hubby does). We made friends with farm animals, and had cats to catch mice, dogs to guard our house, a horse to ride, a mule to plow, and goats to milk and keep the grass cut nicely. Chickens laid our eggs, or became Sunday dinner.
We even grew our own peanuts. The only way my grandma could keep me out of the peanut barrel (she thought!) was to tell me they would give me a belly ache if I ate green peanuts. I ate plenty and never got a belly ache! haha. A simple, frugal life can be very good, when one does not mind working at it a bit.
By Jacketbacker from Greer, SC
Do you have a frugal story to share with the ThriftyFun community? Submit your essay here: http://www.thriftyfun.com/post_myfrugallife.ldml