No longer do you have to hold your hot mugs by the handle only, make a few mug wrappers and do away with the strain on your fingers. What a great gift and quick to make.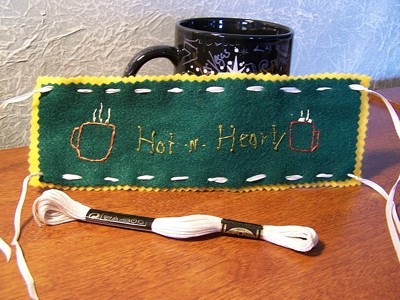 Approximate Time: 20 minutes
Supplies:
2 colors of felt
yarn or ribbon
floss or fabric paint
water proof glue
Instructions:
Measure around your mug from handle to handle and from top to bottom then subtract 1 inch from the height. Make a pattern this size for your bottom layer and another pattern 1/2 inch shorter both lengthwise and height wise for your top felt layer.
Cut out both, one from one color and one from the other color. I used pinking shears; you could use decorative scissors or leave plain, or just cut one layer with a decorative edge that's up to you.
Decide on the pattern you want to stitch or paint on your top felt layer; I drew mine on paper the size of the top layer just as I wanted it too look. Then I centered the pattern and marked a few points with chalk so I had a base to work with then free stitched it on. I have listed some other ideas at the end of these instructions for you.
When your stitching is done use your water proof glue on the back to secure your knots if you stitched your design. While your glue is wet center your top layer on the bottom layer.
Run your yarn or ribbon through the top and bottom edges leaving 5 inches for tying on both ends. You may want to make a small hole in your felt to run your needle through. Tie a knot in your ribbon at the ends of the felt to secure it. You could just glue the two layers together and attach your ribbon at the ends of your wrapper, if you do make sure to attach your ribbon through both layers so it doesn't tear out.
Have fun and keep your hands cozy with mug wrappers!
Design ideas:
Hot and Hearty
Soups On
Hot Cocoa
Java
Give Me My Coffee
For Christmas Mug Warmers – stitch bells, trees, gifts, teddy bears, wrapped gifts, or garland. Personalize with initials or what a person may collect such as apples, chickens, and snowmen.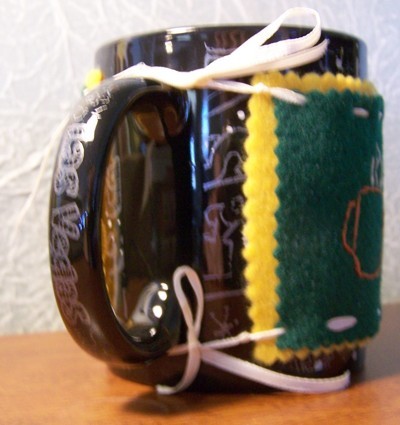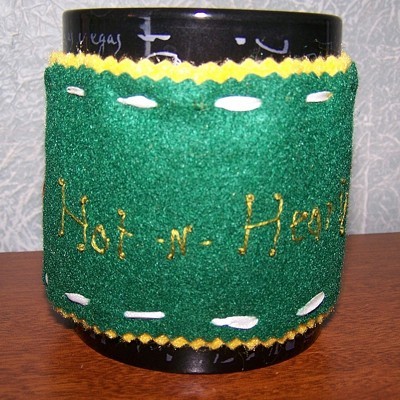 By Ann from Loup City, NE