April 9, 2011
1

found this helpful
I just made one. My grandmother and I used to make them as kids and she is still alive and we sat down and figured out the pattern. It turned out so cute. I will take a photo and post it as soon as possiable.

September 23, 2018
0

found this helpful
Can you please send me the directions for making this... I don't understand the ones posted

October 9, 2018
1

found this helpful
Thank you so much for the instructions. Could you please post a picture of the white one.. I am trying to get the eyes and beak pattern and it's hard to see on the blue one.

February 13, 2019
1

found this helpful
I was wondering if you will send me the pattern for swan.
Thank you

May 2, 2021
0

found this helpful
Hi there .i would love the pattern for a white swan to make for my grand daughter .i made one many moons back but carnt remember how to do it as i had help back then .i just remember has lovely it looked .
Thankyou kindly Cheryl

May 12, 2021
0

found this helpful
I made these with my mom! I would love to make one again!!! Could I please have the pattern? I can almost do it in my mind. Not quite. Xo Janice Janice.eastman@yahoo.com

April 10, 2011
2

found this helpful
-first cut and shape coat hanger as shown
-next wrap neck with gauze then with net I make mine thick
-cut your net 50 inches long and 4 inches wide, fold in thirds and take 1/2 of a thin pipe cleaner to tie it in the middle.
-fluff it up to look like a pom-pom, and start twisting them on.
-when you have enough on use orange felt for the beak, black fet for around the eyes and black beads for the eyes.
I have made a white one too and it is prettier. Any questions feel free to contact me.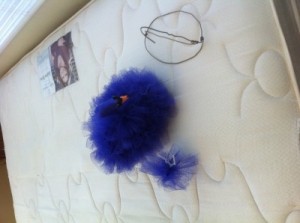 July 30, 2021
1

found this helpful
Hello
Once you have the Pom Pom made how to you put on the wire form? Do you have a tutorial video
May 22, 2022
0

found this helpful
it's really hard to see the photo. My mom used to make them for vacation bible school for kids also but she passed and I really didn't get to learn to do this

November 17, 2022
0

found this helpful
Thank you so much!!!
How do you tie on the pom pom to the wire frame? With the pipe cleaner? How many poms do you need approximately?
?
Any more pictures?

November 14, 2014
2

found this helpful
When I was 9 years old, I made a Swan in vacation bible school and gave it to my Grandma as an"I love you"gift. She made me feel like I was Picasso himself with my art work.
My Grandma has passed on and I am a grandma myself. I cannot wait to pass this swan on to my grandbabies and make them feel famous in my heart and theirs.

April 20, 2017
0

found this helpful
I was probably 5 or 6 yrs old when I made one at Sunday School at Church. I am 3 months shy of being 60. I will never forget the beautiful pink swan I made out of a coat hanger and crinoline. I have a 5 ur old granddaughter who loves to do crafts with me. I am going to do this with her and I hope this is a memorable to her as it still is for me. We were dirt poor and this was and still is, the most beautiful thing I ever made in my life! I hope she loves hers just as much! Always, Sharron Graham (Mimi)

April 23, 2018
0

found this helpful
How many hangers do I need?