joan pecsek
Bronze Request Medal for All Time! 66 Requests
December 29, 2009
2

found this helpful
You can have a DNA test done on a dog. It costs about $45.00. My niece was told she needed vicious dog insurance because her dog was a rottweiler (it looked exactly like one), but the DNA test showed it had no rottweiler in it. That test could save you a lot in insurance money. As the other poster said, those are famous last words, Pitt bulls have been known to suddenly turn vicious. Google, "DNA testing dogs".
January 25, 2016
5

found this helpful
No dog "suddenly turns" vicious. I am sure that there are warning signs in every dog attack you might be referring to in this instance. Most people just don't know how to read them.

February 28, 2016
5

found this helpful
"pitt bulls have been known to suddenly turn vicious"...I would like for you to produce a journal article or study that proves that "pit bulls" specifically are known to do this. There are actually many scientific study articles that show herding dogs to be the most commonly aggressive dog breed with most common being Australian Cattle Dog yet these dogs are commonly seen as friendly, non-fear-inducing dogs.
PS: I'm a veterinarian and own a pit bull who I would trust more than any dog I've met thus far in my life.

November 9, 2017
2

found this helpful
I had a collie/aussie cattle dog cross and she did not like big dogs at all and I'd never have her off leash in public places as a result. Lots of people were intimidated by her because she looked like a black GSD and I'd politely step off the sidewalk to let them pass. She was very friendly, loved children and got along fine with cats. Had her for 17 years, no problem with people.
I now have a bulldog/hound/pointer cross (according to DNA) who is small dog wary and wary of men, but otherwise has no issues and in fact is better behaved on walks than my aussie was.
She's also been accused of being a pit.
Btw, she's small dog wary because she has scars all over her face from being viciously attacked by one. It happened from when she was a puppy and from what I understand she didn't bite back.

February 12, 2019
0

found this helpful
I have had many pit bulls in my life. Not one veterinarian ever told me that this dog is known to suddenly become vicious. Uneducated people love to say it. Same as uneducated people about any subject. They vomit out what they saw on the 5 oclock news. None of my dogs ever bit me. I currently have a chihuahua that has bit everybody he has every met, human or animal. If he was a pit bull he would have been put down a long time ago, but his bite doesn't do the damage that a pit bull's bite does. I don't believe any breed bites more than another, I believe it's about the severity of the bite when it happens. The statistics on dog bites are so skewed they should not be considered when it comes to who bites the most because most breed's bites aren't being reported, while every pit bull bite is being reported.
Pit bulls are powerful animals to be respected, not feared. If you can't drive worth a crap, you don't need a Corvette with a lot of horse power because you will crash. If you don't know how to keep a Boston Terrier in line, you do not need a pit bull or any other bully breed that has the potential to hurt somebody severely. Do some research on all of the history of pit bulls and you might change your mind. If you are somebody who's child was bit or killed by a pit I understand your frustration, but that's the same as if a man kills them, and you decide let's ban white guys, or whatever color the guy was. It's ignorant and based solely on feelings.

OliveOyl
Bronze Feedback Medal for All Time! 138 Feedbacks
December 29, 2009
2

found this helpful
Looks like an American bulldog to me.

December 29, 2009
3

found this helpful
Who is telling you that you need "vicious dog" insurance? Your town? Your friends? Talk to an insurance agent who can tell you what your options are. When I got my first pit, my homeowners company dropped me, but my agent was able to get me better coverage cheaper, so it really was a blessing in disguise. ALL that said, I do have what's called an "umbrella" policy that upgrades all my policies.
Anyone who owns a house, drives a car or ANY kind of dog should have plenty of insurance in our society where people can and will sue over anything. Here is a picture of one of my dogs, trying to squeeze into a cat bed because the cats won't let her use the dog bed.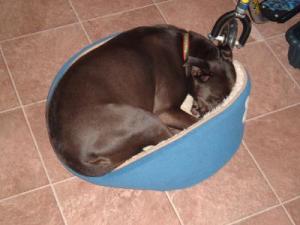 December 30, 2009
1

found this helpful
Well I called my insurace company and begged and pleaded and now they are going to cover her so now I have no worries and I get to keep my baby thanks so much for all ur imput it was help full to me!!

Lilac
Silver Feedback Medal for All Time! 450 Feedbacks
December 31, 2009
0

found this helpful
The reason, of course, that insurance companies charge more, or won't insure certain breeds of dogs is because the odds are they will have to pay off on that dog. Even if your dog is not pit, or if she is and you are able to pass her off as not pit, does not guarentee the dog won't bite or that you won't get sued if she does.
I hope you live where leash laws are inforced. Every dog who has bitten has owners who have sworn the dog would not bite.

April 10, 2017
1

found this helpful
And every jackass that hasn't ever been in these shoes and owned has no clue. Dobermans German Shepherd Chihuahua and huskys can turn on a dime and been known to attack

June 8, 2017
1

found this helpful
Any dog of any one of those breeds. Is that really your take or your statement? The majority of the time it is about owner, with any breed. Just like it's usually the parents fault when children grow up to make bias blanket statements without any real knowledge. Name calling is another characteristic of poor parenting. Fortunately it isnt too late to teach an old dog new tricks!

Beth
Silver Feedback Medal for All Time! 407 Feedbacks
January 1, 2010
0

found this helpful
American Bulldogs do look a lot like Pit Bulls. You can probably find out from your vet where to get a DNA kit. And to Foxrun, this person was looking for help, not judgement.

January 1, 2010
1

found this helpful
I'm glad you were able to get the insurance. Ohio has BSL that makes it harder when you own a bully breed. We ended up going with Farmers Insurance. We have an American Staffordshire. I just needed to say that those people who assume that a dog is vicious, just because they are a certain breed, are ignorant! Before you go making statements, do your research. On temperament tests, bully breeds score higher than most other breeds. They have a consistently high score. By breed definition, they are human friendly, bonding very well--and are great with kids. They can be dog aggressive, if not socialized enough. BTW, a friend of ours had their boy bitten in the face by a Golden Retriever--had to get stitches and was traumatized by his experience. The dog attacked--suddenly, and unprovoked.

April 7, 2017
3

found this helpful
I was bitten in the face as a child by one of those weiner dogs. (I can't think of the name it.) I had been to my friends house several times. Some of my friend's other friends were provocing her dog and I didn't know and walked into the garage past her dog and she jumped up and latched onto my face. It was mortifying. In my experience, I have noticed smaller dogs will bite you faster than a bigger dog.
November 1, 2019
0

found this helpful
We are here in erlanger ky 14 miles outside of Cincinnati ohio we are from wv we are relocating for our baby who will be born at Cincinnati children's hospital and we have 2 pit bulls any advice on what to do as far as the pet restrictions in Ohio when it comes to renting here should I go to vet and have DNA testing done and weighing my dogs to show proof of breed and weight we cant lose our dogs we have gave up a really great life to try and relocate here and any information on renters inc as well that seams to be the 3 big things I keep running into DNA weight and renter's inc not unless you know someone we could possibly rent from up here this is crazy

January 1, 2010
1

found this helpful
My sister's dog is a twin to yours and her dog is full blooded boxer. I would have DNA testing done just to see.

January 1, 2010
0

found this helpful
I have an American Bull Dog and thats what your dog looks like to me. Google em and see! :)

January 5, 2010
1

found this helpful
Your baby looks like a boxer to me. boxers have this rather narrow, triangular face with a slightly longer muzzle. Look at a bull dog's face, it's bigger, rounder, or I should say square, real heavy, blocky look to it with a shorter muzzle. They tend to be stocky, shorter legged than your baby.
Pits are not narrow and triangular headed at all. Boxers are happy go lucky goof balls. Pits are wonderful if you train them right, but are more serious than boxers. boxers are the clowns of the dog breeds. pits are often much more massive in the shoulders and across the chest than your baby, as well. I think you have a boxer mix.
Everyone needs educated that it's more the owner that creates a bully dog than the breed. let's put the blame where it belongs-and then rectify it. also, we all need trained to know the difference in looks between what are deemed to be bully dogs, and their "look alikes"...which, on a closer examination, do not really look alike. We have had enough of the fear, let's get educated!

January 11, 2010
0

found this helpful
You have a beautiful dog, looks more like an American Bulldog to me. look them up on the net and see what you think, his nose isn't squashed enough to be a boxer cross! Hope that helps :-)

June 23, 2010
0

found this helpful
I'm sorry. I don't think the dog is a Boxer. I think she looks like my Lizzie who is an American Bulldog. She is sweet and loveable and overweight. I think it's all in how they are raised. But I still use caution around kids and other animals that she is not familiar with. She is a spoiled rotten house dog, but we love her.