By Michelle from CA (Guest Post)
September 14, 2006
0

found this helpful
Have you tried crate training? We have had numerous dogs, including bulldogs, and that worked great for us. Also, be sure to take your puppy outside at regular intervals, especially after meals, and give him positive reinforcement when he goes.
Please don't chain your puppy up outside. Bulldogs are very social dogs. If you chain him up outside away from the family, you are separating him from the pack and essentially punishing him. He won't learn effective social skills either and you'll have behavior problems down the road.
September 14, 2006
0

found this helpful
Have you tried crate training? We've had numerous dogs, including bulldogs, and that has worked great for us. Also, take your puppy outside at regular intervals, especially after meals, and praise him when he goes.
Please don't chain your puppy up outside. Bulldogs are very social dogs and doing that would separate him from his pack. It would also prevent him from forming the social skills and receiving the love he needs. Finally, you would have a lot more problems later on as he get older.
By stacy (Guest Post)
September 15, 2006
0

found this helpful
i think it would be fine to tie them up we tie our dogs up outside to go to the restroom. just get them some toys and put food and water outside and the dog should be fine!
By Jacque. (Guest Post)
September 15, 2006
0

found this helpful
Please don't chain your dog! If you will check with your local humane societies they will tell you its' wrong for very many reasons to chain a dog up.
September 15, 2006
0

found this helpful
Please don't chain your dog up outside, at least not for any length of time. He will not be happy and he will become a behavior problem and an annoyance to your neighbors by barking all the time, especially when you are gone and your neighbors will not like you very much!
If you plan to keep him inside and your only problem is house breaking, I highly recommend crate training. It works if you set a schedule and follow it and your relationship with your pup will be much improved. There are websites on the internet to teach you what to do, or you can go to the library and check out a book to learn how.
By rosa (Guest Post)
September 15, 2006
0

found this helpful
PLEASE DO NOT CHAIN HIM UP OUT SIDE this is a NO NO !!!!!!! when you clean up his poopies, take it outside, and put it in a spot where you want him to go potty . Take him outside every 2 or 3 hours and take him to " his smell " he wil get the idea, he is very young yet, this will take time , my personal experience is to wait till puppies are at least 10 weeks old before leaving mama, she can teach him to go outside to do his business better than a people parent. YOu can always crate him too, but he will still not know why he is being crated, unless you take him outside right away after letting him out of the crate, you will have to go or take him out immediately after coming out of the crate, so he can go potty , then give lots and lots of praise, pets and and maybe a big hug and tell him what a good boy he is for going potty OUTSIDE !!use the word outside too with your praise.
YOu can buy house breaking aid ( a liquid ) and put a few drops of that outside too where you want him to go. BUT PLEASE do not chain him out side , he is too young to even understand why he is being "punished " for being outside without his parent !!!! Just like potty training a people baby. YOu don't chaing a young child outside do you ?????
By Rottweiler (Guest Post)
September 17, 2006
0

found this helpful
Please do not chain him up outside. Do we chain our children up outside? When we think about getting a puppy, we know there is 'n lot of work, cleaning up, and lots and lots of patience etc. involved. If we are not prepared to do that, don't get a puppy. They need lots of love and attention, not punishment and being chained up and mistreated. Enjoy your puppy and give lots of attention and praise and when he is grown up, you will see the fruits of your labour - a loving, non-aggressive dog.
By Denise (Guest Post)
July 22, 2007
0

found this helpful
chaining up a 6-8 week old puppy is abuse!
By Bulldog mommy (Guest Post)
September 12, 2007
0

found this helpful
I dont know why everyone in here is only telling this person who asked a question not to chain the dog up outside. You all are being no help to this person.
I would advise you to get some puppy pads, puppy pads are grest for little dogs and it may take a couple of weeks. When the puppy poos on the floor simply take the puppy to the pad tell him No in a stern voice and sit the puppy on the training pad but if you do not want puppy pads then do the same thing but instead of putting it on a puppy pad take him outside wait until puppy goes and praise him when he does. I hope that this bit of information will help you !
By Becca (Guest Post)
February 3, 2008
0

found this helpful
The reason it is unacceptable to chain a bulldog up outside is because they are very sensitive to cold and hot weather.
Bulldogs are extremely intolerant of heat. They must be kept in an air-conditioned area with limited trips outside when the outside temperature is over 80 degrees or the humidity is high. Close supervision is required during outside activity, especially in spring and summer to prevent over-exertion leading to over-heating. They also are not usually capable of prolonged physical activity whether the temperature is very warm or cold.
Also Bulldogs are VERY sought after dogs and they are prone to theft so leaving your puppy or dog chained up outside could result in someone who has no experience with the breed taking and making mistakes with your dogs health.
I assume you know about the special grooming process with the wrinkles and tails ? If this is not done on AT LEAST a weekly basis you're puppy will get skin infections that can lead on to even more serious things.
Perhaps this breed is not for you and I believe that in America there are a number of great rehoming centres for bulldogs. If you can't look after your dog properly please consider this option. Feel free to get in contact with me if you need any advice.
By Judy (Guest Post)
March 1, 2008
0

found this helpful
I would NEVER chain up a puppy at 6-8 weeks old. Crate train him is an option, I raise Labrador Retrievers and Australian Shepherds, I also used to have Boxers. There is a book Called "Rover, Don't Roll Over By Jody Rosengarten. This is a Fantastic Book that uses common sense methods to house training, socialization, general behavior. But the bottom line is that: at 6-8 weeks old house breaking a puppy is like trying to potty train a newborn baby- It isn't going to happen with any regularity.
From what I have read about this breed without a lot of consistency. You can have a nightmare on your hands. Chaining any dog is frustrating, to any dog. I have had people buy a puppy from me and had them come out and find the puppy DEAD from hanging himself. Please Don't make the same mistake. Take him out for a walk, frequently, praise him for going outside, and push come to shove - Use some newspapers over sheet plastic for accidents, till he (she) gets older. Sorry for the sound of this, but the puppy is too young to speak for himself. Perhaps an older dog would be a better fit?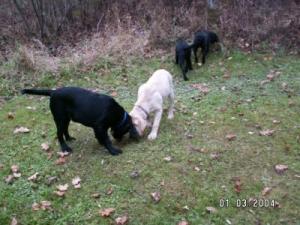 By Sandra (Guest Post)
March 4, 2008
0

found this helpful
You should NEVER chain a puppy or this type of dog outside. AB love being around their family and you may psychologically traumatize the dog by not allowing him to be with his pack - you and your family.
The best thing to do is crate train him. We did this with our dog and just when I thought he would never be potty-trained, he was! From what i have read back in my days of frustration, bulldogs take longer to potty-train for some reason.
Anyhow, a dog will NOT make a mess where he sleeps or spends most of his time .... this is why crate training is so effective. What you need to do is put him in the crate and while keeping him on a consistent schedule, take him outside every hour and wait for him/her to poop or pee. When he/she is done, praise him/her and put the dog back in the crate.
Only allow him out to potty and eat ... you can also leave him out for about 20-30 minutes to play but only AFTER he has went potty and AFTER he has been back in the cage for about 10 minutes. So, have him potty, put back in the crate, allow back out after 10 minutes, leave out 20 minutes to play, and put back in the crate.
Increase the time between potty breaks after a period of time. Like start off with taking him out to potty every hour, then make him hold it for 2 hours and take him out, then 3 hours, etc. Point is to teach him to hold it.
You must remain consistent or it won't work. If you remain consistent and do it the right way, your dog will be potty-trained! Also, while doing this, take him out to potty again on last time as late at night as possible. I am a night owl and let my dog out at 12am. After that, I put him in his crate and did not let him back out until the morning. He NEVER peed in his cage or anything cuz he simply wont go where he sleeps.