September 7, 2010
0

found this helpful
Best Answer
I have a Chihuahua (Chica) with the same exact problem. She was about 6mos when I adopted. She is now 2 1/2. The key is calm. The first 6 months, we went to the dog park to get her social with other small dogs. I asked (and still do) that the humans, especially children, only try to touch if she touches you. I tell them to pet the other dog. It still takes about 30 min before she gets into the mix with other doggies. Chica also seemed to be drawn to very calm people/dogs. She can sense frenetic energy of others.
We have walked the same neighborhood path for months, until she was used to lawn statues, garbage cans, joggers. Chica is 9lbs so we can have a nice brisk walk for her to remain focused on me and the walk. She still tries to turn around to go home. I think she senses the 1/2 mark since she picks up speed.
It helps tremendously having the other dog. We have a very social 6 year Yorkie. Now inside the house, Chica rules the cats, but the cats seem to love it. I ask visitors who come to the house to not engage either dog, it keeps things calmer.
I try to avoid picking her up, only on the most extreme circumstances (we are in a very public place and she just cannot handle it).
Chica loves to run, so I do have her do some obstacles in the yard.
She rarely hides or tries to jump in my arms. She just stands next to me (tail not tucked). When I see she is fine, I will pick her up and have my neighbor or whomever I am chatting with gently pet her. She doesn't cringe or pull away. I keep the interaction calm.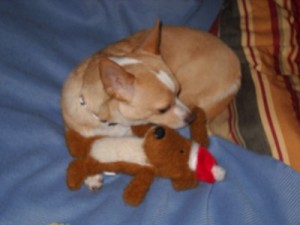 September 6, 2010
0

found this helpful
Patience and time is really all I can come up with or in a calm manner pick him up and let him smell the hand of a visitor and then let them pet him if he will let them. When we got my chihuahua female, we asked the owner why she was giving such a beautiful sweet creature away and she said that she and her husband had gone away for a couple of nights unexpectedly and the dog was left inside all that time. Well when they got home her husband went ballistic on the poor creature because she peed on the floor. The dog ran and hid everytime this man was in the home after that so she decided to give her away to give the dog some relief from all that fear. So we got blessed with this precious dog now and she is very very loving. She was apprehensive with my husband but after lying next to him in the recliner for hours at a time she is no longer afraid of men.
I wish you luck. Just don't give up on the little fella. He didn't choose to be afraid.