April 4, 2009
0

found this helpful
That starter may not work, but you can get a free starter from friends of carl home.att.net/.../
You just pay for the stamp. Then you have to wake it up. You will then need to follow a sourdough recipe for your bread machine. There are several to choose from if you do a search.

April 8, 2009
0

found this helpful
Hi, I make sourdough often, it's fairly simple and much cheaper.
Get a thick crock or thick container with a lid (not metal, prefereably ceramic or glass) Put in 1 cup of flour, 1 cup of milk, 1/2 c sugar, and 2 t yeast. Stir and let sit until the next day. Do NOT seal the lid. The next day, stir, and let sit for another day. The starter should smell sour and be a little bubbly. Stir again, and let sit. By then it should have some alcohol and separated. stir up and you should be able to use it.
Remember to feed it every few days if left out, or put in the fridge and feed at least once a week. A "feeding" can be half of what you used to start it (but NO yeast). Every other feeding you will need to dump or use all but 1 cup and then feed the remainder (the 1 cup you kept).
Just get any sourdough recipe you like with your starter and add to your bread machine - use dough cycle but take out after kneading. Let it rise at room temperature or even cooler. The slower the rise, the better the taste, but do not let it over rise as it will stretch the gluten and become worn out, and will not rise much again. Let it rise twice. then shape, rise again, then bake!
I love my sourdough, nothing like the smell of fresh baked bread in your home. Enjoy!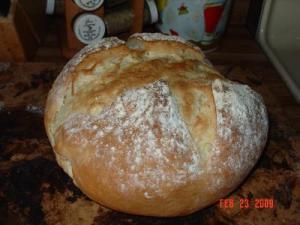 April 9, 2009
0

found this helpful
Go to this site, and scroll down to #16.
www.recipelink.com/.../9014
It is for sourdough in bread machine. There are a lot of bread recipes on this site,