This doll was made using some bits and pieces of lumber from my husband's cabinet shop. I just couldn't bear to see that nice wood go into the trash barrels.
I'd seen Carol Duval make a doll on her TV series, and decided to try. My doll turned out pretty close to the one she made. I didn't have a pattern, so I just made her from memory and trial and error. If it worked, I used my idea, and if it didn't work, I'd find a way to go around it.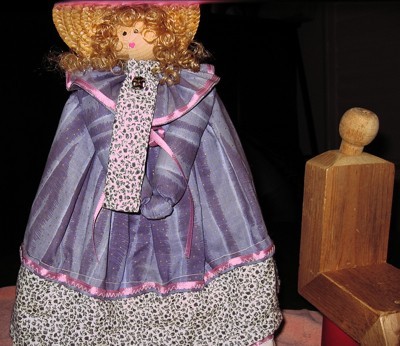 Approximate Time: About 4 hours as I sewed her clothing all by hand. I think it would go faster if you were using a sewing machine.
Supplies:
piece of 2 x 4 inch wood
scraps of fabric for dress, under-skirt, and apron
good sharp scissors
cotton stuffing for arms
any other trim or embellishment you want to add
pencil with eraser for making the eyes and lips
screws and screwdriver
faux hair and Elmer's Glue-All
piece of 1x4 inch wood
ribbon and lace
needle and thread
straw hat or make her a bonnet hat
red paint for mouth and black paint for eyes
round wooden ball for head
saw and drill
white or other paint for body and base
Instructions:
The scrap piece of 2x4 should be between 6 and 10 inches because that will determine how tall your doll's body will be.
The scrap piece of 1x4 wood should be about 6 inches long.
Attach the 1x4 piece of wood to one end of the 2x4 so that it will stand alone.
Use a couple of screws long enough to go through the 1 inch and into the 2x4. I use at least 2 screws to keep her stable.
I used the saw to trim small amounts of wood off the top edge of the 2x4 so that it looks more like "shoulders" for the doll.
Drill a hole up into the round wooden ball, and insert a screw head first. Glue in place and allow to dry thoroughly.
Drill a hole into the "shoulder" area of top of the 2x4 and screw the head on.
Now, we'll make the clothes. You'll want the dress to be long enough to reach from the shoulders all the way to the piece of 1x4 so as to cover it. Hem the bottom edge and add some lace so that the lace appears to be an underskirt.
Turn under the top edge of fabric, and gather tightly and stitch in place around the head.
Cut a piece of contrasting or the same fabric as the dress to form arms. The piece should be wide enough so that you're able to stuff it once it's stitched and turned to the right side. When you have it sewn and turned, tie a knot in the middle of the length. The knot becomes the hands looking as though they're folded. Stuff the arms. Remember when you're cutting the fabric for the arms, to make it long enough for both arms plus enough to tie a nice knot.
I cut small slits in the arm and dress fabric so that I can get a screw through everything to keep the arms in place on the body of the doll. Then I make a "shawl" to go over the shoulders and tie under the head. The shawl can be made anyway you like. You could even use half a crocheted doily by sewing a ribbon at the top to keep it from fraying, then tie the ribbon into a nice bow.

Give her an apron if you like.
The doll should look like she's holding her hands in front of her. She could be holding a drawstring purse if you want to make one.
Glue the hair in place on the head. With the eraser of the pencil, put one dot of black on the face for each eye. Add 3 dots for the mouth, placed in the shape of a rosebud. Keep it simple.

Give her a hat, either a handmade bonnet or a purchased straw hat decorated to suit yourself.
Give her a necklace if you like, even earrings.
She is ready to sit on the shelf to keep you company or be given to a friend.
I always name my dolls. This one is Amanda.
Any questions, just ask, and I'll do my best to help you.
The dolls can be made to sit on a shelf, by putting together the wood differently, and adding another section of wood. It requires a little more wood and work, but it works very well.
By Pookarina from Boca Raton, FL
November 10, 2005
0

found this helpful
Back in the 1970s there was a pattern for a rag doll in the Golden Hands Encyclopaedia of Crafts which was published in weekly parts. Unfortunately, I have lost my copy in a recent house move. Has anyone a copy of the pattern they could forward to me, as I would like to make it for my young grandchildren.

Lin Davey from UK
Answers
By guest (Guest Post)
July 19, 2007
0

found this helpful
I 'm looking for a Golden Hands doll pattern too. I have the doll that I made for my daughter 35 years ago. I am making a pattern from it, but would love to find the original. My doll is about 15" and has a yarn top knot, side curls and and an embroidered face. She looks old fashioned. Does that sound like your doll?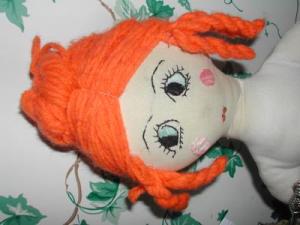 By guest (Guest Post)
June 15, 2008
0

found this helpful
Hello Paula! I am looking for the very same rag doll pattern for my mum as she's lost part of hers in a move too! Any chance you could send us a copy, please? We would be very grateful!
By guest (Guest Post)
November 25, 2008
0

found this helpful
I have just come across your requests for the golden hands rag doll pattern. I have one tucked away and I just wondered if Lin Charlieworm and Paula still wanted a copy?
March 5, 2009
0

found this helpful
Thank you Linda! I have only just seen your post when you reply, I'll give you my e-mail so you could maybe post us a copy?
January 31, 2010
0

found this helpful
Does anyone remember having seen a pattern for a reversible frog prince? He is approx 12" tall and turns completely inside out through his mouth. A green (obviously) frog on one side and a rather flashy prince (if a bit ugly!!) on the other. I made him about 20 years ago and cannot find the pattern now. I think it might have been a Golden Hands pattern.
April 15, 2010
0

found this helpful
She's beautiful! May I have a copy also?
May 25, 2011
0

found this helpful
Hello,
I know it's been a very long time since I've been on here.I still have the pattern if Charlieworm or anyone else was still interested in a copy.It has been well used.
Linda
September 20, 2011
0

found this helpful
Could I have a copy of this doll pattern please?
Thank you
Gee
September 25, 2011
0

found this helpful
Hello,
I would also love a copy of the Rag Doll pattern, I made several years ago
and would like to make one for the grandchildren.
Thank you
August 12, 2012
0

found this helpful
Could I please too have a copy of this doll? My mom made one for me about 30 years ago, and would love to have a copy of her. Thanks.
Answer

this Question

...
I'm looking for old fashioned cloth doll patterns. I can't seem to find any of the plain kind of "Raggedy Ann" type.

Tess40
Answers
By guest (Guest Post)
January 5, 2005
0

found this helpful
" i have a raggedy ann 10" up for auction on ebay It is 10" or you can order it from me item no : 5548577737 "
By guest (Guest Post)
July 29, 2005
0

found this helpful
I am looking for a large 30-40 inch annie or rag doll pattern to make a doll to look like a 3-5 year old girl
as well, have you had any luck?(primitive or country)
email me
rafused AT ns.sympatico.ca
July 29, 2005
0

found this helpful
You can go to www. clothdollconnection.com for free doll patterns . Happpy Sewing!!!
By guest (Guest Post)
August 27, 2005
0

found this helpful
I have a 1940 pattern of Raggedy Ann and Andy""
By guest (Guest Post)
October 26, 2006
0

found this helpful
I AM LOOKING FOR AN OLD PATTERN OF A HILLBILLY MOUNTAIN MAN PATTERN. MY MAMA USE TO MAKE THEM YEARS AGO. SHE NO LONGER HAS THE PATTERN AND WE ARE TRYING TO LOCATE ONE. WE LIVE IN THE TENNESSE/NORTH CAROLINA AREA.""
By guest (Guest Post)
July 17, 2007
0

found this helpful
I need a Raggedy Ann pattern but it must be free. Please do any of you guys know where I can get 1?
By guest (Guest Post)
June 3, 2008
0

found this helpful
Hello I would like to know if some one have the pattern with instructions and a photo of how too make a mum puppy? It's made with mum flowers. Thanks
Answer

this Question

...
I am searching for old doll patterns and doll clothes patterns from 1960 and before that time. I would like to make dolls from long ago if I can find existing patterns that are out of print such as Kewpie Doll, Betty Boop, Blondie, and other cartoons, etc. If anyone has these items or knows where I can locate them I would appreciate that so much. Thanks.
By Monica from Cortez, CO
Answers
Answer

this Question

...
I have some patterns for the Debbie Ann doll clothes, but I am interested in getting the Debbie Ann doll pattern and the party dress. I am willing to share my clothes pattern for the doll pattern.
By Debra from Nellis, WV
Answers
July 14, 2010
0

found this helpful
Is this the doll that looks like a cabbage patch doll? I googled Debbie Ann doll and that's what I got.
Answer

this Question

...