I have 3 dogs. One had became very ill. He did not want to eat or drink and was vomiting. I was sure it was parvo. Then he became 100% better. He's gained his weight back and is eating and drinking. Back to his normal self. Then a couple days later my other dog became ill as well. Same symptoms difference is he died today. Now my third dog is ill they have been vaccinated and everything.
Can anyone help me and tell me what it could be. Also another question. If your dog has parvo can he be ill one day then get better and not still be carrying the virus. Please help.
Christina from Texas
Editor's Note: Because they have had their vaccinations, it may not be parvo, it also could be. I also could be some type of poisoning. Best check with their vet.
Add your voice! Click below to answer. ThriftyFun is powered by your wisdom!
Add your voice! Click below to answer. ThriftyFun is powered by your wisdom!
May 20, 2012
0

found this helpful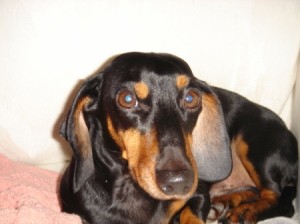 A tree removal company came by with a dog to my house. I asked them if the dog was up to date on shots and if it was or wasn't aggressive since I have an 11 year old Dachshund that is lonely after losing his sister last year. The man said that his dog had shots and does not bite. My dog was interested in visiting with the dog that they brought.
I was petting the dog and my dog walked up and it happened so fast I couldn't stop it, but that guy's dog bit my dog. The wound healed, but since then my dog has not wanted to eat or drink anything. He doesn't want to go to the restroom. He got a flesh eating rash and doesn't want to do anything. He is just laying around. I called my vet and he gave me instructions. My dog was vaccinated on August the 28th, 2011 so he is up to date on his shots. He finally went to the restroom, ate, and drank today, however I noticed his stool has slimy yellow-brown diarrhea. I am so pissed off. I am worried that this guy's dog gave my dog parvo even though my dog really is vaccinated. Is is possible this dog gave my dog a disease? I am taking him to the vet when they open on Monday.
By Karen M
Answers
May 21, 2012
0

found this helpful
I think it is very unlikely at his age that he could come down with Parvo. He may have gotten an infection from the bite however. I would be sure an see the Vet asap. I would also report the incident to the tree company that visited your home. People shouldn't be taking their dogs to work, especially if they are not friendly. Too much room for lawsuits etc. Your dog is so cute. I hope he feels better soon.
May 22, 2012
0

found this helpful
Besides taking your dog to the vet, I would contact your Tree Service company and have they inform the person that brought this dog to your home that your dog has had a reaction to his dogs bite. Advise him that the proper thing to do would be for him (or the Tree Service company) to pay for your vet expenses.
Answer

this Question

...