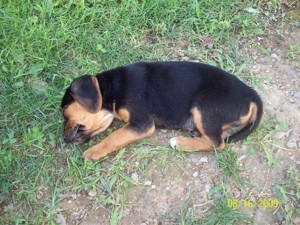 I have a 12 week old Puggle named Snickers. I took him to the vet today to find out if he had Parvo like we thought and he did. He is now in the hospital for 5-7 days. I hope and pray that my baby will make it. What are his chances of living?
By Courtney from Friendly, WV
Answers

September 28, 2009
1

found this helpful
Best Answer
About a 50% chance now, and the vet bill will be huge. Prevention (vaccination) is far cheaper than the cure. The sad thing is that survivors of parvo often die unexpectedly before they are 5 years old. Suspicion is this is due to organ damage by parvo.
Your yard is contaminated now. You cannot bring an unvaccinated dog in it, or it can easily get sick too. You need to be pet free for a good year, as the virus lives in the soil.
An animal must be FULLY vaccinated (boosted too) in order to be safe in your yard. Pick up and burn poo and dog bedding. Pick up Vircon at (eg) UFA Farmstores along with a weed sprayer and douse everything in your yard. If the pup came into the house, douse the house too. Yes, I mean soak the couch too.
Bleach will work, Vircon is better. The volume you need will cost about $170.
You can spread the virus on your hands, shoes, and clothing. You can drive it out on your vehicle tires. You need to thoroughly treat everything or you put all the neighbourhood dogs at risk too. Please post that parvo is in the neighbourhood so others who have not vaccinated get the heads up to do so. Sorry to have dour news.
Sincerely,
Janet, animal rescue volunteer

September 29, 2009
0

found this helpful
Best Answer
Our great dane puppy got parvo and survived. It sounds like you caught it early enough for the vets to be able to help out your sweet doggie. Once they let him out everything will be ok. Parvo does live in the ground and i would suggest that you don't put any more puppies in that area but any dog over a year old will be fine in your yard. I wouldn't worry about notifying the neighboors because if your dog got parvo then that means its been in your yard and the other dogs have already been exposed to it. When snickers returns everything will be ok, he may stay a little small for his age but will be healthy.

susan
Silver Feedback Medal for All Time! 472 Feedbacks
September 29, 2009
1

found this helpful
Best Answer
My dog came down with parvo when he was young. He was up to date on all his vaccinations. Be aware that they act as an insurance policy; make odds better that your dog won't contract it, but do not guarantee that he won't. He was kept in our yard with our other pets. He was a Rottie, which is a breed that has one of the lowest survival rates, but we caught it early. He lived through it. We did not have an extremely high or unreasonable vet bill. None of our other pets caught it, and we failed to treat our yard in any way.
(We were ignorant of the fact that we should, and no one--not even the vet, told us that we should.)
Our Rottweiler's growth wasn't stunted in any way, in fact, he grew to be the largest one in our area. My point is, we did almost everything wrong, but ours pulled through. I believe the main factor was that we caught it early. Visit your pet, keep his spirits up, and let him know that you love him. Dogs heal from miraculous things. My thoughts and prayers are with you and your puppy.

September 30, 2009
0

found this helpful
Best Answer
So very sorry to hear about Snickers, tough way to get started off in life. We had an akita puppy, Yuri, who got parvo at the vet clinic where we'd gotten her puppy shots on the way home after buying her. She did survive after a struggle but was one sick little baby for awhile. Medical- care costs are negligible compared to the joy & love we receive from our pets who are bonafide members of our families.
Best of luck to you & Snickers ~ wishing you many years of happiness together!
Answer

this Question

My dog has parvo. He didn't have any diarrhea or blood in his stool or vomit. The nurse taking care of him says he has a 98% chance of getting better.
Should I be worried? I'm just so afraid to lose him.
Answers

Lizzyanny
Bronze Feedback Medal for All Time! 226 Feedbacks
May 4, 2020
0

found this helpful
Best Answer
It sounds like your dog has a light case. So I agree you should feel optimistic. Take good care of him and contact your Vet if there are any worrying changes.
Parvo can take a month to run its course. In your case I think it will be a shorter illness.

May 5, 2020
0

found this helpful
Best Answer
If the dog is under care by a vet or nurse the dog is in good hands. They know what to do to help the dog and take care of him. I don't feel you have anything to worry about. Since the dog did not have diarrhea or even vomit it seems like it has been caught early on. I have had 2 dogs with this and both of them turned out fine. One was worse off than the other one and I did not think he would make it because he dis have blood and diarrhea.
Answer

this Question

I have a dog that was diagnosed with parvo. He started showing signs on Monday with vomit and bloody diarrhea and we took him to the vet on Tuesday. He got injected and given medication.
So we continued doing the treatment at home, but he was OK for the first day, but then got worse. He is now hospitalized with a vet for a 3 day treatment. What are his chances?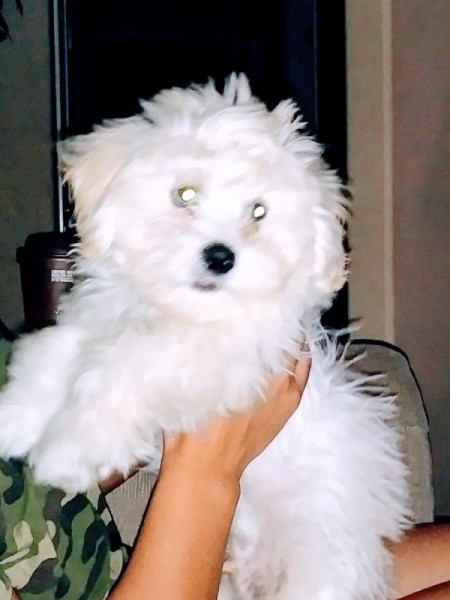 Answers

December 1, 2017
0

found this helpful
Best Answer
No way to tell. In the old days, dogs with parvo were kept at the vet until they recovered, so it would not spread. Parvo was rare. They were on iv fluids almost the entire time. Now, it is so much more common and the trend seems to be for vets to send them home after they are diagnosed. I do hope the vet told you how to disinfect everything, including the yard (from it tracking on your feet). If you don't disinfect, it will continue to spread. Even if you don't have another dog, someone visiting could get the virus on their shoes while visiting and take it back to their place.

Judy
Gold Post Medal for All Time! 677 Posts
December 1, 2017
0

found this helpful
Best Answer
No one can guarantee anything, but you are giving the dog the best chance by leaving him at the vet and taking him there at the first sign of illness. Good luck.

December 1, 2017
0

found this helpful
Best Answer
This all depends on the dog. I had 2 dogs that had parvo in the past. One of them was treated at home and the second spent 7 days at the vet's with an IV and shots. Both of the dogs survived and were fine after the treatments.
It is harder on a small dog such as yours because of their weight. They don't have as much weight to lose as a larger dog does. However, my nephew's Bichon Frise was hospitalized the same time as my dog and they both were very sick when they went in. Both dogs survived. I'd say leaving the dog with the vet is your best chance on a full recovery. They are there to monitor the dog and give the dog injections when needed.
Answer

this Question

I had gotten a pup around a year ago and they said he had a parvo vaccine but he got parvo. He is 2 years old and a Australian shepherd. My parents won't take him to the vet and he hasn't eaten in three days and I'm very worried.
Could you tell me what to do to help him on my own, like medicine in the cabinet or things to do to help his odds.
Answers

June 17, 2021
0

found this helpful
Best Answer
This is so sad. I'm very sorry you are having to deal with your friend having this terrible virus. You may be able to help him but it's probably going to depend on what stage your dog has reached with this problem.
You do not state your age but apparently you are young, still living at home and do not have anyway to pay for a vet since your parents have decided not to help.
Your parents decision may be based on the costs that vets charge to treat Parvo - very expensive - usually over $1,000 and could cost a lot more.
You may be able to get your parents to contact your local SPCA or Humane Society to see what help they can offer.
Here are a couple of links that have some information on treating this at home but most likely you will have to ask your parents for help.
Remember this: the big killer where it comes to Parvo is the dehydration and malnutrition.
ehomeremedies.com/.../
pethelpful.com/.../If-Your-Puppy-Has-Parvo
pethelpful.com/.../parvo-symptoms-and-treatment
Answer

this Question