December 29, 2009
0

found this helpful
i really like the plastic flip top tasters choice boxes! I store "W&W's" (as my son jokingly refers to them)
in them or the ones I get from a Dutch bakery near here which are called Earnies & other candies or candied fruit ! Glue a couple quarter sized (.25c piece) googlie eyes on the brown lid for fun!
Also I used to buy a bakery item that came in a super sturdy clear plastic box (i believe it was mini muffins)
The box was slightly rectangular & would fit the larger size recipe cards.
That is a good way to shop though ! You should be commended for your mindfullness of this.Being aware of the need for doing/dealing with empties is becoming more & more popular!
I love that so many people keep in mind as they shop the potential for later use of the containers/bags/boxes!
Great!
Thanks!
(found the pics!)
www.flickr.com/.../2316897526
www.flickr.com/.../2316090093
www.flickr.com/.../847546975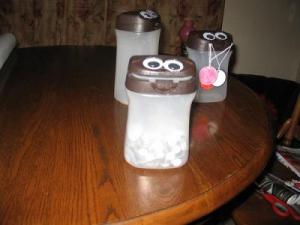 December 29, 2009
0

found this helpful
I purchase gift packs that are on clearance after the holidays...just for the containers they come in. I take the soaps, shampoos & other bath items to a local shelter, and keep the containers.
I've used them to store pet toys, plant flowers, waste baskets...anything I can think of at the time. Some have actual baskets, other are wire baskets & I have found a few that have metal tubs. You can usually get them for 50%-75% off after the holidays.

Suntydt
Bronze Feedback Medal for All Time! 109 Feedbacks
December 29, 2009
0

found this helpful
We buy lunch meat in plastic lockable containers. Ones like they sell: hefty, glad lock, ziplock. After the meat is gone we wash the containers and reuse them for multiple tasks: left overs, drawer stock (paper clips, rubber bands, tea bags, fuses, push pins, etc.) and nuts/bolts to name a few things.

December 31, 2009
0

found this helpful
Jimmy Dean pre-cut sausage patty slices come on a very hard plastic twin tray, suitable for beading projects. To set on a bathroom or kitchen counter to hold jewelry. Perfect size for a pencil/pen tray, etc.
Coffee creamer shaker bottles can be used for glitter,powdered sugar,a few loads of laundry detergent to the laundromat instead of the whole box,bath salts,you name it.
I always, always, buy products in glass jars versus plastic, like salsa, jelly, peanut butter, etc. These are then washed and recycled as homemade jelly and jam jars (yes, they are safe, as long as you seal the jelly with a paraffin wax layer on top). I put hot peppers in vinegar in them, etc.
Other plastic jars with screw on lids are saved for camping trips and the like; to carry shampoo, syrup, ground coffee, sugar, etc. Keeps things from spilling, and raccoons, bears, and sugar ants can't unscrew the lids!
metal coffee cans instead of plastic store cooking oil after use.
Spices in clear glass or plastic bottles-when empty, I use them to store beads I have sorted.
Rectangular plastic baby wipe containers store and carry medicine bottles all together neatly.
Green plastic berry baskets store kitchen sponges upright to air dry.
Plastic net onion bags are perfect for bathtub toys.
Plastic liquid laundry detergent bottles with the spout removed are perfect to sit beside the sink for compost scraps;.screw the lid on to keep bugs out, odors in, until you are ready to take them outside.

Betty
Bronze Post Medal for All Time! 104 Posts
January 1, 2010
0

found this helpful
I buy Catalina spaghetti sauce. In addition to it being the only commercial one that I think is not too sweet, I also buy it for the beautiful jars. I've gotten so many of these that I've been giving then away on freecycle. I store all kinds of stuff in them; anywhere from food to cotton balls, nuts, bolts, etc. Some are sitting on my counter top loaded with food items . I'm thinking about painting the lids with craft paint or attaching a pretty cloth topper like you see on jars in the stores.
I also use the containers that dry parmazon cheese (can't spell it) comes in. Put baking soda in them to sprinkle in my sinks to clean; not so abrasive. I have a lot of cute little jars that things come in that I'm saving when I decide what to use them for.

March 29, 2015
1

found this helpful
My baby spinach and mixed salad greens come in clear plastic boxes with fitted lids, they are about 7"x11" and 3"deep. I use them for scrapbbooking and cardmaking supplies. The lids have a rim on them and they stack securely. They are clear so it's easy to see what is inside.

February 26, 2016
0

found this helpful
I use them in the cupboard to keep taco seasoning envelopes, etc. neat. I also have a yellow container, similar to the one at the beginning of this file, and use it to store sandwich-making fixings in the frig. I just pull it out when hubby's hungry.