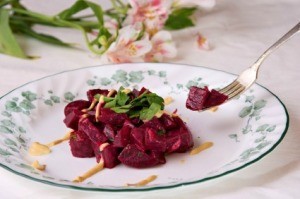 Try something a bit different; make a great tasting beet salad. This page contains beet salad recipes.
Solutions: Beet Salad Recipes
Read and rate the best solutions below by giving them a "thumbs up".
Beet Salad I
Ingredients
2 raw beets, shredded
1 large Granny Smith apple
1 cup raisins
1 cup celery, finely diced
1/2 cup walnuts, chopped
1 Tbsp. lemon juice
1 Tbsp. apple cider vinegar
1 Tbsp. olive oil
Directions
Stir together beets, apple, raisins, celery and walnuts. Sprinkle the liquids over and mix thoroughly. Refrigerate. Keeps well for a couple of days.
(I'm not much on beets, but this is really good!)
By Terri H.
---
Beet Salad II
Ingredients
2 cups diced beets (reserve 1/2 cup beet liquid)
2 pkgs. lemon gelatin (3oz. size)
3 cups boiling water
2 Tbsp. lemon juice
2 Tbsp. vinegar
1 Tbsp. prepared horseradish
1 1/2 tsp. onion salt
1/2 cup diced celery
cottage cheese (regular size)
Directions
Dissolve gelatin in boiling water, add beet liquid. Add remaining ingredients except beets and celery. Chill until slightly thickened. Fold in vegetables. Chill in a 5 cup mold. Unmold and garnish with cottage cheese.
By Robin from Washington, IA
Ingredients:
1 lb. cooked beets
2 onions, sliced
1 cucumber, sliced
1 tsp. sugar
1/2 cup yogurt
1 tsp. salt
1/2 tsp. caraway seeds
2 Tbsp. lemon juice
Directions:
Peel and slice the beets. Mix the beets with onions, cucumber, and sugar. Mix the yogurt with the salt, caraway seeds, and lemon juice. Gently mix the yogurt with the beet mixture.
Source: A friend Judy
By Raymonde from North Bay, Ontario
Ingredients:
4 large beets, diced
1 1/2 cups fresh pineapple, drained and cut in small cubes
1 cup inner celery stalks, thinly sliced
1/4 cup onion, minced
2 Tbsp. oil (preferably olive oil)
6 Tbsp. red wine vinegar
salt, to taste
Directions:
Boil beets, unpeeled, until tender, but still firm. Cool, peel, and cut into 1/4 inch cubes. Combine beets with pineapple, celery, and onions. Pour the oil and vinegar over and toss until evenly coated. Add salt to taste and toss again. Chill for several hours, then stir again. Remove from refrigerator at least 1/2 hour before serving, so it is cool but not ice cold.
By Robin from Washington, IA
Ingredients:
1/2 head of lettuce torn into chunks
4 boiled eggs (diced)
1 jar of pickled beets slices (diced)
1 cup of frozen peas thawed (or heated in microwave for 2 minutes)
2 Tbsp. of mayonnaise
Directions:
Combine ingredients and chill. Serve.
By seamstress
An easy salad to make with fresh items from your garden.
Ingredients:
fresh, washed beet leaves with the stem out and torn into 1" pieces
raspberries, fresh
sugar
oil
vinegar
Directions:
Add a little sugar over the top.
Pour a little oil over the top.
Add a little vinegar over it.
Mix, serve.
I also do a similar one with strawberries and spinach. Thought I'd change the greens and change the fruit and it is wonderful!
By valleyrimgirl
Give a "thumbs up" to the solution that worked the best! Do you have a better solution? Click here to share it!