Where can I buy Shower Power in my town, Hemet, CA?
By Christine
August 20, 2014
0

found this helpful
Best Answer
What is Shower Power?
Editor's Note: Bathroom cleaner and soap scum remover.
August 21, 2014
0

found this helpful
Best Answer
I bought some online. Just google it. I am so glad it is still available. There is nothing quite like it.
My store where I shop stopped carrying shower power, where can I buy it here in arizona. I shop at Fry's Food store. Why did they stop selling it? I use this to clean my shower, It works really well.

Theresa from Mesa Arizona
December 3, 2006
0

found this helpful
as found at www.powerworkscompany.com
News Flash!
11/15/06
Ok, We've made a lot of progress now and are getting close to producing and shipping this great product to you. Please fill out the below form to be notified when it is ready. Thanks!
Name:
Email:
09/27/06
Dear Shower Power Customers,
We apologize for our products not being on your store shelves. The company was planning on closing its doors and stopped production on Shower Power and this is why it has been unavailable lately. Because we have received such a positive response to our product we are now looking at alternative ways to continue producing Shower Power in a cost efficient manner.
At the moment we are sold out of our entire inventory. We are planning on going back into production and selling Shower Power exclusively over the internet and we will notify you as soon as it's ready.
Please enter your email address above so we can notify you when it's ready.
Thank you all for your support and positive comments.
P.s. on the website, you can look up your state and it tells you where it used/might still be available
Arizona
BASHAS
ALBERTSONS
FRYS
WAL-MART
FOOD CITY
FOOD 4 LESS
IGA STORES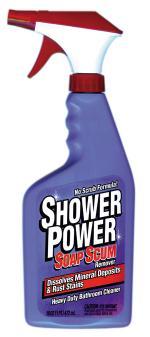 July 6, 2007
0

found this helpful
Please let me know where and when I can buy shower power again. I have bought numerous replacement products but nothing works like shower power. Thank you
Related Content
(article continues below)
August 17, 2007
0

found this helpful
I would like to be notified when you have shower power available for purchase. I have a friend that is looking for it as well, and over the weekend when we were at her house...I saw the bottle in her bathroom - and said "where'd you get that!" I've been looking. She said it was her last one, and she is trying to find as well.
This product was AWESOME...no other in the market stands up to it!
Editor's Note: It is available online: http://www.buyshowerpower.com/
January 17, 2008
0

found this helpful
I did buy Shower Power in Arizona and brought a case back to Crivitz, WI
I shared this remarkable product with my friends and they also LOVED it.
We would like to know if there is anywhere we can purchase it here.
May 28, 2008
0

found this helpful
I live in Hawaii and have been looking for this remarkable product. It is the only one that removes all the stains on my bath tub.
Please let me know when it will be available in Hawaii. My c-mail address is: carmenneilson AT yahoo.com
February 10, 2009
0

found this helpful
I had moved to Washington and couldn't find shower power in any of the stores up here. so I went to the internet, if you don't mind paying for shipping and handling or have a friend to share the cost and buy bulk you can go to there web site "buyshowerpower.com" it cost about $65.00 for 12 bottles, this includes shipping and handling. Not a bad price for a product that really works!
Where can I buy Shower Power in my area? I live in San Jose, CA area.
Thanks.
By Donna from San Jose, CA
October 10, 2009
0

found this helpful
Hi,
I don't know how to paste sites but I did Google your product and came up with this:
Shower Power Bathroom Cleaner
Shower Power is the best bathroom cleaner for soap scum, mineral deposits, rust & hard water stains. It penetrates and dissolves soap scum, ground-in dirt and grime, www.buyshowerpower.com
I just copied what Google gave me. Hope this helps! And if this is an absolutely wonderful product, I hope you'll post all of the wonderful things it does and the price!
October 11, 2009
0

found this helpful
I went to Home Depot yesterday and found Industrial Strength 409. It is in a white bottle with bright blue lettering. It works great on soap scum if you can't find your other product. It's not vile smelling like a lot of powerful cleaning agents.
Where can I buy Shower Power bathroom cleaner in bulk?
By Dana from Cape May, NJ
February 1, 2010
0

found this helpful
This is the Shower Power web site: http://www.buyshowerpower.com/
You can ask them there. You can email or telephone them.