Knowing the best ways to keep your birds comfortable makes for a rewarding experience and a healthy pet. This guide is about caring for parakeets.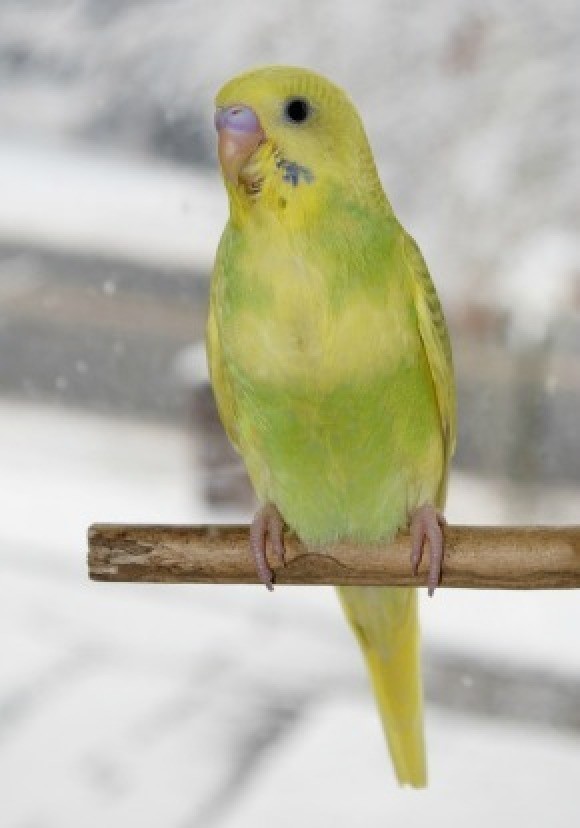 I have 3 parakeets, and the easiest way to clean their cage is to simply pull the slide out tray to the utility sink and use the sprayer and a putty knife to scrape. First I dump seeds into the trash then spray with hot hot water, then I feel secure in knowing it is sanitized.
Parakeets love music, I discovered this when they tweet like crazy when the Monkees theme song comes on. Also, I play the harmonica for them, they love it, they are in awe as they listen. They do not sing along, but close their eyes and cackle with happiness.
They also love when I plant wheat berry seeds in organic soil. It sprouts and I put it in their cage and they eat and play with it. I had to laugh one day, one of the birds, all you could see was his hind end sticking up with his head in the pot, then he jumped up and was flinging dirt clods out of his cage.
Lastly is a important tip, chlorine is hard on little birds' kidneys, so I fill a plastic jug and let it set uncapped for 24 hours so it goes away. Then I put a few vitamin drops in their water holder and add the water. It is best to do the vitamins freshly, if it were to be added to the jug as it sets it would lose it's potency.
By Linda from Bellevue, N.E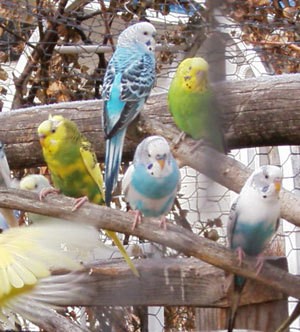 I was privileged to photograph these little parakeets last week. It was 28 degrees! The owner has acclimatized them and keeps them outdoors year 'round. He has a heat lamp in a back enclosure, but the birds never use it. He said it's for his wife because she worries about them.
He has every color I've ever seen, and I have never seen tufted parakeets before. It was like being in heaven for a little while!
By Coreen from Rupert, ID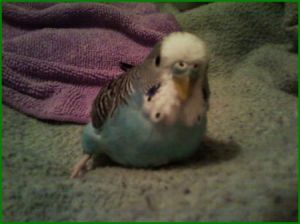 I had put on here a long time ago how my parakeet Perry loved to unravel string in his cage for entertainment. He really did love to do this. Just the other night, he became entangled in one of the strings that he often played with even though his claws were really not overly long.
I finally got him untangled, but he had hit his head on the cage by the time I got him undone from the string. He ended up passing away that night. He would not have died if he had not had that string toy in his cage.
I want everyone to know, don't buy the string toys if they can unravel, or even if they cannot unravel, because they like them so much they won't leave them alone and they could, like my baby, get entangled in the string toy.
Blessings, and RIP Perry. We love you. You brightened our lives so much! Run free and fly free at the Rainbow Bridge!
By Robyn Fed from Tri-Cities, TN
By gaboong 1
My parakeet loses his feathers and has a bald spot on the belly area. He is eating and acting normally. What possibly could have happened? We got him Thanksgiving of 2010. Thank you.
By gaboong from Fountain Valley, CA
---
Most Recent Answer
February 4, 2012
Maybe your parakeet is molting. They have special food at the pet store when a bird is molting.
---
Our female parakeet keeps laying eggs (we have a male but he doesn't get in her cage). She is losing her chest feathers. She doesn't seem sick and she doesn't itch. Could you please help us? Thanks.
By Don
---
Most Recent Answer
thr522587 Flag
February 6, 2012
This is called a brood (incubation) patch and is completely normal. Since the male is not in the cage to breed with her simply remove the eggs as soon as they are laid. I learned about brood patches when I had a couple of finches (Romeo and Juliet) quite a few years ago. Here's more information about it so you won't worry that something is wrong with her:
http://birding.about.com/od/birdingglossary/g/broodpatch.htm
---
We have 2 parakeets. We our new bird owners. What can you tell us to help us take good care of them? We want them to live a full life span. What kinds of toys do they like? Can we make our own handmade toys for them that are safe to play with? Thanks bird lovers!
By Trudy from in the woods, PA
---
Most Recent Answer
June 14, 2011
Most of our toys for our Parakeet are home made and are the best toys at low cost! We even made her a swing for her from bark and wire. She loves it! We also made her perch from a tree branch in the back yard. She ate all the bark and now it looks store bought! She is also able to jump to diff. branches. We gave her a cat ball w bell in it and she plays w it on the bottom of her cage w her beak. I went to the dollar store and bought X-mas bells and tied it to the side of her cage and she plays w it all the time w her beak. I went to a Craft store and bought a very small wind chime for one dollar and we can hear her every morning playing w it. :O) There are so many toys that you can make if you are creative and research the Internet for ideas... :O)
Lana - Des Plaines, IL
---
My boy parakeet seems to be feeding the girl. What does that mean and is she getting all her nutrition she needs?
By Michy from Chicago
---
Most Recent Answer
May 25, 2013
It could be a mating ritual - you don't mention the age of the birds. Google information about parakeets or Google parakeet breeders & contact them as they are full of useful information.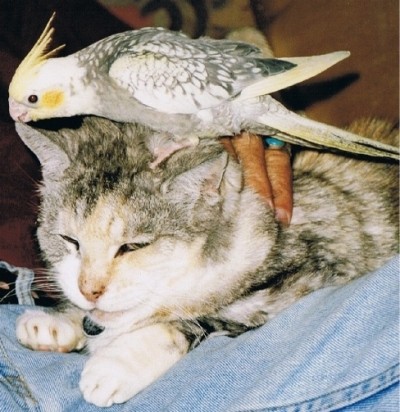 I have two parakeets. One is perfectly fine, but the other one's eye looks kind of yellowish and runny. It looks kind of bald too, but only around one eye. What could this be? and what can I do to make it better?
By Destiny W.
---
Most Recent Answer
October 10, 2011
Caged birds often get fatty livers from not flying. Cold Tea is often given to birds that are "under the weather". I hope this helps.
I use Walmart brand triple anti-biotic cream on. and in the eyes of my kittens, but I don't know if it can be used on birds.
I have 2 parakeets and when I talk to them they move their beaks like they are talking back to me, but nothing comes out. They will also cock their heads to the side. What does that mean?
By Kayla from Miles City, MT
---
Most Recent Answer
January 4, 2010
Your birds are attentive to your voice and recognize you with the tilting of the head while being spoken to. Not making any sounds with the movement of the beak doesn't mean they won't make any noise at some point; only they may be trying to imitate the sounds they pick up on and aren't successful at it yet. Keep talking to them and say the same phrase repeatedly and maybe you'll get that response you're hoping for some day. I own three parakeets and they love music. Try playing music to get them singing.