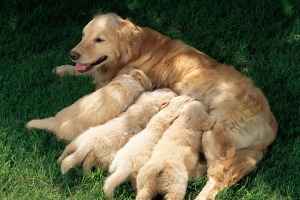 When your dog has delivered puppies, you want to make sure she has a safe and warm place to nurture them. This is a guide about caring for a dog and her puppies.
Solutions: Caring for a Dog and Her Puppies
Read and rate the best solutions below by giving them a "thumbs up".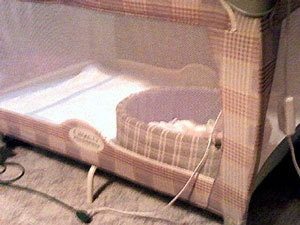 Used playpens make a great place for your small pet to have their litter. My sister's Chihuahua had puppies a few months ago and she wanted her momma dog to have a safe place to have them and to keep the pups away from the daddy dog and cats in the house.
She cut a small hole big enough for the cord to a heating pad to use for the puppies when "momma" needed a break. Also, another good idea is you can drape stuff on the sides for privacy so the momma dog doesn't get to nervous with the other pets looking in. Worked great!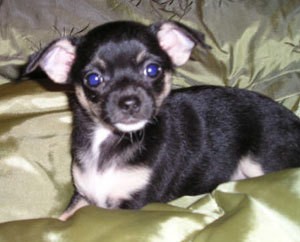 By Sarah from Chattanooga, TN
Our Border Collie just had puppies. In fact, she had 14 total, but only 11 survived. 11 puppies! Oh my gosh. Thoughts were going through my mind about how we were going to help our "girl" look after them. Our main concern at the time was bedding. Although we had some, having 11 "poopy" puppies, instead of the normal 5 or 6, it would make it difficult to keep the whelping box clean.

Newspapers are great, but in the colder autumn months in Australia at the moment, I was concerned about keeping them warm. I was going to go to the thrift shop to see if they had any cheap bedding or rags to sell.

When I took our Jessie to the vet to have an examination of her and the puppies, the vet nurse there said we could have the extra bedding they had. They had purchased some new thermo bedding for the vet practice and were going to throw out the old. It was very clean and serviceable, and it solved our dilemma. It was certainly a cheaper alternative. In fact it cost us nothing. So, if you are faced with the same situation, why not visit a few vet clinics in your area and ask them. You may be pleasantly surprised.

Cheers,

By Bev from Rockingham, Western Australia
Give a "thumbs up" to the solution that worked the best! Do you have a better solution? Click here to share it!
Questions
Here are questions related to Caring for a Dog and Her Puppies.
My Pit Bull just gave birth to 9 puppies, but I am scared that she might smother them or suffocate them while she moves around. Should I move the puppies or let her take care of it herself?
By Lina from Phoenix, AZ
---
Best Answers

By Cricket [201]03/03/2011
I looked at the link with the box instructions and didn't like that at all. I have always used kiddie plastic swimming pools. I like them for several reasons. They are the perfect size (since they come in different sizes) and provide lots of space for the growing puppies to move around and play.

2-The upper edge of the sides is smooth and doesn't scratch Mama when she steps out, It also doesn't hurt the puppies who may be "hanging on" to a teat when she's trying to get out. (This sounds odd, but happens many times, and a rough wooden crate can hurt the tiny puppy, and can give him splinters).

3-And last but by far not least, it's extremely easy to clean.

Also, don't worry so much about the Mama smothering the puppies. Yes, keep an eye out and "rescue" ones that she may not even realize she's laying on. But for the most part, let nature take over and they'll be fine.

Don't "separate her" from her puppies. Not ever! When she needs a break from them she will come out of the whelping box. But she will do it when SHE is ready. If you try to separate her from them when she doesn't want to it will only upset her. And she may decide to react in a way that you surely don't want. I've seen otherwise very loving dogs turn and bite their owners because the owner was trying to separate her from her babies. When she's ready she'll leave them for a bit. Otherwise, leave her to take care of them herself.

Finally, one last thing I wanted to mention. Everyone says to make sure she has plenty of extra nutrition and water during this time. This is extremely important. However, do not put the food and water inside the whelping box! Put it next to or near the box, but not inside it. The puppies could get into the dishes and possibly drown or have their noses clogged by the food crumbs. If you keep the food and water next to or near the box then Mama can come out and eat/drink when she needs to without having to go far from her pups.

Also, please do take Mama in for spaying once the puppies are old enough to leave their mom.

Good luck with your new family!
---
Best Answers

By Sherri [6]02/28/2011
Hello,
These posts are great answers to your questions. Please keep in mind that the mama will have to eat at least 4 times a day as the puppies will take all her nutrients. She will want a break from them so don't be surprised if she just gets up and leaves them alone. Please make sure she has enough food/water at her disposal 24/7. Watch the puppies to make sure she is not shoving one off to the side and not feeding it. Also, please call your Veterinarian as soon as the puppies are old enough to leave their mom (7-8 weeks old) and make her appointment to have her spay. Good luck.
---
Best Answers

By Edna Raisor02/25/2011
We used a kiddie swimming pool for our Dalmatian puppies when they were born. It worked out well due to the sides being tall enough and plenty of room for sometimes up to 13 babies. I believe the mother instinct kicks in when the babies are born. Let mother nature take its course. She will take care of them. Its fun to watch them grow and develop their personalities. We had 4 litters and enjoyed every minute of it. Give the mom higher protein food to help with everyones nourishment.
My female Pit Bull just gave birth to 4 puppies about 4 days ago. She is acting really weird. She leaves the puppies and tries to hide underneath the mother-in-law house out back. She has never done this before. She is very good about not leaving her yard or even venturing around out that way. Do dogs have post partum depression? Is this common for her to leave her puppies and hide for hours?
By Chrissy from Jacksonville, FL
---
Most Recent Answer

By Cricket [201]03/03/2011
Every once in a while a dog will "hide from" or otherwise not take care of her new litter. There are as many reasons for this as there are occurences of it. I would definitely have her and the pups checked by the vet.

If she continues to stay away from them you may need to feed them yourself. LOL Have fun! It sounds so much easier than it is! But it is not impossible. You simply need to get some puppy bottles with extra nipples and some puppy milk. You can check places like PetSmart or ask your vet where to get them. And you will need to be diligent on keeping to a schedule with the feedings. Every 2 hours till they are a couple of weeks old, then you can space it out to every 3 hours, then 4, etc. Your vet will advise you on the schedule.

Bottle feeding puppies can be extremely frustrating, as it's not natural for them so they don't take to it easily. But it is also a very rewarding experience too.

In addition to feeding them, you will also have to assist them in relieving themselves till their systems develop enough to do it on their own. Puppies aren't like babies and aren't born able to push the stool out of themselves. Mama has to help, and if the mother dog isn't doing it, then you have to. Again the vet will tell you how. It's not hard. Simply involves massaging them properly till it is expelled.

You're in for a few long weeks but you'll be rewarded with some loving puppies. Good luck!
Why does my dog keep carrying her puppies to me?
By Julie
What can happen if a new mom has her first pups and she doesn't lick them so they can use the bathroom, #2? What can I do to help?
By Robin B.
---
Best Answer

By Lizzyanny [9]03/03/2014
Wet a washcloth and wring it out. then wipe the puppies bottoms just like a Mom dog would do.
My 2 year old female has just had her first litter of puppies, on day 2 she has started whining and whining. I don't know why. Is it possible she has postpartum depression or is she just worried about her puppies because she's new at this and not sure exactly what is going on.
By Robin.B from Holden Beach
---
Best Answer

By Frugal Sunnie [11]02/26/2014
Please take your dog to the vet NOW! She may have any number of postpartum complications ranging from undelivered dead puppies to a damaged uterus or bladder.

And PLEASE update with news of her condition!
I have one day old puppies. I helped their mother with suckling and giving them some milk too. The question is how many times do I suckle the puppies each day?
By Dina from Cairo
---
Most Recent Answer

By Vicki H.12/12/2012
You will kill them if you interfere. Mom suckles her pups. Cows milk kills. If Mom rejects a pup numerous times you get formula from the vet or a really good pet store. Never take the pups from Mom until at least 6 weeks old. Mom needs good nutritious food to make milk. She also needs a spay soon as pups are placed. Get some help from someone who has been through the puppy thing. You mean well but could kill the pups by not letting Mom do her job. Leave the pups with Mom. Mom knows what to do. Mom needs to be in the house where it is warm, good food and water, a cozy bed for her and the pups. She will even lick their bottoms otherwise they do not pass urine and feces. They die if they don't get to pass excretement. Keep us posted.
Last night my 2 year old mixed dog had her first litter of puppies. All day she has been feeding them and curled up with them. She came out to eat and now when she went back into her dog house she's not curling up with them she has her back to them. She hasn't been really acting like herself today either. Is this normal?

By Belynda from Baton Rouge, LA
---
Most Recent Answer

By Cindy [3]12/31/2010
I respectfully disagree with "patches", if your dog only turns her back to her new puppies on occasion. She's been through an experience she has never known and is tired, tired, tired after giving birth. If she continues to ignore her puppies, consistently, of course you need to take action. If she merely wants a few hours sleep while still sharing space with her pups, she's just plain pooped and needs a break.

By all means, call your vet if you suspect the puppies are being totally ignored, but give the girl a break if she just wants to sleep for a few hours. With all due respect, I just don't agree with "patches" that a dog needs to be "evaluated by a vet" mere hours after giving birth as she still sleeps with her puppies but simply chooses to not expose her food supply for a few hours.

Bottom line, it's your call. If you think the puppies are being totally ignored of course you need to contact your vet. If the mom just decides to sleep with her back to the pups for a few hours, I suspect she needs the rest and the puppies will be just fine resting with her. Again, just make sure she tends to the pups on a regular (although not necessarily clock work) schedule. Good luck and best wishes.
How do you know when your dog is ready to have puppies?
By Jennifer
---
Most Recent Answer

By PENNY K [15]07/29/2010
A lot like us; if they haven't disappeared to a dark spot as mentioned, they may spot with liquid, streaked with blood, pant, turn around a lot, appear uncomfortable, and so on. Make sure they have a soft folded old blanket or towels right at hand, and speak in soft reassuring tones. They may even get up and drink a bit of water in between deliveries. My dog delivered one on the couch, hopped down and delivered one on the floor.


My 4 year old Yorkie just had a litter of 6. All are well. She, on the other hand, will not eat much of anything, but drinks okay. She is nursing well and I am afraid that it is draining her without replenishing. She also is still doing the nesting ritual. She is alert and active. Any suggestions?
By Johnny C from FL
---
Most Recent Answer

By Lisa [2]07/26/2010
:-) I'm really glad you took her in, and that she's already improving! Did they say why this might be happening? I've never had a pet who had babies (all of our pets have been fixed), so I don't know if this is normal/to be expected. Again, I'm so glad she's starting to do better!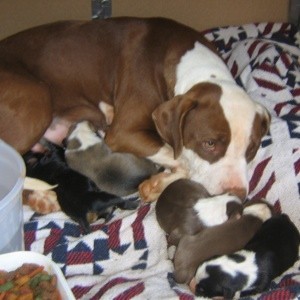 We kind of inherited a pregnant Pitbull. So this is an honest question. Please don't tell me to read up on the breed and all of that or tell me to get rid of her because I don't know what I am doing. If I knew the answers I would not ask.
She had a litter of 8 pups 3 weeks ago. But she is being mean to them, really mean. She was very sweet and non aggressive before the pups were born. What do I need to do?
By Lisa from Northeast, Ga
---
Best Answer
By Knoodles [1]12/12/2009
There could be any number of reasons why she is 'being mean' to the pups. A little more detail would have been helpful.

If you are handling the pups too much you may be causing the mom stress. When stressed dogs do strange things including killing their young.

It could me that she has no clue what to do. Some dogs just don't. In which case taking the pups away may be the best thing to do. But then YOU will need to take over for mom.

It could be that she knows something you don't, like she may be ill and not showing it yet. She may not have enough milk to provide for all the pups.

Bottom line is it could be anything. If you really DO want to help her and the pups - get the advice of a VET not the net.