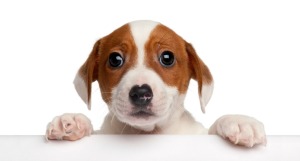 When there is a new canine member of your family, everyone needs training and patience. This guide is about caring for a puppy.
Ad
---
Questions
Here are questions related to Caring for a Puppy.
I'm getting a puppy soon, a Staffy/Lab/ cross. I have had experience with dogs, my brother and sister both got one, a Lab and a terrier. So, I'm not unaccustomed to training/walking, etc.
However, my parents are split up. My mum takes care of my brother and sister's dogs because my brother is at university and my sister is lazy. She isn't allowed more than two dogs where she lives. I spend half the time at my dad's and half at my mum's. My dad hates dogs, completely and utterly.
I am only allowed to get my puppy (eight weeks, his name is Tino :3) on the condition that I only keep him at dad's house while I'm there, and only if he's not allowed in the house. (My mum is allowed more than two dogs if it's only temporary.)
Now, I may not be a genius entirely about dogs, but I don't think keeping him outside constantly is a good idea. My dad is adamant, though. So I have three questions. First, would a Lab/Staffy get along with two other dogs, and four cats? Would it be okay to leave him outside? And, would it be okay for him to move between two houses? Thanks for your answers.
By Veritism
I have a 5 day old puppy. The mom feeds it, but it's not pooping and I need help on to how to make it poop.
By Madison M from Vidalia, GA
Ad
---
---
Most Recent Answer

By Rae B. [2]10/26/2014
If the pup is with the mother dog (bitch) then you need not worry about the pup seeing evidence of the pup peeing or pooing.
The mom takes care of it by licking the baby and therefor no mess evident in the box.
Now after the pup starts eating solid foods, you will have messes and you must clean up after the puppies. The mom will no longer take care of it. Gross but true.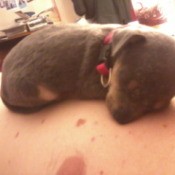 I was given a Min Chi pin a few days ago. He is 5 weeks old, and I didn't know he was suppose to be with his mom until 8 weeks. Can someone give me advice on the best way to care and train my dog?
By AnDria R
Ad
---
---
Most Recent Answer

By Lizzyanny [9]11/14/2011
Be sure and see your Vet soon to see what puppy shots are needed. You need to be on schedule to avoid Parvo and distemper.
Can you help give me some info on how to know when a 5 day old puppy is hungry and when it is full? Also how regularly do I need to feed them? Thank you.
By Dexster from Alberton
---
Most Recent Answer

By Sherri [6]04/07/2011
Please take your new fur baby to the Veterinarian and he.she can instruct you on how to care for your baby.
I have had a five week old Poodle puppy put into my house. I am at a total loss as to how to deal with this. I have never had one that young. Help.
By Joy
---
Most Recent Answer

By Jay [1]03/06/2011
I have a poodle mix that is turning 4yrs old and I've had him since he was five weeks old as well. What I did since he was so young I made sure to still feed him milk. I found in the pet area at Walmart the little milk carton looks like a little juice box very small. I also bought puppy food and made sure to grind it. The first week I gave him more milk and then slowly and the ground food to the milk. He was so small that I had to put my finger sometimes in his little bowl and then touch his mouth with so he would get the idea. Also, I went to the vet and payed for a puppy packaged that included all his shots (cheaper as a package). The milk was like $3.50 per carton so I made sure not to be wasteful. I stayed there and fed him to make sure he was eating. Seriously, I think this doggy of mine thinks I'm his mother lol. Good luck. :)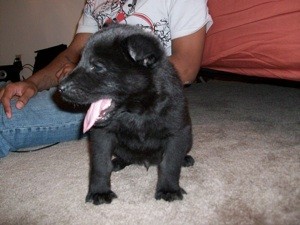 I received a Pit Bull puppy exactly 5 weeks and 4 days old. She is very healthy, urinates 4-5 times a day, and "poops" 1-2 times a day. The reason I took her so early is because for about 6 days now the mom weened all the pups, because they started eating regular puppy chow and maintained healthy eating, etc.
So I decided no harm done. She is doing fine as far as I know, but I'd like to now of any signs I should be on the lookout for to know if there is anything wrong with her. Thanks.
By Nelson from IN
---
Most Recent Answer

By merlene smith [4]01/01/2011
I would be sure to feed her a high quality puppy food, ask vet for recommendations and if not started vaccinations, especially Parvo are essential.
I have a Chi who I thought had 4 pups when I was in the hospital. My husband was supposed to tend to them. When I got home 3 days later to look at them and clean out her whelping box and discovered a 5th puppy. She is much smaller than the other 4 and her siblings seems to "push" her out of the way when its comes to nursing. Should I bottle feed her but keep her with mama and her siblings? Thanks so kindly for your help. God Bless.
By Andrea from Palm Coast, FL
---
Most Recent Answer

By BritneyyNicolee10/27/2011
I don't know what to do with my runt right now. He was eating & now he stopped. He is about 2 and 1/2 months old. Anyone on here can help me with feeding ideas. It would be much appreciated. :) Thank you
email: tinker_luv1992 AT yahoo.com. Please email me ideas asap.
How do Poodles do after being taken away from their mom at 4 1/2 weeks old? I guess the breeder was sick and can't take care of them. Will the puppies be compromised health wise? We just lost our 19 month old Standard Poodle to a neuter gone wrong and couldn't stand to lose another one young.
Sheri
By Sherri from Loveland, CO
---
Most Recent Answer

By Patricia L. Greer01/02/2010
The reason puppies should stay with their mom longer is to be weaned properly and to learn proper behavior. Puppies learn how to socialize from their mom so a pup who doesn't have that will be dependant on humans to teach them. Make sure you socialize this pup with other dogs as soon as it has had it's shots, begin training early and the pup should balance out. Address bad behaviors immediately, just as the mother would, don't let cuteness get in the way.

As far as nutrition, feed 1/2 tsp whole plain yogurt, 1/2 tsp cottage cheese and one raw egg mixed with canned food. Add canned pumpkin, Libbys has real pumpkin, not pumpkin filling. Start with 1/2 teaspoon, this will keep the digestive tract flowing, add less if you notice diarrhea. Do this until the pup is 4 months old. This can also be continued as it adds nutrition to the food. Feed a puppy 4 times a day until 6 months old, then 3 times a day until 1 year old, then 2 times a day through adulthood to avoid digestive upset.
Solutions: Caring for a Puppy
Do you have knowledge about this guide topic? Feel free to share a solution!