Removing Dry Erase Marker Stains on Fabric
White board markers can leave stains on clothing which can be difficult to remove.This guide is about removing dry erase marker stains on fabric.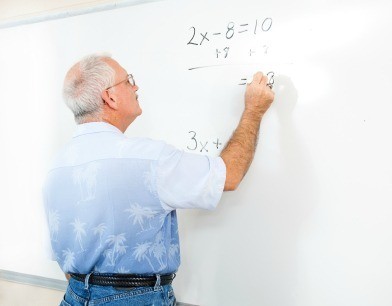 Filter

: All Articles
Sort

: Relevance
I am an older man and disabled so I do the home work while my lovely wife teaches school. She came home with a major dry erase mark on her new pink blouse from Costco. I went to this site ThriftyFun. Of course alcohol, dry erase board cleaner, and OxiClean didn't even touch it. And being a colored shirt, I didn't dare use bleach type products. What worked very well was Murphy's Oil Soap and Banana Boat 50 sunscreen. So thanks for all your tips.
By j_lyday from SLC, UT
I let my little grandson scribble with a dry erase marker and he got it all over his shirt. I was really surprised that it would be so difficult to get out. I tried all the tips listed, except for the ink remover. Alcohol did nothing, Goof-off did nothing. Murphy's Oil Soap finally began to budge the color. Then I remembered my Spot Shot carpet cleaner. That took it right out.
Now, was it a combination of everything that went before or just the Spot Shot I am not sure. I am so grateful something works.

I had a bright pink dry erase stain on some blue cotton chambray light-weight fabric. Scrubbing with lots of Murphy's Oil Soap got the ink out - along with some of the dress's blue color.
First I tried Murphy's Oil Soap on the water-wetted shirt spot. It took a bit of the stain out, but not much. Then I sprayed Top Job Spot & Stain carpet cleaner, it comes in a red plastic spray container, directly onto the spot and rubbed it with an old white cotton sock.
Help! My grandson got dry erase marker on a brand new Detroit Tiger $80 jersey. it is 100% polyester. I tried everything I could think of. Please help; he's heartbroken.
By Dotty
October 4, 2010
0

found this helpful
You could also try hand sanitizer gel - the stuff that is mostly alcohol - rub it in and wash as usual. DO NOT put in the dryer! If needed, treat and wash again, and then wash once more to be sure the alcohol is totally out of the shirt before putting it in the dryer. The last thing you want is a dryer fire.
October 11, 2010
0

found this helpful
Take it to a dry cleaners, for the simple $10 or less cost, versus the cost of buying and trying. They will tell you whether it can be done or not. Always tell the cleaners what the stains are, if possible. Clean things right away. The longer things sit, the harder to come out.
April 7, 2016
0

found this helpful
I had a stain like this and it came out with an old bar of soap
August 6, 2016
0

found this helpful
Use murphys oil soap or spot shot and hopefully it works :-)
How do you get dry erase marker marks out of clothing?
By Glenda from Belleville, IL
June 29, 2010
0

found this helpful
Murphy's Oil Soap removed an old blue Dry Erase Marker stain from a brand-new soft pink cotton blouse. I had tried to pre-soak it and had washed it many days earlier and let it dry. The stain was a bit faded but still very noticeable. I just tried the Murphy's soap with a white towel below and dabbed with a paper towel, moving around on the towel. The blue stain was tranferred to the towel below until it was completely gone from the blouse. There is no trace of stain on my blouse.
August 5, 2010
0

found this helpful
Wow! the sunscreen worked. My 3 year-old daughter got blue dry erase marker all over her new dress from Macy's, of course it matches her sister's so I was devastated. My DH said he took care of it when we got home which meant he sprayed it with Spray and Wash and set it on the dryer where it sat for weeks heating and reheating. I tried scrubbing, rewashing, Murphy's Oil Soap, rewashing and then MOS again, but using white paper towels and expired Water Babies Sunscreen worked. It took some elbow grease, but the stains are out! Thx spicmom for the post.
January 9, 2011
1

found this helpful
The Murphy's Oil Soap worked for me. My 16 month old got an expo marker from her oldest sister (yes, the 13 year old gave her an OPEN expo marker) and she got it over her other sister's comforter. I tried to spray it with Shout, and that did not work. The Murphy's Oil Soap took it out, even after washing it. I scrubbed it with a toothbrush and had a clean towel underneath to absorb the color.
July 26, 2012
0

found this helpful
Using a cotton swab and rubbing alcohol.
How do you remove dry-erase stains from a white polyurethane vest? I have tried rubbing alcohol, Murphy's Oil soap, Oxi Clean spray, and have washed it. I have not put in dryer. Nothing even touches it.
By Sara from IA
March 13, 2010
0

found this helpful
Nail poilish remover or hairspray.
good luck.
My daughter got blue EXPO Dry Erase Marker on her new bedspread. I applied Amodex as directed two times and the marker is still there. Any advice on how to remove the marker would be helpful.
Thanks.
Maria, Ava's Mom
By Maria
March 13, 2010
0

found this helpful
Nail polish remover or hairspray. Good luck.
A homemade quilt got dry erase marker on it. The quilt is pink and white squares and the marker color is red and black. We would love to know some way to get the marker out of the quilt. Thank you!

Amy from Provo, UT
December 16, 2008
0

found this helpful
Wait to see if anyone else gives a better answer, but I thought that kind of marker was washable, use some "Shout" type stain remover. OR ask a teacher. I am sure Jonnie got her white pants last year. If ya know what I mean, lol. Good luck
How can I remove dry erase marker from silk? The fabric is actually 70% silk and 30% linen. The marker leaked and dripped, so it is more dense than just a mark on the fabric.

Lori from Lake City, TN
By guest (Guest Post)
Flag
February 9, 2008
0

found this helpful
My friend has a white cotton shirt, we tried bleach, dish soap, dish detergent, rubbing alcohol, and baby wipes. none of that worked. To this moment we are still trying to get the stain out. My friend is really mad at me, and i am mad too because this is how I have to spend my Saturday night :(
Related
© 1997-2016 by Cumuli, Inc. All Rights Reserved. Published by
ThriftyFun
.
Page
generated on September 26, 2016 at 5:28:42 AM on 10.0.0.252 in 4 seconds. Use of this web site constitutes acceptance of ThriftyFun's
Disclaimer
and
Privacy Policy
. If you have any problems or suggestions feel free to
Contact Us
.