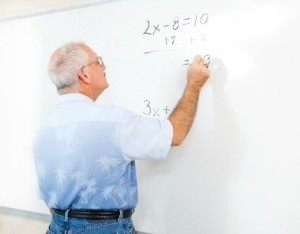 White board markers can leave stains on clothing which can be difficult to remove.This guide is about removing dry erase marker stains on fabric.
Ad
---
Solutions: Removing Dry Erase Marker Stains on Fabric
Read and rate the best solutions below by giving them a "thumbs up".
I am an older man and disabled so I do the home work while my lovely wife teaches school. She came home with a major dry erase mark on her new pink blouse from Costco. I went to this site ThriftyFun. Of course alcohol, dry erase board cleaner, and OxiClean didn't even touch it. And being a colored shirt, I didn't dare use bleach type products. What worked very well was Murphy's Oil Soap and Banana Boat 50 sunscreen. So thanks for all your tips.
By j_lyday from SLC, UT
I had a bright pink dry erase stain on some blue cotton chambray light-weight fabric. Scrubbing with lots of Murphy's Oil Soap got the ink out - along with some of the dress's blue color. Now there's a light spot instead of a pink spot. The dress was washing machine safe and had been through several washes. Murphy's Oil Soap is "too" good at getting dye out of cotton.
I let my little grandson scribble with a dry erase marker and he got it all over his shirt. I was really surprised that it would be so difficult to get out. I tried all the tips listed, except for the ink remover. Alcohol did nothing, Goof-off did nothing. Murphy's Oil Soap finally began to budge the color. Then I remembered my Spot Shot carpet cleaner. That took it right out.
Now, was it a combination of everything that went before or just the Spot Shot I am not sure. I am so grateful something works.

First I tried Murphy's Oil Soap on the water-wetted shirt spot. It took a bit of the stain out, but not much. Then I sprayed Top Job Spot & Stain carpet cleaner, it comes in a red plastic spray container, directly onto the spot and rubbed it with an old white cotton sock. I did this several times and the dark green dry erase marker stain came right out. It was miraculous! The shirt looks good as new. Be sure to wash the garment immediately after you remove the spot so that everything you just used to remove the stain gets washed out and doesn't sit on the fabric. No kidding, the carpet cleaner truly worked.
By Kar Kar [1]
Give a "thumbs up" to the solution that worked the best! Do you have a better solution? Click here to share it!
Questions
Here are questions related to Removing Dry Erase Marker Stains on Fabric.
Help! My grandson got dry erase marker on a brand new Detroit Tiger $80 jersey. it is 100% polyester. I tried everything I could think of. Please help; he's heartbroken.
By Dotty
Ad
---
---
Most Recent Answer

By Grandma J [46]10/11/2010
Take it to a dry cleaners, for the simple $10 or less cost, versus the cost of buying and trying. They will tell you whether it can be done or not. Always tell the cleaners what the stains are, if possible. Clean things right away. The longer things sit, the harder to come out.
How do you get dry erase marker marks out of clothing?
By Glenda from Belleville, IL
Ad
---
---
Most Recent Answer

By Annie W.07/26/2012
Using a cotton swab and rubbing alcohol.
How do you remove dry-erase stains from a white polyurethane vest? I have tried rubbing alcohol, Murphy's Oil soap, Oxi Clean spray, and have washed it. I have not put in dryer. Nothing even touches it.
By Sara from IA
---
Most Recent Answer

By kathleen williams [23]03/13/2010
Nail poilish remover or hairspray.
good luck.
My daughter got blue EXPO Dry Erase Marker on her new bedspread. I applied Amodex as directed two times and the marker is still there. Any advice on how to remove the marker would be helpful.
Thanks.
Maria, Ava's Mom
By Maria
---
Most Recent Answer

By kathleen williams [23]03/13/2010
Nail polish remover or hairspray. Good luck.
A homemade quilt got dry erase marker on it. The quilt is pink and white squares and the marker color is red and black. We would love to know some way to get the marker out of the quilt. Thank you!

Amy from Provo, UT
---
Most Recent Answer

By dede smith [17]12/16/2008
Wait to see if anyone else gives a better answer, but I thought that kind of marker was washable, use some "Shout" type stain remover. OR ask a teacher. I am sure Jonnie got her white pants last year. If ya know what I mean, lol. Good luck
How can I remove dry erase marker from silk? The fabric is actually 70% silk and 30% linen. The marker leaked and dripped, so it is more dense than just a mark on the fabric.

Lori from Lake City, TN
---
Most Recent Answer

By rara and kaykay (Guest Post)02/09/2008
My friend has a white cotton shirt, we tried bleach, dish soap, dish detergent, rubbing alcohol, and baby wipes. none of that worked. To this moment we are still trying to get the stain out. My friend is really mad at me, and i am mad too because this is how I have to spend my Saturday night :(
Archives
Thrifty Fun has been around so long that many of our pages have been reset several times. Archives are older versions of the page and the feedback that was provided then.
I have whiteboard marker stains on many of my clothes. How can I remove these stains?
Kirsty, Malaysia
---
RE: Dry Erase Marker Stains on Clothing
Hair spray, Oxy Clean, fingernail polish remover (acetone), and shout did not work for me.
To add to the list of things that don't work, I tried 409.
The problem with dry erase is that -none- of it is water soluble. In fact, if you get it wet, you can't even get it off a dry erase board without a special cleaner!
I rinsed it with 99% isopropyl alcohol, it removed some of it but not all.
In fact my next attempt will be to go get a bottle of dry erase board cleaner and see if it will get it out of cloth. My wife got some on a white T-shirt, just below and into a screen printed picture. (11/15/2005)
By Steve G.
RE: Dry Erase Marker Stains on Clothing
I have researched this topic, due to my children using them in the classroom and of course it ends up on there clothes. I have not purchased it yet, but Amodex ink remover is supposed to work. The makers of dry erase even give it as a suggestion on there web page as a way to remove dry erase ink stains. (12/01/2005)
RE: Dry Erase Marker Stains on Clothing
If the piece of apparel is worth something to you, then absolutely take it to a professional cleaner and show them the spot and tell them it is from a dry erase marker. You can easily ruin clothing using any of the items suggested in the posts here.
No, I am not in the dry cleaning business nor is anyone in my family. (01/23/2006)
By Rooster
RE: Dry Erase Marker Stains on Clothing
I got a dry erase marker stain on a cyan blue shirt today. I used the dry erase board cleaner on the stains and then blotted them with a wet paper towel and the marker stain came out! And it didn't bleach my shirt either! But, you know... that might not be true for every shirt. (03/03/2006)
By mousetrap
RE: Dry Erase Marker Stains on Clothing
I was able remove dry erase marks from my fridge using a magic rub eraser. (04/13/2006)
By John
RE: Dry Erase Marker Stains on Clothing
Alcohol, not the drinking kind, will take it off clothes as well as other surfaces. (04/13/2006)
By Mary
RE: Dry Erase Marker Stains on Clothing
Thank you for being here! I did a dumb thing. I was playing a game on my computer and used a expo marker to mark East on my brand new Mac 20 inch monitor. After the game was over I tried to rub it off using Windex Says (Great for Whiteboards). It didn't work!!
Then I read here that someone used a Magic Rub Eraser and I tried it. Thank god! A tiny bit of Scratch if you get it just right in the light but no more blue color at all! An hour spent in a panic! Thanks! (04/20/2006)
By freidaw
RE: Dry Erase Marker Stains on Carpet
My 2 year old decided to color on our new beige carpet with black dry erase marker. A LOT. I was able to get it out by, 1) vacuuming the area to remove the unattached dry erase particles 2) spraying the area bit by bit with dry erase removal solution for the wipe board and rubbing in every direction with a clean paper towel. Bit by bit the towel would take on the black color from the marker and I would switch to a new one.
It took me about half an hour to remove maybe 7 lines and dots of the marker, and I kept alternating spraying, scrubbing with the paper towel, and vacuuming.
My arms are killing me, I used up the whole bottle of dry erase remover and half a roll of paper towels, but the rug is finally spotless. Hard work but very worth it. Good luck removing your stains! (05/19/2006)
By CNY
RE: Dry Erase Marker Stains on Clothing
I just wanted to let all know what finally got out the dry erase marker stains! I tried everything that was suggested and here's what works: DO NOT wet garment, apply generous amounts of AMODEX Stain Remover and Stanley Steamer carpet stain remover. I have only used these together, so perhaps only one may be needed, but after 3 ruined shirts, I'll stick with what I know! I hope this helps! (09/14/2006)
By A Frustrated Mom
RE: Dry Erase Marker Stains on Clothing
Try spraying straight vinegar on it. Soak it for a while then scrub it. I like vinegar for most stubborn stains and for household cleaning. (10/13/2006)
By Anne
Product Websites
Whatever the stain, from whatever product, if you go to that products website they always have tips and suggestions on stain removal. Eg.. Dry erase marker stain, go to stanford marker web site. If you don't know the website, google the product name. (10/15/2006)
By Kari
I have green dry erase marker on my coach suede bag (camel suede color). Lots of marks, not just a small one.
I need help removing dry eraser marks on a tee shirt.