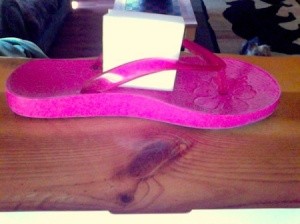 Flip flops tend to get dirty, especially my white and pink ones. I have tried many cleaners and the best is the Magic Eraser.
By Louella from Billings, MT
Has anyone has any tried washing flip flops in the washing machine? Did it work? Was it a tragedy? I am too lazy to wash them by hand and I've always wondered if the washing machine works?

Thanks,
Harleychic From SLC, UT
By guest (Guest Post)
May 27, 2006
0

found this helpful
Best Answer
Many things have been used over the years. I usually used is a nail brush or the largest brush that'll fit between the straps; I've used Dawn detergent or shampoo. If you have crusty oil or tar spots, from walking along the ocean first apply an ice cube to freeze the spot then scrape off as much as you can before using other solvents/stain removers. If you have a solvent made just for removing heavy grease or tar, use that and it should work. Also use alcohol for ink stains; dry-cleaning solution for heavy-duty stains such as Magic Marker spots. If yours are the plastic flip-flops, you're safe using a variety of dirt/stain removers. If yours is made of other material, follow directions for stain removal for that fabric or leather.
By guest (Guest Post)
October 16, 2007
0

found this helpful
Great suggestions. My daughter cleans hers in the shower with a toothbrush and simple dishwashing liquid. They look great.
By guest (Guest Post)
December 10, 2007
0

found this helpful
LAZY GIRL'S GUIDE TO CLEAN FLIP FLOPS:
1. Wear flip flops while you shower to remove street dirt/grime. 2. Throw flip flops into a hot water bleach towel load to alleviate ground-in foot odour. If you're leaving the towels to soak for a few hours, leave 'em. They can take it! Remove before softener cycle. 3. Dry in the sun.
This works best on white/beige flip flops. But even the darker ones benefit from the disinfection. For ground in dirt, I love Mr. Clean MAGIC ERASER.
By guest (Guest Post)
February 24, 2008
0

found this helpful
I need to know how to clean white hollister flip flops. HELP ANYONE!
By guest (Guest Post)
April 4, 2008
0

found this helpful
I bought the new Hollister fabric flip flops and I tried cleaning one of them with the Tide To Go pen and it just made the stain darker, any help ?
By guest (Guest Post)
April 29, 2008
0

found this helpful
Baby wipes work wonders for me.
By guest (Guest Post)
May 6, 2008
0

found this helpful
So if you have old navys new flip-flop I would reccomend using a clorox wipe the orange package it really work! I have 55 pairs of flip flops that I wear daily and or weekly but I would use that it works so good just scrub and let them dry in the sun or in your house! (if you have fancy ones with designs I would not use this method of clean unless you want the design to come off)! Please try it works great it take literally like 2 minutes!
Read More Answers
What is the best way to clean flip flops?
By Jo
August 25, 2012
0

found this helpful
For plain flip flops without any trim, wash in the washer with a load of rags or denims. Let air dry. For those with trimming such as flowers, beads etc., wipe the sole, and footbed with an all purpose cleaner that does not need rinsing, then wipe the beaded trim with a rag dampened with water. If there is silk flower trim which needs cleaning, put a 1/2 cup of dry cornmeal in a bag along with the now otherwise clean flip flops, and shake vigorously, then take out the shoes, and shake off the cornmeal. Hope this helps.