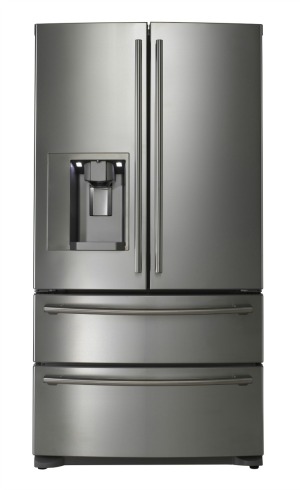 After a power outage or malfunction a refrigerator that had food in it is not a pretty site. Mold can grow rapidly in these conditions. This is a guide about cleaning a moldy refrigerator.
Ad
---
Questions
Here are questions related to Cleaning a Moldy Refrigerator.
I need help removing mold from my refrigerator.
By Jackie from Detroit, MI
AnswerWas this interesting? Yes No
Ad
---
---
Most Recent Answer
By debcathey 1 02/02/20120 people found this helpful
I too have an expensive ge profile refrigerator with the same black mold problem, have had repairmen out 3 times problem still not fixed, has ruined my floor, etc, giving up, what a waste.
---
How do you get mildew and mold out of a freezer that had food left in it with no electricity? The doors were left open so it is dried on there. The smell is not that great either. Can you pressure wash it out? It is a new fridge with a bottom freezer that is being left in the house we are buying.

I would hate to have to get rid of it, but the mold/mildew mixture looks pretty bad. It also oozed a sticky looking liquid on the floor. I can't wait to see what is under the fridge. Any help/suggestions would be appreciated.

NiqueLSU from Baton Rouge, LA
AnswerWas this interesting? Yes No
Ad
---
---
Most Recent Answer
By Dan 4 02/13/20100 people found this helpful
Cinnamon oil. Especially if the smell persists after you've cleaned the interior thoroughly.

I accidentally unplugged our fridge/freezer for two weeks while we were gone for Christmas, and when we came back, the entire interior was coated in mold. We cleaned the fridge in and out with bleach and warm water, then left it open (keeping our food outside) for a week. There was no visible mold, but it still smelled so strong that you could smell it from outside the apartment. We tried putting the food back in, but everything smelled and tasted of mold, even when we kept it in ziplock bags. We cleaned it again with bleach and water. The next day we cleaned it with lemon juice, salt, and water. Slightly better. But still terrible. The problem was that the mold had grown into the air duct systems, and there was no way we could access those areas to clean them. When we would plug the fridge in after cleaning the air that would blast out would be noxious and overwhelming.

Finally, I told my girlfriend that we would get a new fridge if the smell wasn't completely gone in 5 days. This seemed impossible. I found some studies saying that cinnamon oil is a superb antiseptic, and has been shown to slow mold growth in moldy bread by more than 10 days when the oil coats the paper around the bread. Why not give it a try, I thought, since nothing else was working.

I bought 2 oz of cinnamon oil in Manhattan for $30 (you can get it somewhat cheaper on the internet). I covered the bottoms of two mall porcelain bowls with cinnamon oil and placed the bowls in the fridge. A couple of times a day I would blow a hair dryer, on high hot, into the bowls so that the oil was heated and diffused (use a face mask--this stuff is strong!) throughout the fridge and freezer. I kept it up until the bowls were very hot. Then I would close the doors. The smell was very nice compared to the mold smell that we'd lived with for the previous 3 weeks. I tried to blow the oil especially into the hidden areas that were accessible to air/mold.

Within 2 days, the mold smell was almost completely gone. Within 4 days all you could smell was cinnamon. I continued the treatment for about 5 days. It's been about 3 weeks now, and the fridge and freezer both smell impeccable, if cinnamony. My girlfriend is amazed and very pleased.

The research supports this stuff. It's a little work, and the cinnamon oil is expensive, but it's a miracle. I promise it works.
---
My power was off and the refrigerator was full of food. How can I clean and remove mold from it? It has been sitting for 6 months.
By Tami from Valpo, IN
AnswerWas this interesting? Yes No
---
Most Recent Answer
By Lisa 2 656 02/27/20110 people found this helpful
One of my good friends had to leave her house in a hurry because of a hurricane (Katrina). Her house was okay, but the fridge was a loss. And that was after a few weeks. I can't imagine what it would be like after 6 months.

And I remember on an episode of the BBC show How Clean is Your House they tested the inside of a woman's fridge, and it came back that the fridge should no longer be used. Besides the yuck in the dirty fridge, the chemicals they'd have to use to clean it would make the fridge unsafe to use afterwards.

So please be careful. Six months is a long time. If, after you clean it up, you have any doubts, you should probably let it go.
---
How does copper help in killing mold?
By Lilian from Kenya
AnswerWas this interesting? Yes No
---
Most Recent Answer
By Sally 16 226 11/19/20130 people found this helpful
(Submitted via email)

The green that can develop on copper is known as Verdigris. Verdigris is formed as a reaction to acids and salts in the air. By sea air, mostly Copper Chloride is formed, and in inland areas, Copper Carbonate is mainly formed. Both appear as a green crumbly crust. The green found on copper is NOT a mould.

James
---
How do I clean moldy fridge seals and keep it from rusting?
AnswerWas this interesting? Yes No
---
Most Recent Answer
By Louise B. 6 2,522 11/27/20080 people found this helpful
Hydrogen peroxide is also a mold destroyer. I would try regular household chlorine bleach. What is it that is rusting? Painting over exposed metal will keep it from rusting. I don't really understand where you are getting rust.
---
I had my fridge off last Wednesday before bed time planning to turn it on the next morning before leaving for work. Unfortunately, I missed out and got back home only in time for bed, and had totally forgotten.
Before leaving home again on Friday morning, my son opened the fridge and that's when we found there was spoiled food. Could not do much. Was busy again the whole weekend, and have been busy beginning this week due to opening of new school year.
Today I opened it to remove trays from the bottom and when checking the top, found small worms crawling around. What do I do with this stinky fridge? It is still good? Can I clean it and reuse it? How?
By Jay R from Suva, Fiji
AnswerWas this interesting? Yes No
---
Most Recent Answer
By Louise B. 6 2,522 01/26/20150 people found this helpful
You must certainly toss all the contents of your fridge, and I hope that you now know that you can not leave a fridge unplugged with food in it. After you clean out the fridge and wash it thoroughly, you should likely let it air out to let any foul odors and the bleach odors dissipate. I would also use a couple of boxes of baking soda in the fridge to help eliminate odors after you have plugged it in again. Hopefully, you will be able to clean this well enough to use it again. I would use hot soapy water first, and then a dilute bleach solution or perhaps baking soda dissolved in water as a rinse solution. Never, ever unplug a fridge if you have food in it.
---
The power was off at one of my rental properties for three months. The tenants left a small amount of food and one container in the fridge. There were fruit flies all over the house. I haven't dared open the fridge since I put the power back on. Should I clean it out at this point, or get another fridge?
By Yve W.
AnswerWas this interesting? Yes No
---
Most Recent Answer
By Sandi/Poor But Proud 449 2,075 12/09/20140 people found this helpful
I can help with the flies and the fridge. Yes, you can clean it, but it must be done before any smell permeates the lining of the fridge walls. After that, and you won't win.

You can use a couple boxes of baking soda. Wad up some news paper and put several pieces on each shelf. The paper will absorb the odors as will the B/Soda. Clean down with bleach water and you are good to go.

If you still have the flies, put a 1/2 c. of apple cider vinegar in a plastic cup, and drop in 2 drops of dish washing liquid. This breaks up the surface adhesion of the water and they dive in and drown. If you don't have any cider vinegar, put some water and sugar in the cup, and chop up some apple bits.

I hope these helped. PBP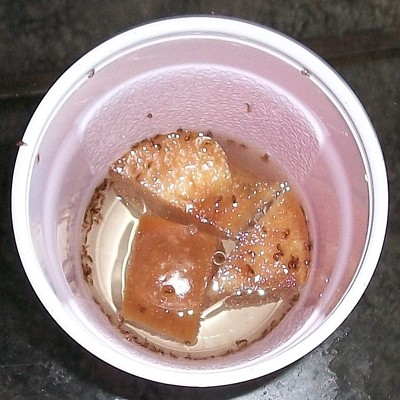 Solutions: Cleaning a Moldy Refrigerator
Do you have knowledge about this guide topic? Feel free to share a solution!