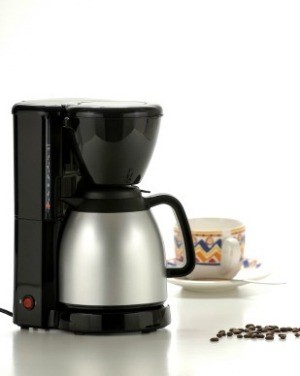 Having a sparkling clean coffee percolator and removing coffee stains can be a challenge. This guide is about cleaning a stainless steel coffee pot.
Solutions: Cleaning a Stainless Steel Coffee Pot
Read and rate the best solutions below by giving them a "thumbs up".
There is a product called Dip It - you just pour a package along with boiling water into the pot and all the YUK will float to the surface and inside is shiny steel! The Dip It powder works so much better than the cleaner they also offer - you can find it anywhere!
To clean inside of stainless steel coffee pot, take a hand held kitchen wand. Place a steel wool pad of your choice over the scrubbing pad attached to the wand. This can be held in place by wrapping rubber bands around it. Use this to scrub around the inside of the pot. Rinse very well before then cleaning your complete coffee system with white vinegar and water.
By Babwaray [1]
Tired of buying expensive cleaners for your stainless steel coffeepots? Well, I don't! I just drop a dishwashing machine tablet into the pot with hot water. Let it sit for a while and rinse well. Coffee residue is gone and you have a brand new pot.

By Marie from Long Island, NY
Give a "thumbs up" to the solution that worked the best! Do you have a better solution? Click here to share it!
Questions
Here are questions related to Cleaning a Stainless Steel Coffee Pot.
How do I remove coffee stains from the inside of a Cuisinart stainless steel insulated coffee pot? Nothing seems to be working and now it is very dark.
By kimmer
---
Most Recent Answer

By killerdimples [1]09/29/2012
Try baking soda and water mix.
How do I clean a stainless steel coffee carafe?
By Cass from San Francisco
---
Most Recent Answer
11/27/2012
I tried all of the posted suggestions to no avail. This morning I was cleaning my oven and thought "what the heck" ... I'll try oven spray on my coffee pot. Wonder of wonders, the pot cleaned up beautifully in less than 15 minutes.
Archives
Thrifty Fun has been around so long that many of our pages have been reset several times. Archives are older versions of the page and the feedback that was provided then.
How do I clean my stainless steel coffee pot?
Alex from Atlantic City
---
RE: Cleaning a Stainless Steel Coffee Pot
I have a friend that uses Bon-Ami (the scouring powder) on all kind of things I thought would get scratched. It's non-abrasive so it preserves the item. That would probably get coffee stains out of SS. (12/25/2006)
By ElvisCat
RE: Cleaning a Stainless Steel Coffee Pot
The best way I have found to clean coffee pots, thermos bottles, etc. is to use denture tablets! Fill the pot or thermos bottle with warm water, drop in one or two denture tablets and let it sit for 10 or 15 minutes. Or, if its really stained, let it sit overnight. I have used this method for many years. Works terrific! (12/26/2006)
By Granny Sandy
RE: Cleaning a Stainless Steel Coffee Pot
At work we have stainless steel coffee pots. When the pots get nasty, I put dish washing detergent (enough to cover the bottom) and the hotest water that I can get from the faucet. Let sit for quite a while. Then I stick a scrubby or dual sidded sponge in and move it around. They come out as good as new. (12/28/2006)
By JMRoss
RE: Cleaning a Stainless Steel Coffee Pot
Go to the brush/broom section of a department store. Buy a good stiff bristled toilet brush with a head that will fit into your coffee pot.. Shake some non abrasive powder or vinegar into the bottom of your coffee pot, and scrub away with the brush. It cleans everything right up. Keep the toilet brush in a special spot, labled, so you can never mistaken it for the toilet LOL I use one in my dishwater for scrubbing pots and pans. Works like a charm, and you can use the hottest tap water without burning yourself. (12/29/2006)
By gouligann
RE: Cleaning a Stainless Steel Coffee Pot
When I was working in the restaurant we cleaned the pots with crushed ice and salt. The ice was the scrubber and the salt cleaned off the oils that stuck to the sides of the pot. Just put about a cup of crushed ice and a couple of teaspoons of salt in and swirl the pot around. Once a month we bleached the pots. Your home coffee pot probably wouldn't need bleach every month. (12/29/2006)
By Carla Bledsoe
Does anyone have a recipe for cleaning the inside of a stainless steel coffee pot?
Rose from Malvern, PA
---
RE: Cleaning a Stainless Steel Coffee Pot
Heat white vinegar in the pot. (06/13/2007)
By Dorie
RE: Cleaning a Stainless Steel Coffee Pot
If you mean a percolator, I use 1/8 cup of Oxiclean and a full pot of water. After perking, run two more pots of plain water through. It sparkles on the inside and all of the build up is gone. (06/15/2007)
By Beth
RE: Cleaning a Stainless Steel Coffee Pot
Pour some baking soda in, add a little bit of water, and let it sit for a few minutes. (06/23/2007)
By Bren502
RE: Cleaning a Stainless Steel Coffee Pot
Add a couple slices of lemon or 2 tbsp of lemon juice to that salt ice mixture and you are golden. (02/08/2009)
By Hugh J.