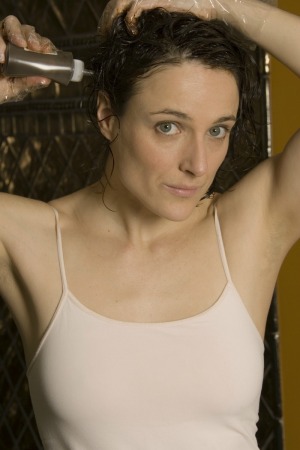 Although coloring your hair to hide gray is one of the most common reasons for dyeing hair, it can difficult. Gray hair often resists dye. This is a guide about coloring gray hair.
Ad
---
Solutions: Coloring Gray Hair
Read and rate the best solutions below by giving them a "thumbs up".
Product: Gray Magic Color Additive
Model: Item 780585
Manufacturer: American International Industries
Cost: $5.99 US
Someone on Thriftyfun recommended Gray Magic for hard to color gray hair. I tried it last week and it worked. The instructions recommend 10 drops for one ounce of color. I just followed the Revlon hair color directions and mixed the hair color with the developer and shook it really well as usual. Then I added 10 drops of Gray Magic, and shook the bottle of hair color really well again.
Ok, don't get scared, but after I added the 10 drops, it turned the hair color dark purple! Yes, I was scared. But my philosophy is - hair can always be colored again. I colored my hair as usual, concentrating on the roots. But I also use a large tooth comb to drag the color through the rest of my hair and put some on the ends, since my hair fades there quite a bit.
I did keep my hair color on for much longer than the Revlon instructions; but I always do. I kept it on for about 1 hour. This is IN ADDITION to the time it takes me to actually put the color on my hair (which seems to take forever).
Then, still following Revlon's instructions, mixed a little warm water to my hair making it suds up a bit. I rinsed really, really well - but I always do. Don't get scared. When I rinsed, it rinsed out dark purple. I was scared. However, my results were great and I will definitely use it again. It colored all of my hard to cover grays.
Then I used a really intense hair conditioner after I rinsed and towel dried my hair. Then I wrapped my hair in plastic wrap and went out in the sun (you don't have to go out in the sun, but I do keep the plastic wrap on for around 1/2 hour to 1 hour, or as long as I can stand it. Then I rinse the conditioner out really, really well. I usually let my hair air dry after this, but I've also styled my hair immediately after too.
But this is one secret I have learned: I never, ever wash my hair the day before I color. In fact, I wait about 4 days after shampooing. Then, I don't shampoo my hair for around 4 days after I color. I don't have oily hair anymore (I'm 52). The combination of all of these things makes my hair color not fade as fast, I don't know why.
But I do rinse my hair in between shampoos (rinse really, really well to remove any gels, hairsprays, etc.) and then style as usual with gel, whatever, hair spray. The next day, I rinse, style and that's that. My hair doesn't get oily.
I bought Gray Magic at Sally Beauty Supply in Houston, Texas, USA, but they do have stores all of the USA.
Here is their website:
The Gray Magic box says it's made in the USA, but here is more info from the box: Gray Magic is a registered trademark of American International Industries; AII (UK) Ltd; Berkshire R! 7SR.
More tricks:
I have stopped using shampoo and any hair products with sodium lauryl sulfate. I find it strips my color and dries my hair. This includes high end hair products as well as drugstore kind.
A shampoo that is my latest love is by Shikai and is called Henna Gold Highlighting Shampoo. Safe for color treated hair. And shiny? I can't believe how shiny my hair is and it does bring out highlights in my color treated hair WITHOUT stripping the color along the hair shaft, or lifting the color from the roots. No animal testing or animal ingredients.
A very nice product. I bought it for around $7.99 US for 12 ounces, at a local Whole Foods Store, a high end health food store (www.wholefoodds.com). Here are the shampoo details:
Shikair Products,
Santa Rosa, California, USA 95405
Tel: 1-5800-448-0298
http://www.shikai.com/
I only use a little bit of this shampoo on my scalp after I rinse my hair really, really, really well before I put on the shampoo.
Another trick: I never, ever shampoo the ends of my hair. I only shampoo the roots, which is really the only part that needs actual cleaning.
You wouldn't believe what this has done to get rid of my split ends. I also get hair cuts around every 6 weeks - there is no miracle for split ends, you have to have them trimmed off, but in one month of not shampooing my ends, my hair drastically improved.
I used Revlon brand 'Colorsilk' in 'medium brown' hair color - sorry, I didn't write down the color's number. I buy it at local drugstores (Walgreens, CVS) and also at Walmart and Target. All of these stores have websites: walgreens.com, cvs.com, walmart.com, target.com, probably at drugstore.com too.
You could probably email Revlon for a store that sells it near you.
Well, I think I have exhausted the subject! I hope you have good luck if you decide to try Gray Magic!
:)
Give a "thumbs up" to the solution that worked the best! Do you have a better solution? Click here to share it!
Questions
Here are questions related to Coloring Gray Hair.
I have been wearing a wig for some time. I now have virgin gray hair and I do not like it. I do want to be able to wear my hair out, so what homemade product or natural product can I use to dye virgin gray hair?

By Barbara B.
I have spent 8 months growing out dark hair color. My hair dresser suggested using dark blond and it's been working. Today I used Gray Magic in my blond solution, and my hair turned almost black. I'm devastated. What can I do to get this out? I immediately shampooed my hair, but it didn't do any good.
By Jgreen
I have been using the standard boxed hair color for years to get rid of my gray hair. But the past couple of times I colored my hair, using the same procedure, it's like I didn't do a thing. The grays were still there. Am I doing something wrong? Are they developing a resistance? Do I need to start pre-treating with peroxide? Help!
By Cynthia
Ad
---
---
Most Recent Answer

By elva03/18/2014
Gray hair is stubborn to dye. You may need to go to the beauty shop and have it professionaly done.
I used a 6N Shades EQ with drops of Gray Magic. It went 2 levels darker. Is there anything I can do to take it out?
By Jean
I have a dark brownish real color hair, but I just turned 44 this month and the grey is totally stubborn when it comes to coloring my hair. I like to keep it a blond color with highlights and have noticed that after going to the salon my longer grey pieces of hair were still grey, like the color was only sticking until the first wash. I use the color shampoo and the color leave in conditioner. I know that there is nothing that I can do for the new hair growing in, but what should I do about the hair that has been colored or highlighted that goes right back to grey? I have asked at the salon and they just say yeah well some hair is more stubborn than others. I personally don't like paying people who answer me with a response like that. What would you do? I mean they have nothing at all to help me out and the lighter highlights make it look like it is just blond, but I am still so mad every time a professional can't help me! It drives me nuts.
Thanks.
By Katy M
Ad
---
---
Most Recent Answer

By Amanda Carroll [13]09/05/2012
My natural hair color is dark dirty blonde, but haven't seen it in many many years. I am 46 and have alot of white gray in the front and crown area, so my beautician treats that area first with all blonde about an inch into the hairline. The rest I have low lites of dark brown thick and thin strands and it looks very good. I have to go every 5 weeks for retouch but I choose to have healthy hi-lited hair rather than all one color. It looks allot better and healthier as well. Also I might add that I use the 10 minute miracle spray every time I was my hair. It helps keep it soft and manageable.
I naturally have dark hair and am now having to dye it every six weeks in order to keep the grays at bay (I'm probably 5 -10 percent gray). I like dark hairstyles with a few chunky blond highlights around the crown. I am unable to budget such a beauty treatment at this time and I am also the do-it-yourself type.
Could I dye it my normal dark color to hide the grays and then follow it with a highlight kit from the grocery store? If so, how do I handle it six weeks from now? Would I re-dye the entire head of hair and create new blonde chunky highlights all over again?
I have googled, but can't seem to come up with a good answer, as most of them do not have to dye their hair for grays. Thanks for any detailed answers you can give.
By Marla from MO
---
Best Answer

11/04/2009
Personally, since you're only 5 to 10 % gray, I would suggest simply doing the chunky highlights around the crown. At least try it for three or four months and you just might find you like it and you'll be saving yourself an added step headache and money too ;-)

The other thing you can try is using Clairol Natural Instincts two or three shades lighter than your natural color and your gray will be your highlight because a lighter color was deposited on the gray and barely any lifting of your natural color. It might not look like chunky blonde highlights but it will look slightly highlighted and looks really natural. This is what I do ;-)
I am brunette and I am graying. I color my hair myself however I have trouble with resistant grays. I start applying the hair color on the grays first (new growth and temple area). I leave it on these areas longer then apply to the whole head. I use shampoo for color treated hair but approximately a week later the grays are back!

I did an internet search and it said to get hairdressing peroxide and apply to the grays before coloring. This is supposed to get the hair ready and make it absorb the color better. Do any of you have any ideas? Have you used peroxide? Any other tips. Thanks so much.

Edith from CT
---
Best Answers

By m (Guest Post)09/28/2008
I also am a licensed cosmetologist. I am just starting to go grey myself, but have been helping other's battle the grey for years. Personally, I highlight my hair through a cap. This blends the grey in. For my grey clients I do one of two things:

1. Primarily I use a semi-permanent hair color. This is a color that fades off in 4-6 weeks, and does not cover the grey, but instead blends it in. Very easy to apply, and hard to mess up.

2. Otherwise I use a color formulated especially for grey hair. This does make a difference, because they can be very resistant. Also, it helps to cover your head with plastic (shower cap, walmart bag, etc) and stay out of the air conditioning. Keep your head warm and this will open up the cuticle to allow your hair to absorb the color molecule. Also, when rinsing the color out, use cold water!!! This seals the cuticle back down.
---
Best Answers

By (Guest Post)09/04/2008
Go to sally's beauty supply and get some "Grey magic" which comes in a small bottle and add 10 drops to your hair color. It helps hold the hair color.

Cathy from MA
---
Best Answers

By Annie Rios Hill [12]09/04/2008
Clariol has a few colors that are made for gray hair. Now some of the gray will be lighter but it looks like natural hi lights. The one I used was made for gray hair and it works great. Try that and good luck.
---
Best Answers

By rae (Guest Post)09/02/2008
I've had good luck with a product that seems fairly new called Perfect 10 by Clairol. If you don't mix it together all at once, I can get 3 applications out of it.
I have been coloring my hair since it has started turning gray. I don't like the texture of my hair for about a week or longer after I've colored it. The dye makes it very slick without any body. I can't even keep it in a ponytail because the slick texture causes the elastic to slip right off! I don't have thin hair really. Anybody have a suggestion on how to avoid this slick texture after coloring? After about two weeks it feels normal, then in two more weeks it's time to color it again.

Mary from Denver
---
Best Answer

By Karen (Guest Post)02/22/2006
It sounds like you're skipping the step where you add water and work into a lather - the places you miss will be slick. Also, you might want to use a deep conditioner after you color. The slick hair could be damaged. Hope this helps :)