Whether fresh or dry, branches and twigs are a thrifty supply to create a variety of things. This guide is about crafts using tree branches.
Last summer, I found a nice branch that I spray painted gold and that I use as a trellis for my live ivy. Usually it sits in a decorative basket in the hallway. This past Christmas, I hung some small red bells from the branches, wrapped the basket with a seasonal tea towel and placed it on a side table in the family room. It garnered compliments from family and friends but sorry to say, I didn't think about taking a picture of it. Anyway, a little imagination at any time costs next to nothing and always gives back a great feeling.
Approximate Time: 5 minutes to paint, 1/2 hour to dry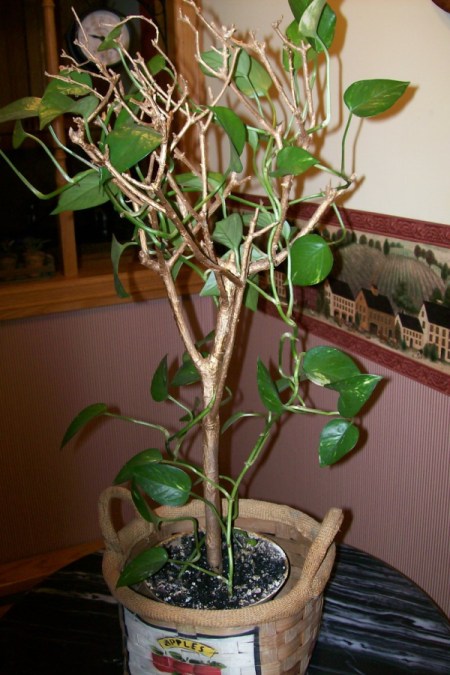 I've had a lot of oleander bushes in the yard for years. I wanted to re-landscape some parts so the bushes had to go. Other trees/branches can be used as well. The limbs of this bush are very soft and can be milled into useful items to use around the house and studio. I didn't want to throw them all away, so I saved several pieces to use in later projects.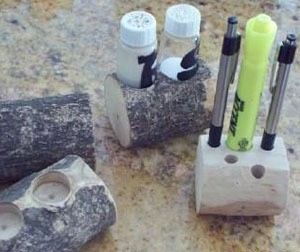 Approximate Time: 1-2 hours
Supplies:
saws to trim bushes
table/band saw
drill press
stains and or paints as needed
Instructions:
Select the largest branches to be used as pencil and salt and pepper holders.
I have let them dry for a few months and would recommend that step to prevent severe cracking.
When dry, the branch or limb can be trimmed with power tools. I used a table saw and band saw to flatten one or two sides of the limb, and to then cut it off to the size I wanted.
Drill holes in one of the flat sides with a forstner bit, and or round drill bits of the size desired.
Articles made can be stained, if wanted, and painted. It's up to you.
Place in use as salt and pepper shaker holder and pen and pencil holder.
By ~gloria 94 150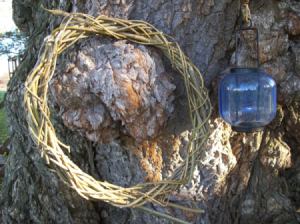 You don't have to spend a fortune at the craft stores to make a great natural wreath. If you have a willow tree that loves to drop its long branches all over the yard (the bane of my husband's existence :), then you have about all you need. If you don't have one, ask around, maybe a friend does. Or investigate other trees, vines, shrubs that might also be suitable.
If you've ever made a grapevine wreath, the process is the same for willow branches. Make your initial circle to the size desired by wrapping the pliable branch around itself. Slightly green branches work best. Then begin wrapping additional branches tucking the ends in between until you get the wreath thickness you desire.
If you have floral wire or any thin gauge wire (twisty ties with the paper coating peeled off), you can secure the finished wreath in a couple places. Hide the wire with whatever you decorate your wreath.
My photo shows a willow wreath in progress. Notice the ends that need to be trimmed or tucked in. But you may like to leave some for a more natural look. There's no right or wrong with this craft.
By gloria from western NY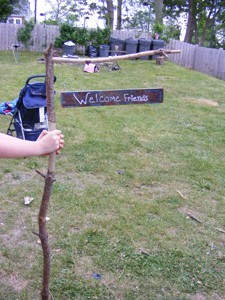 I am big on nature. I took one long branch, a shorter branch, scrap wood, and made a welcome sign. I screwed the branches together. I put a screw(or nail) in top of the sign, wrapped copper wire around top screws.
I tied the copper wire around shorter branch to the length I wanted and there is my sign. The scrap wood is the back of a wooden chair, I just used markers to write "Welcome Friends" and put 3-4 coats of poly on it.
Source: Tired of everyone asking "What are you doing with those branches?"
By Sherry from Onset, MA
By belen 9
I make flowers from acorns and twigs found in my yard.
Approximate Time: 1 hour
Supplies:
glue gun
pine cones
small plastic jar
wild moss
mini acorns
about 14 small branches
wild ivy
rubber band or ribbon
about 4 long branches
Instructions:
Collect about 14 small branches. Cut to same length or longer than jar. Collect about 3 pine cones, and some ivy. Strip ivy of all leaves, this will be wrapped around jar of branches.
Trim branches to same length, lay across side by side. Intertwine ribbon then tie ends around jar. Glue each branch.
With the last 4 branches, make stems. Cut across tips. Measure the length desired then cut floral tips off pine cones, these will be the petals. Glue pine cone tips then with mini acorns, cut in half and placed in the middle of the petals. Arrange flowers in vase. Use twine to wrap around jars. I use wild moss for filling.
By Belen from Jacksoville, FL
This is a branch that is cut and then cracked in two. Where it is cracked in two, I put duct tape on the top. It will hold clothes. They would really be pretty if they were all covered in duct tape rather than just the top.
I have a project this month of recycling all that is left over after getting rid of the extra maple branches on our maple tree. It is too close to the electric line.
We have made a chime out of one of them, and now we have made a clothespin out of some of the smaller ones.
We stuck them in the rooster gate to keep him from jumping out over the fence at mother. :)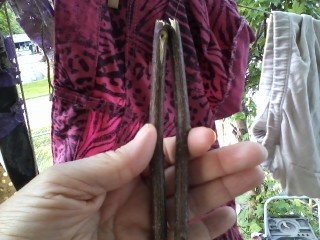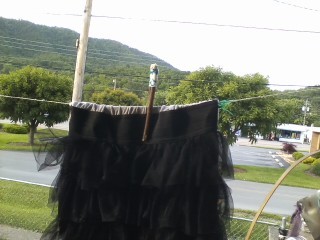 We made a circle of beads with wire and hooked them together.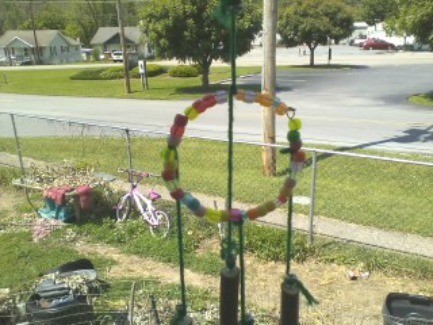 Make spooky branches covered in cob webs and glittery bats to decorate for Halloween this year!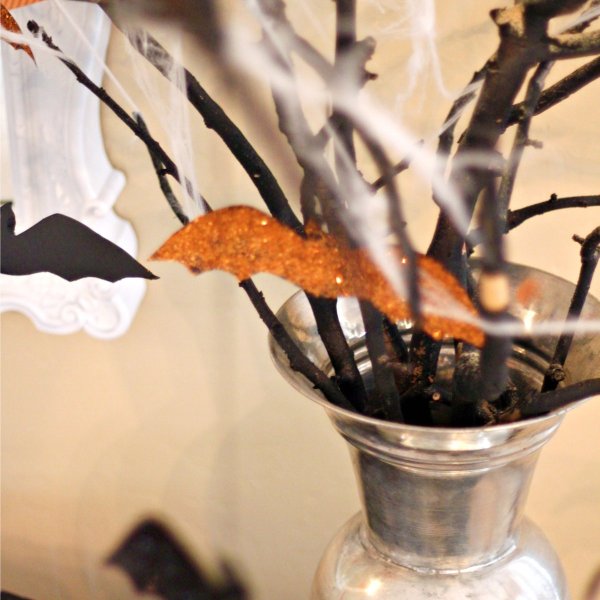 By Tessa 1
I have some tree branches I cut down and want to know what I can make with them. I have Cub Scouts and want to make some boy related stuff.
By Tessa from Las Vegas, NV
---
Most Recent Answer
By Eileen M. 56 240 Flag
January 13, 2011
If your branches are 1 inch diameter or larger, you can cut rounds or ovals for tie-slides. Cut the rounds/ovals, give the boys sand paper or sanding blocks to sand them smooth. Decorate with whatever your theme of the month is, and hot glue them to 3/4 inch pvc pipe sections.
---
By Kym 3
This is a money tree created for a 50th Surprise Birthday Party. It is constructed of a sassafras branch (dogwood works good as well), curling ribbon in various lengths tied onto the branches. I used a vase as tall as the branch and added sand and rocks for stability. Money, small gag gifts, notes, candy, cards, even jewelry can be added. I plan on affixing 10 $5 bills to start off the decor and have guests add to it.
By Kym from Madison, AL
By Cyinda 214 1,287
With many people pruning at this time of year I thought I'd come up with some useful things to do with the pruned twigs and branches. Today a neighbor gave me several large bundles of long supple apple tree branches.(3 - 6 feet long and about 3/4 inch thick).
Being a crafter, I couldn't resist them! I have several ideas for them: I'm weaving them through my chain-link gate in a vertical pattern. It not only adds privacy, it looks great! Another idea I had was to make a trellis by tying brown nylon rope around the thicker branches to form "squares".
I've also decided to make twig-covered vases with them. I will start with clear straight-sided drinking glasses from the dollar store then glue the twigs to the outside of the glass with clear E-6000 glue then wrap raffia around the top and bottom then tie a knot or bow. The neighbor who gave them to me says he uses the apple-wood branches for barbecuing with.
I've also thought these green branches would make wonderful doll furniture and if they are supple enough, maybe a wreath? They need to be stored in the shade or they will dry out. It's also a good idea to hose them down once in a while to keep them supple if you want to bend them. Any other ideas?
By Cyinda
I recently cut off a large branch from my tree. The branch is about 3/4ft high. I would like to use it as a decoration for Christmas. What is the best way to support it? A board or pot? Do you have any suggestions please?
---
Most Recent Answer
October 15, 2015
We use a large branch of a healthy tree (eucalyptus, fir, pine etc.) as a "holiday tree". We hang the branch on a wall slanting downward as it would be if still on the tree. We love birds so have many types of bird baubles-little nests with babies, small realistic birds, crochet and cross stitch birds, my naturalist husband's photos, etc. Add clear lights only.
This is mainly for our grandkids and guests when visiting.
We celebrate the day mainly as a winter's festival break from the cold and dark season.
By lnygaard 104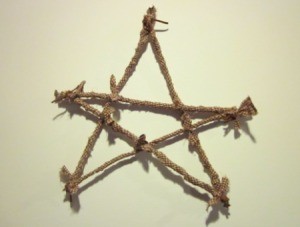 Cut a branch that is dead from one of your trees and cut into 5 of the same length to make a star.
Approximate Time: 40 min.
Supplies:
sticks from branch
string
fabric strips
glue
Instructions:
Gather a dead branch. Cut 5 sticks for your star. Make a star shape by tying string at intersections. Glue each point and intersection. Cover the whole star by wrapping strips of fabric around each branch. Glue the beginning and end of strips of fabric.
By Louella from Billings, MT