Dealing With a Dog That Chews
It can be very frustrating when trying to find a solution for a puppy or grown dog that likes to chew on seemingly everything. This is a guide about dealing with a dog that chews.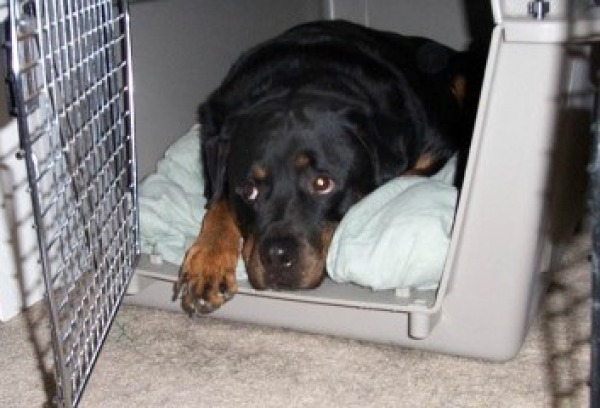 Filter

: All Articles
Sort

: Relevance
Our 1 year old Lab has a bad habit that he started about 3 months ago. Whenever we leave him to himself he would bite the window sill. Sometimes it happens when we are home too. Usually there is at least 1 person home, but that person doesn't pay attention to our dog, so our dog would go to the window and start to chew on it.
For the past three months it has been bite, fix, bite, fix, bite, fix... We started to wonder if we aren't fit to have a dog. We are deciding to find a better home for him, but I'm trying to hold on to the last bit of hope. I really want him to say with us, but I'm probably being selfish. He might have a better life with a better family. Please help. Thanks.
September 12, 2016
0

found this helpful
My dog is an 80 pound pit at 8 months. Yes I know he has mastiff in him to. The only thing he tears apart is his bedding. I have a 2000 square foot house and 2 acre lot that he had full run of and plentiful of toys any suggestions
September 13, 2016
0

found this helpful
This is a different situation.
Chewing on windowsills/doorframes is an obsessive behavior often caused by boredom.
Many normal dogs, however, rip open soft toys or bedding and pull the stuffing out. It's an instinctive hunting related behavior.
This is kind of gross, but- in the wild, a dog pack takes down an animal and opens the abdomen, then removes the internal organs.
You may want to just use old blankets from Goodwill for your dog. No expensive beds or cushions.
Many dogs go through life sleeping on the ground, so they don't really need beds anyway.
As the owner of a overly curious and very hyper Jack Russell, I have learned how to deal with a obsessive chewer. My dog, Abby, was six weeks old when we got her. I wanted her to be an inside dog, so she pretty much had the run of the house. When we would leave the house and even when we went to bed, we would leave her out.
After she got past the regular puppy stage, we noticed she still had an obsession with getting into stuff and chewing. After work, we would come home to pillows on the floor and sometimes chewed up and things scattered everywhere. One time, she found a tiny hole in the couch and ripped it open. Shoes, socks, checkbooks, pretty much anything she could get her paws on.
Now I know you think she's probably a little terror, but she is actually a sweet and very affectionate dog. All she needed was some boundaries. We bought her a pet taxi, but it just wasn't big enough for her to stay comfortably in for long periods of time. Finally, we bought her a big, fold up kennel. You can find them at Walmart and they are not that expensive. It was big enough for her to move around in and she had food, water, and toys to entertain her while she was in there. After she got used to the kennel, things got so much better. No more tearing up and getting into things, she learned then she had her limits on what she could or could not do. Now she knows when we get ready to leave, that's where she supposed to go, and she heads towards it. She has turned out to be the best dog and a wonderful part of the household. I know not everyone has a dog that's like this, but for the ones who do this is the best solution I found.
By Heather from Stanton, KY
Here is my tip for today. If your dog or puppy is chewing your home or your shoes for that matter anything, up, try some all natural clove oil. Rub a bit of clove oil on and watch out. No more chewing!
By Wendy Nan from Los Angeles, CA
http://www.thewildliferadio.com
How do I break my 6 year dog, that I just adopted 5 months ago, from tearing holes in comforters. I have tried time out, making her wear the blanket around her neck because the hole fit over her head for 20 minutes, and not allowing her on the bed. Help me this is getting expensive.
By Linda
February 15, 2015
0

found this helpful
I have experienced this behavior in two dogs - one had been severely abused and one was rescued from a puppy mill. Two things that helped were:
1. Pheromone spray which helps calm the dog and prevents stress-related behavior (can be purchased at Drs. Foster & Smith.com), and 2. Always having a chew stick for them available 24/7. I use made-in-the-USA pizzle stix (also called bully sticks). These are much cheaper purchased online than at pet stores.
July 13, 2016
0

found this helpful
Apple vinegar sprays on comforter helps. Also to keep her from other valuables, she needs toys to chew on.
I have a German Shepherd that is 6 months old and I have flowers that he ate, solar lights that he chewed up, and rocks and wood everything he sees! So then today he ate my patio screen sliding door, the net. I don't know what to do. So I give him a little smack on the nose everytime he does anything bad. Is that dangerous?
February 21, 2016
0

found this helpful
You are creating the possibility of turning your dog aggressive and a biter by smacking them on the nose not to mention making them head shy. Quick loud corrections either by voice or clapping your hands to stop the behavior instantly. Also giving them something else to chew on and keep them from getting bored is key. Redirecting their attention is a must. I use cow hooves for all my dogs. Safe and natural product that keeps all my dogs safe and my belongings.
I have a Pit Bull that chews everything she gets her mouth around. She will chew wood toys, rugs, beds, and drywall. What kind of toys can Pits have? She chews every kind of toy I get. How can I stop her from chewing the house up?
By John
April 13, 2011
0

found this helpful
Another idea is to make sure your puppy gets enough exercise and attention. That helps tire the dog out and cures the boredom factor that often leads to the bad behavior. Nice long walks and play involving running and fetching will make a big difference. Then gentle correction when you see chewing on the wrong items.
July 4, 2016
0

found this helpful
Our male pit used to chew up everything. From cell phones to doors. We started getting him Kong toys that you can stuff food in, filling them up then freezing them. Also tennis balls that dont have a hollow inside and chucks think tires.
I have a 6 year old female Staffy that has only just started to chew. She has decided to start chewing through the plaster wall in my house. I have no idea why and nothing has changed around the house. She has never chewed before.
December 12, 2015
0

found this helpful
Staffy may have a medical problem that needs treatment immediately. She may need nutrients she does not get in her diet, may have a medical problem in not absorbing nutrients, etc. Much like children in poor areas who eat non-food items because they are not eating a good diet.
She will not improve so delay will just make her problem worse.
I have a year and a half old Dachshund and she is very spiteful. She is excellent for weeks alone in the bedroom when I leave and then she randomly chews something out of the blue when she has bones and toys all over the room to chew. What do I do? Please help me I need advice I am at my wits end.
By ron2011
July 20, 2011
0

found this helpful
Alone in the bedroom? Dogs are not spiteful, your dog is lonely & bored. Please walk her and give her time out in the fresh air, being locked in a room all day is bad for her. Change her toys and give her a lot of attention when you are home.
August 19, 2011
0

found this helpful
Hi Roni:
You might want to consider leaving the TV or the radio on for your little one. Dogs really do suffer when we leave them, they are so codependent. You might want to keep it on food network something like that so she is always hearing a human voice. It does help. I have a Rat Terrier and a Jack Russell and this does help when I have to leave. My rat terrier is the one who shreds toilet paper in the bathroom or chews on my shoes. It helps to close up the closet, leave the toys and an old shirt or pair of socks with your scent will help too. Just something to keep your dog thinking about you, in a good way! Hope this helps.
Our great Dane is 7 months. She stays outside during the day in a wooden kennel. She goes in the garden and chews our sprinkler pipes. How can we make her stop? We tried to close it up with a fence about a meter high. She still goes through.
Read More...
My 3 year old Yorkie chews his bed and blankets. He does not do this when left in the house alone, but will start when I return home, especially if I am on the phone.
Read More...
Related
© 1997-2016 by Cumuli, Inc. All Rights Reserved. Published by
ThriftyFun
.
Page
generated on September 26, 2016 at 4:14:12 AM on 10.0.0.252 in 4 seconds. Use of this web site constitutes acceptance of ThriftyFun's
Disclaimer
and
Privacy Policy
. If you have any problems or suggestions feel free to
Contact Us
.