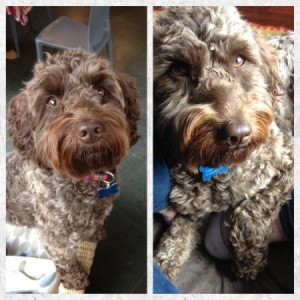 The thing is, we sit outside at cafes and go to other peoples houses, etc. and she can control her bladder in those situations, but as soon as we are in at home she just leaks everywhere! She was very well house trained and I am making sure to let her out every hour or so, but she doesn't really bother peeing when I do. I'm not really sure why a dog would purposely wet herself? It's very strange.
By Emma
Recent Answers
Here are the recent answer to this question.

By Ce [4]09/05/2013
Until you find out if your baby has any medical issues with her bladder you can always purchase doggie diapers or get creative and make her a female wrap. Hope this helps both you and her.

By NEWFIEGIRL [8]09/01/2013
Ask your Veterinarian to take an X-ray.
Good luck.
Answer This Question
Add your voice to the conversation. Click here to answer this question.