How do I keep my dog from peeing on the bathroom rug?
By Danetria from Huntsville, AL
Answers
January 3, 2010
1

found this helpful
Best Answer
Your first line of defense is to ban the dog from the bathroom. Beyond that, you will need to first be certain that the floor is clean and the area "nuetralized". We swear by Nature's Miracle. (be sure to follow directions).
Strong cleaners with any type of ammonia will just reinforce the desire. Oxyclean does a great job. Once clean, you will need to limit your dog's ability to visit your bathroom. For him, it is like finding that favorite spot outside to pee.
One more thing you can try is to put well-worn (smelly) t-shirts of your family's down on the spot. This will also help deter the desire to eliminate there.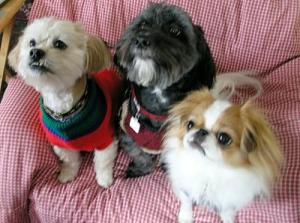 Answer

this Question

...
I have a rescue dog that was badly treated before I took her from the local SPCA. She is about 3 years old now. I have had her for 2 years. From the first day that I got her, she will pee only on the carpet.
If I take it out to clean it then she will pee on the next carpet and so on. She is outside in the garden all day and I keep the door open until 9pm for her to come and go as she pleases, but come 5:30 am when I wake up and open the door to let her out she will have peed on one of the 6 small carpets in the house or her favorite one that is made of wool.
I have tried to wake up during the night to let her out, but this interrupts my sleep and she refuses to come back inside when I call her. She slinks onto her tummy and hides behind a chair. I have considered letting her sleep outside, but I have another dog that sleeps inside and I worry that she will feel left out. Please help!
Answers
July 30, 2018
1

found this helpful
Congrats on your new fur child!
First stop should be able to vet to make sure there are no health issues.
If the pup gets a clean bill of health, then ask about crate training. It is a challenge sometimes for an older pup, but certainly not impossible if you are consistent and firm, but loving.
Offer lots of praise and treats for outside potty. Crate when not going out and keep as consistent a schedule as possible. Out usually after meals and before your bed time so everyone is on the same page!
Wishing you many happy, potty trained years together!! Be patient! Prayers for you and the pup!!
July 31, 2018
0

found this helpful
She may have a uti or other physical issue. Make an appointment with the vet
July 31, 2018
0

found this helpful
From what you've written it appears that she is only peeing on the small area rugs during the night and not the day. She goes outside all day long and will pee and poop outside. But at night she will pee on one area rug only.
A simple solution to this problem is to pick up the rugs at night before you go to bed. Otherwise, you might need to confine her in an area that has no rugs to sleep at night.
A rescued dog can have some problems with abuse or being left alone for long periods of time and it forces them to pee where they are caged. This could be the case with your dog and now it is afraid to go out of your home during the middle of the night to pee.
July 31, 2018
0

found this helpful
it sounds like a mix of nerves and most likely in her other situation she was allowed to only pee on carpet or something.
maybe just crate train her again
August 1, 2018
0

found this helpful
She is marking her territory. Take her out frequently. Praise her when she does the right thing.
August 17, 2019
0

found this helpful
seconded!best wishes xxx
Answer

this Question

...
My dog pees in the house at night, only when we're asleep, and only on a rug (but never in our bedroom where there is wall-to-wall carpeting). I have discovered she often does this only an hour or two after we gave her a walk and then went to bed, so it's not likely to be a full bladder.
She is a 2 year old terrier/mix we got last January from a shelter. We closed off the living room at night, but then she peed on the runner rug in the dining room, so we temporarily removed that. Then she peed on the bathroom rug, so we removed that. Any idea what's going on, or how to fix it?

Mark from Alameda, CA

Answers:
Crate Training
Crate training. I cannot stress how important this is; it will make all the difference to both you and your pet. Dogs are pack and den animals, when they have their own nook to curl up in at night, it makes them feel more secure. We are a foster home for rescued German Shepherds and this has always worked for us.

Our daughter adopted a Collie from the shelter and didn't listen to me about crate training. Several accidents and chewed up shoes later she decided to give it a try. Her dog is much calmer and we don't have to worry about her ransacking the house at night when we are all asleep.
By Irish
Dog Diapers
You can use disposable diapers as a back up. Simply sew a circle and cut out a hole for the tail and either use the adhesive tabs or sew strips of fabric to tie from the belly to the back side. I have 2 dogs in diapers when I go to work, just for security.

By CEIL ACHS
Puppy Pad Confusion
I wonder if your dog thinks the rugs are a kind of puppy pad. Maybe when it was younger it was trained on them and now thinks that is an appropriate place to pee. There are all kinds of deterrent sprays you can try. Just look at a place like PetsMart.

Crating is good also, but I had a problem with my terrier. He was a stray, about two years old, and he looked at the crate I tried to put him in like it was an alien. My other two dogs love them though. Maybe try luring him into the crate with food, and try feeding him in there so it's not a punishment place, but a refuge.

By Topo Gigio
Puppy Pads
Maybe you should buy some puppy pads. They really aren't too expensive and it might save your rugs. Just put them on top of the rugs she's been using.

By ThriftyFun
Bladder Infection
Has she been for a complete physical? It might be a bladder infection. I agree with the others. Keep her close to you as much as she wants so she won't feel abandoned as she was before.

By Vic