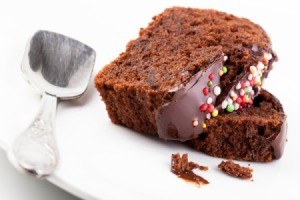 Dump cakes are as easy as pouring the ingredients into the pan; even kids can make these tasty desserts. This page contains recipes for dump cakes.
Ad
---
Solutions: Dump Cake Recipes
Read and rate the best solutions below by giving them a "thumbs up".
This cake is made by layering the ingredients together over each other. There is not really any stirring. It has pineapple, cherry, and pecans blended with yummy yellow cake mix.
Ingredients:
1/2 cup margarine
1 15 1/4 ounce can crushed pineapple with juice
1 21 ounce can cherry pie filling
1 box yellow cake mix
1 cup chopped pecans
Ad
---
Steps:
Heat oven to 350 degrees F.
Pour pineapple and juice into 13x9 inch baking pan.
Pour cherry pie filling over pineapple; spread evenly.
Pour dry cake mix over cherries and pineapple. Spread evenly.
Sprinkle pecans over cake mix.
Slice margarine thinly and put over top.
Bake for 35 to 40 minutes.
By Robyn [369]
This cake is so simple to make, it is made with fruit with dry cake mix on the top, and a few sprinkles of margarine or butter. This recipe calls for sugar free ingredients.
Ingredients:
1 can of sugar free fruit (including liquid) or you can use fresh fruit, your choice
1 box of sugar free cake mix, your choice
about 6 Tbsp. of butter or margarine
Directions:
In an ungreased, preferably non stick pan, spread your fruit. Top the fruit with your dry cake mix. Sprinkle your butter or margarine on the top.
Bake for about 40 minutes at 350 degrees F, or until your dry cake mix has browned. Enjoy!
By Debra from Clark County
A deliciously different and simple to prepare pumpkin cake. All you do is dump!
Ingredients:
1 28 oz. can pure pumpkin - not pie mix (or 2 regular size cans)
1 12 oz. can evaporated milk
3 eggs
1 cup sugar
1 tsp. salt
3 tsp. cinnamon
1 box yellow cake mix
3/4 cup melted butter
1 cup chopped nuts
Directions:
Mix pumpkin, milk, eggs, sugar, salt, and cinnamon. Pour mixture into a greased 9x13 inch casserole dish. Dump one box of yellow cake mix over the top of the mixture. Sprinkle the cup of chopped nuts over cake mix. Drizzle with 3/4 cup melted butter.
Bake at 350 degrees F for 50 minutes. Best served warm with whipped topping.
Servings:
12
Time:
10 Minutes Preparation Time
50 Minutes Cooking Time
By Sandy from Elon, NC
Ingredients
1 can pineapple crushed in heavy syrup (20 oz size)
1 can cherry pie filling (21 oz size)
1 yellow cake mix (general two layer cake size)
1 cup chopped pecans (can go a little more or less)
1 stick butter
Directions
Preheat the oven to 350 degrees F. This cake mixes up fast, so the oven should be about ready by the time the cake is ready to go in the oven. Spray a 9x13 inch baking pan with Pam or lightly grease with oil.
Pour the can of pineapple with syrup in the bottom of the baking pan and spread evenly. Spoon cherry pie filling on top of pineapple. Don't try to spread. This is a mess waiting to happen. Just evenly space the cherries.
Sprinkle the cake mix (just the dry mix) over the pineapples and cherries. This works best by hand. Pouring from the box makes it hard to get it even over the fruit.
Sprinkle pecans on top of the cake mix. Again, go for a fairly even distribution.
Cut the butter in thin slices and dab on top of the cake. There's no real correct slice on the slices. Think of the packaged butter pats at restaurants and go close to that size. Divide the butter slices across the entire cake.
Bake for around 50 minutes (350 degrees F). The corners should be set and the topped nicely golden brown. There will be fruit bubble spots on top.
Southern Dump Cake is especially good served right out of the oven and hot. A scoop of vanilla ice cream is good on top. It's also fine at room temperature or cold.
By Kathleen from Dothan, AL
Dump Cake
Ingredients
1 med. can crushed pineapple
1 can cherry pie filling
1 box white cake mix
1/4 cup butter
Directions
Put crushed pineapple on the bottom, then put cherry pie filling on top of the crushed pineapple. Put the cake mix on top and press down with melted butter. Bake in a 9x13 cake pan at 350 degrees for 35 to 40 minutes or until looks like cake.
By Robin
---
Dump Cake II
Ingredients
2-16 oz. can of pie filling (any)
1-box of white cake mix
2-3 sticks of oleo
1 cup chopped nuts
13 X 9-inch pan
Directions
Pour pie filling into bottom of pan. Sift dry cake mix over pie filling, cut oleo into patties and thoroughly cover cake mix. Sprinkle nuts over oleo.
Bake at 350º for 45 min or until brown.
You can use the can fruit of your choice.
I've tried apple, blueberry, cherry and peach and they all fantastic!
By greeneyesmom
---
Dump Cake III
Ingredients
1 can cherry or strawberry pie filling
1 can crushed pineapple
1 box yellow cake mix
1 cup melted butter
1 can flaked coconut
1 cup chopped nuts
Directions
Grease 9x13 inch pan. Add ingredients in order given in layers. Do not mix. Bake at 350 degrees F for 55 minutes. Do not remove cake from pan the first day or else it will crumble.
By Robin from Washington, IA
Give a "thumbs up" to the solution that worked the best! Do you have a better solution? Click here to share it!
Archives
Thrifty Fun has been around so long that many of our pages have been reset several times. Archives are older versions of the page and the comments that were provided then.
I am looking for a recipe using pumpkin in it. I was told it is a Pumpkin Dump Cake. It is delicious. I had this while staying with my mom in the hospital. Can anyone tell me how to make it?
Thanks and God Bless,
Angelheart from Clyde, TX
Answers:
RE: Pumpkin Dump Cake
1 large can pumpkin
1 cup evaporated milk
1 tbsp. pumpkin pie spice
Mix and pour into 9x13" cake pan. Sprinkle box of yellow cake mix over top evenly. Melt stick butter and drizzle over top. Sprinkle with chopped or whole pecans. Bake 350° about 20 minutes.
(10/23/2006)

By SweetCali40
Pot-Luck Pumpkin Dessert
This one is really good and I never have any leftover.
3 cups pumpkin
3 large eggs
1 cup sugar or half and half brn.
3 teaspoons pumpkin pie spice
1 13oz can milk
1 package yellow cake mix or butter pecan cake mix
1 1/2 cubes butter or margarine -- melted
1 cup pecans -- chopped and toasted
Mix first 5 ingredients and pour into 9x13 pan. Sprinkle dry cake mix over top. Drizzle with melted butter, sprinkle pecans over. Bake at 350 degrees or 50 to 60 minutes.
Alternate:
1 pkg yellow or butter pecan cake mix/ reserve 1 cup. Mix 1 egg, 1 stick melted butter with rest of the cake mix press into bottom of 9x13 pan and set aside mix filling as above and pour over.
Take the reserved 1 cup cake mix and add 1/4 cup sugar, 1/4 cup cold butter and 1 teaspoon cinnamon. Cut with knives or pastry blender to fine crumbs and sprinkle over top of mix in pan. Bake 350 degree f. Approx 50 -60 min.
(10/24/2006)

By Turptoo
Pumpkin Dump Cake
I have the recipe.
1 large can of pumpkin
1 can evaporated milk
1 cup sugar
2 teaspoons pumpkin pie spice
3 eggs, beaten
1 box yellow or white cake mix
1 1/2 sticks of melted butter
Grease the bottom of a cake pan. Combine first five ingredients. Pour into cake pan. Sprinkle cake mix evenly over the top. Drizzle the melted butter all over the cake.
Bake at 350 degrees for 50 minutes. Test for doneless like you test a pumpkin pie. (10/25/2006)

By Rockcandy248
Pumpkin Dump Cake
INGREDIENTS:
1- 15 ounce can pumpkin
1- 12 ounce can evaporated milk
3 eggs
1 teaspoon nutmeg*
1/2 teaspoon ginger*
1/2 teaspoon cloves*
1/2 teaspoon salt
3/4 cup sugar
----
1- 18.25 ounce yellow cake mix**
1 cup walnuts
3/4 cup or 1-1/2 sticks butter, melted
PREPARATION:
Preheat oven to 350 degrees F. Lightly grease 9x13 pan. Completely combine 1st set of ingredients. Pour into prepared pan. Sprinkle with cake mix. Gently pat down with spoon. Sprinkle with nuts. Drizzle with butter.
Bake for 50 minutes. Cool and cut in squares.
* Or use 4 teaspoons Pumpkin Pie Spice or Mixed Spice.
** Or use the dry ingredients only in this recipe for Basic Yellow Cake Mix (10/26/2006)

By onix893

I would like a recipe for Dump Cake and also a Pumpkin Dump cake? Reminds me of my childhood.

Joanie from Lake Havasu, AZ
Answers:
RE: Pumpkin Dump Cake
Here are some dump cake recipes.
http://www.thriftyfun.com/tf586970.tip.html (02/12/2007)

By lewis_admin
RE: Pumpkin Dump Cake
I dont make the pumpkin dump cakes, but I do make other fruit dump cakes. This is how I make them (and they go fast in our home)
1 lg can fruit, undrained, or fruit pie filling (i have used cherry pie filling, pineapple, and peach, a fave)
1 box dry yellow or white cake mix (yellow is better, but have used both)
1 stick butter
Preheat oven to 350 degrees. Dump fruit with juice or pie filling into lightly greased baking pan. I prefer to use a 9x9 inch pan for thicker cake, you can also use a 9x13 inch pan. Put cake mix evenly over top of fruit. Cut butter into several "pats" and lay on top of cake. Bake for 50-60 mins. (02/16/2007)

By jmz2005
RE: Pumpkin Dump Cake
Thanks everybody for your wonderful response to my request for Dump Cake and Pumpkin Dump Cake. I am putting together a recipe book for my Grandaughter who does not cook well! She will thank you too.
Joanie in Havasu (02/16/2007)

By grams72
RE: Pumpkin Dump Cake
For a healthier version you can omit the stick of butter in the "traditional" dump cake. I use a can of sliced peaches and a can of tidbit pineapple. Drain the juice into your reserve bowl, dump peaches into 13 x 9 baking dish (I like to chop mine up a bit at this point), dump pineapple bits, then dump yellow cake mix. Pour reserved juice on top and bake. It does have a more cake-like quality as opposed to the crispy top the butter tends to give, but it does cut the fat/calories.
Blessing & Warm Fuzzies! (02/17/2007)

By jc42
Recipes for Pumpkin Dump Cake.
Ingredients
1 large can pumpkin
12 oz. can evaporated milk
3 eggs
1 1/2 cup sugar
1 tsp. cinnamon
1 tsp. pumpkin pie spice
3/4 cup melted butter or margarine
1 yellow cake mix
Directions
Combine first 6 ingredients. Pour into lightly greased 9x13 inch pan. Sprinkle top with cake mix. Drizzle butter evenly all over top. Bake 350 degrees F for 60 minutes or until done.
Source: A dump cake recipe used at our church for serving the senior home that visits us in October.
By Harriet from Lakewood, CA