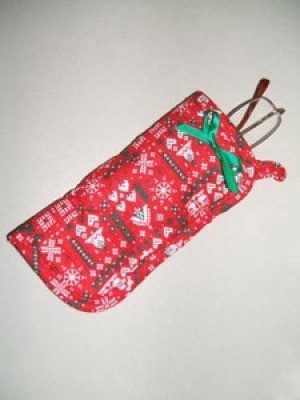 Stitch up the side of a pot holder to transform it into an eye glass holder. Make one for Mom in her favorite colors.
Approximate Time: Less than 30 minutes
Supplies:
potholder of your choice
needle and thread
Instructions:
Fold pot holder in half. Whip stitch around the outside just catching the edge of the binding. Leave one end open to slide in the eye glasses. Embellish with a ribbon bow, silk flower, rhinestones, etc.
By Rachel's Mom from Wilkesboro NC
May 4, 2009
0

found this helpful
I have always thought this would be great for crochet hooks too. For scissors, just lay the potholder with the point toward you, and the loop on the top. Then, simply fold one third in and the other on top of it, then sew or pin. This keeps them up from kids and you always know where they are. Slip a lanyard or ribbon through the loop and you can wear it around your neck!
May 5, 2009
0

found this helpful
Like it - like it - like it. Hopefully I will find the time some day to try making one for myself!
May 12, 2009
0

found this helpful
I like to cover medium sized plastic cup with a sock and then I stand that in my window and put my glasses in it. You have a great idea. I am going to do the potholder one for my purse:)
May 14, 2009
0

found this helpful
I love this idea easy to make for a group. of people such as residents at nursing home, works for both(Christmas gifts for male or female)