Homemade Eyeglass Cleaner Recipes
Solutions
Share on ThriftyFunThis page contains the following solutions. Have something to add? Please share your solution!
Save money and help the environment by making your own eyeglass cleaner. Just use 3 parts rubbing alcohol and 1 part water. Add a couple of drops of dish soap. Pour into spray bottle, shake to mix well and you're done!
Read More Comments
I keep rubbing alcohol in a small 2 oz. spray bottle. I use it to clean my glasses. You could also use your own homemade glass cleaner, but I find it easier to just fill it with the rubbing alcohol. Don't forget to label the bottle "Eyeglass Cleaner" or "Rubbing Alcohol".
Read More Comments
This is so simple, inexpensive and effective. After I've finished washing up the breakfast things in hot soapy water, I dip my glasses into the washing up bowl and swirl them around, then dry them on the tea towel before drying any of the cereal bowls. My husband does the same.
We decided the optician's solution was far too expensive to warrant buying it regularly and find that this is an ideal substitute. I think if the washing up were to include many greasy things then I would wash my glasses first, making sure the water wasn't too hot and using the ordinary washing up liquid.
Our optician actually suggested this method and we've used it for many years.
By Anne Carter from UK
Read More Comments
We were told when we purchased our eyeglasses to just use alcohol in a small spray bottle. We both have special non-glare finishes. The lenses had been damaged on past glasses by other cleaning methods, but this one works beautifully!
Read More...
If they are glass and do not have a no-glare coating they can be cleaned with just about anything that you would use on a water glass. If they are plastic, it is best to just clean them with water and polish dry with a very soft cloth.
Read More...
I called up my optical place where I bought my glasses. They have free cleaning cloths just for my glasses which are progressive lenses.
I wash them often in warm water, squeeze it out, and lay it to dry.
Read More...
Questions
Ask a QuestionHere are the questions asked by community members. Read on to see the answers provided by the ThriftyFun community or ask a new question.
Does anyone have a recipe for a homemade eye glasses cleaner?
By john from New Albany, MS
Answers
August 27, 2010
0

found this helpful
If you have a warranty on your glasses, stay away from anything they do not recommend--it will void the warranty and they will not replace if they can prove you did not clean them properly. Any tints or special coatings also may be harmed. Walmart has purse size bottles that have free refills, that is a great way to save money.
August 27, 2010
0

found this helpful
Miracle cloth. Wipe and away you go. Does not scratch.
September 13, 2010
0

found this helpful
I use a mix of water and white vinegar in a spray pump bottle and dry it with a napkin.
October 26, 2015
0

found this helpful
ONLY if the napkin is cloth, as paper napkins are, essentially, a wood product, an will scratch the lenses eventually.
January 6, 2016
0

found this helpful
Never use napkins. They are made out of paper... Wood! Scratch city! Use 100% cotton, I use an old t-shirt.
March 8, 2016
0

found this helpful
As long as you have glass lenses, a napkin or other paper is fine. For plastic, a soft cotton cloth or lens cloth is necessary to prevent scratching.
March 8, 2016
0

found this helpful
RUBBING ALCOHOL IN A SPRAY BOTTLE.
October 7, 2016
0

found this helpful
I also use old t-shirts .
June 30, 2018
0

found this helpful
Don't use paper napkins. It'll scratch the lenses
Answer

this Question

...
This is a page about homemade DVD and eyeglass cleanser. 3 parts isopropyl alcohol mixed with 1 part water can work great for cleaning DVDs and uncoated eye glass lenses.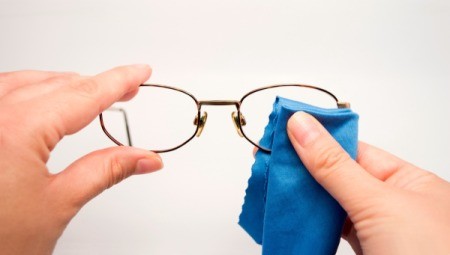 Archives
ThriftyFun is one of the longest running frugal living communities on the Internet. These are archives of older discussions.
Does anyone know of a good recipe for homemade eyeglass cleaner?

By Kathy from Oregon City, OR

Answers:
Homemade Eyeglass Cleaner
Eyeglass Lens Cleaner

It is just like the eyeglass cleaner that is sold in optical shops and at a fraction of the cost. I saved the 1 oz. pump bottle that I got from the optical shop and I always carry one in my purse.
Pour a small amount of rubbing alcohol into a 1 oz. bottle.
Fill the remainder of the bottle with water.
Add about 4 drops of liquid dish detergent. Replace the pump sprayer and shake it gently.
Never wipe your glasses with a tissue. I always carry a soft men's handkerchief for that purpose. (06/26/2009)
By Marjorie
I purchased a 3 oz. bottle of Ultra Clarity eye glass cleaner from an optical shop. I'd like to make my own copycat solution, because this stuff can get quite expensive. The back of the spray bottle reads that it is actually made with rubbing alcohol. I've made my own solution before by adding a small amount of rubbing alcohol to some water.
And I make sure that I shake it before squirting it on my lenses. I then use a soft cloth to buff the lenses. My homemade solution works okay, but doesn't clean my plastic lenses as well as the professional product. My homemade solution still leaves some cloudy spots on the lenses whereas the stuff that I bought from the optical shop does a much better job. I don't want to take the risk of adding Windex, rubbing alcohol, and water because I could end up ruining my $400.00+ pair of glasses. Does anyone in the Thrifty community know the secret formula?

MCW from Lewiston, NY

Answers:
Homemade Eyeglass Cleaner
I use 1/2 white vinegar and 1/2 distilled water in a spray bottle. It works fine, after I rinse off my glasses in plain water first. (10/22/2008)

By Nance
Homemade Eyeglass Cleaner
If you have a Vision World (I know they are a large chain store) they sell a cleaner with a refill bottle, you buy it once ($7), it came with a soft cloth and "on-the-go-premoistened" clothes. Whenever you want to, go to any of their locations with the refill bottle and they will refill it for free.
As far as homemade, my mom uses water and white vinegar for cleaning windows and mirrors (for that matter, stains on carpets) and my friend swears by cornstarch and water (a few Tbsp. of cornstarch to a gallon of water). Maybe if they work for windows and mirrors, they'll work for the plastic glasses?(10/23/2008)
By Jamie
Read More Comments
How do I make a cheap, safe, and effective eyeglass cleaner?

By Lorie from Cleveland, OH

Answers:
Homemade Eyeglass Cleaner
In was told by an optometrist to use liquid hand soap under the faucet. (07/24/2010)

By Marty Dick
Homemade Eyeglass Cleaner
I have always washed them under cool water, using a little liquid soap (dish soap back in the days before we had "pumps"), then setting them on a towel opened up so that they're not lenses down. In between, I just used a tissue and my own hot air! (07/24/2010)

By Jill
Homemade Eyeglass Cleaner
Mix:
1 tablespoon of liquid dish soap
1 cup all purpose citrus cleaner
warm water to fill a quart or liter jug
Mix well, label the jug, and use it to refill your lipstick size mist sprayer. This mix is safe for coated lenses and on cameras, too. Remember to throw your cleaning/drying cloths into the
wash frequently. They accumulate the grit that you didn't rinse off, plus what they picked up from the air. The best
cleaner is no help, if you dry the glasses with sandpaper.
Have FUN!
DearWebby
http://webby.com/humor
(07/24/2010)

By Helmut
Homemade Eyeglass Cleaner
I used to work at a nation wide chain optical shop (it was and still is one of the top chains) and was surprised when I found out what they used in the back room to clean glasses. Out front they sold "special formula" eyeglass cleaner. But in the back they kept a large bottle of Windex and that's what they used back where the public couldn't see. I've used it ever since and have never had a problem yet with my glasses, even the ones with different films and tints on them. (07/25/2010)

By Cricket
Homemade Eyeglass Cleaner
Look under Archives and read my post by MCW. I wrote down the formula, it's just like the glass cleaner that is sold in optical shops. (07/26/2010)

By Marjorie
Homemade Eyeglass Cleaner
Wipe with a clean Miracle Cloth. Better than any solution. (07/29/2010)

By vicki hood
Homemade Eyeglass Cleaner
I use hand sanitizer. A drop on each lens and spread it around both sides, then "dry" with soft cloth. (07/30/2010)

Homemade Eyeglass Cleaner
I use isopropyl alcohol on a cotton ball and wipe dry with a soft cloth rag. Never use tissues, toilet paper, or paper towels to wipe dry because the wood fibers can scratch the lenses. (07/30/2010)

By Deeli
Read More Comments
Advertisement
Published by ThriftyFun.
© 1997-2020 by Cumuli, Inc. All Rights Reserved.
https://www.thriftyfun.com/tf/CleaningGroup/Cleaning_Recipes/Homemade-Eyeglass-Cleaner-Recipes.html