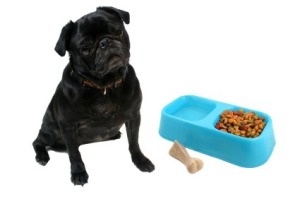 Just like other animals, some dogs do not want the food you have fed them. This guide is about feeding a dog who is a picky eater.
Ad
---
Solutions: Feeding a Dog Who is a Picky Eater
Read and rate the best solutions below by giving them a "thumbs up".
I brought home a 4 year old rescue Chihuahua that I had a terrible time getting to eat. After trying bags and bags of dry food and hundreds of cans of wet food, I finally came up with a solution that got him to start eating.
When I couldn't get him to eat, I took the dry food and soaked it in a little water to make it soft and then put it in the food processor. It made his food the same as wet food, but provided a different option for him. Now he eats it both ways.
The vet told me this was good that I thought of this, because he had a bad tooth and the wet food kept the pressure off of it and still allowed him to eat with less pain. Now he's doing great. I feed him Royal Canin Chihuahua 28 food. He likes it a lot. Hope this tip helps some of you out there! Good luck.
By Brenda from Buellton, CA
Give a "thumbs up" to the solution that worked the best! Do you have a better solution? Click here to share it!
Questions
Here are questions related to Feeding a Dog Who is a Picky Eater.
I have a toy Pomeranian who hasn't eaten, but half of a little Caesar's pack.
By Vicki
Ad
---
---
Best Answer

By Myrna [15]04/19/2015
You gave little information of importance, like, How old is the dog? How long has it not been eating? Did you recently changed its food brand? Maybe the lil dog has a bad tooth with pain or something else going on. I would take the dog to see the vet to have all that checked out and the vet will more likely ask you other questions to help determine the problem if it is not visible.
I have a 4 month old Chihuahua who is picky and only eats his dog food when he gets too hungry. It seems like he holds out longer than he should. I think he is hoping he will get some of our food, but I have always been told our food is not good for them. It worries me because he is already too skinny. How do I get him to eat his dog food on a regular basis so I know he is getting enough nutrients and things? And also gain a little bit of weight.
I was told the people who had him before gave him people food so I think that is what he is used to. I just want to keep him as healthy as possible. I am getting worried about him because he has been this way since we have gotten him. He is almost 5 months and we got him when he was about 3 1/2 months old. He was 2.5 lbs. then and within a week and a half of having him he gained 5 oz., but I don't know if he is gaining enough. I will be taking him into the vet, but was wondering if anyone knew any little tricks for a picky eater or other suggestions.
By Andrea from Portland, OR
Ad
---
---
Most Recent Answer

By HallT07/04/2012
I also have a Chihuahua, I do give him fruits and vegetables, which he loves. I also have a dog dish which is always full of his dog food which he does eat. I have noticed that he tends to eat in the evening.
Is anyone else having problems with their Bischon being a very picky eater?
By Annie from Jacksonville, FL
---
Most Recent Answer

By Joan Leber [2]06/21/2011
I have the same mixed dog, my dog is a male and refuses to eat dog food. I have tried every brand of dog food available and he won't eat any kind. He eats what I eat salads, apples, bananas potatos gravy and a small amount of meat. He has lost the use of his hind legs because of his long body and weak back. He is about 12 to 14 years old and has been on wheels for about 8 years. His name is Radar and I will admit he is very spoil but wouldn't have him any other way.
My chihuahua is approximately 5 years old. She is very spoiled and I can't seem to find any kind of dog food she will eat. I have tried everything. She will eat my cat's food but not her dog food. I'm afraid she isn't getting the nutrients she needs. Please help if anyone has advice.
---
Most Recent Answer

By Cheryl [3]08/15/2013
Don't let him be picky. This is where tough love comes in. Put the cat food up where cats can reach, but not the dog. Put dog food down for your dog, leave it for 15 minutes. If he eats, great. If not, put it up, and nothing to eat (except water) until the next meal. Do the same the next time. He'll learn to eat, and doesn't need to be spoiled to do so.
Is anyone having trouble feeding their miniature Poodle? He doesn't like hardly anything. I have given him chicken, rice, and dry dog food put in a food processor. Then I have to feed him with a spoon. I've tried every dry food and canned food, even the pouches and he doesn't like them. Have you ever seen a dog turn down treats, mine does, including steak or anything. The vet even tried to give him this canned food that he said he would love. Guess what? He wouldn't eat it.
His father was like that, as well. I asked the breeder why is he so skinny. She would respond, "He has food over there, he just doesn't want to eat." When she told me that I got scared. I started feeding him. He still goes around and looks for food everything he has and he has a lot he doesn't want. How do I find what he wants to eat? Are there any poodle people out there having my problem? He is perfectly healthy always. Has all his shots and vet visits at least 2 times a year. She says he is very healthy. What do I do? I'm at my whits end; I love this dog so much.
By Anita from Nymills, NY
---
Most Recent Answer

By joanneryan1910/13/2014
Hi there,
Not sure how you are going with your poodle? I just saw this post, so I'm not sure if you have solved your feeding issue with your poodle? I have a 12 month old apricot mini poodle. He is shocking to feed. I tried everything you can imagine to feed him; wet, dry, homemade, barf, everything, he hated it all. He is very underweight too.

I've been buying raw chicken mince carcass and mixing it with steamed vegetables. He has that, very reluctantly, in the morning. At night, I leave out for him to nibble on Royal canine puppy dry food, which he would sometimes eat. A week ago he stopped eating his food, again. He is so thin, so I asked the pet food shop what I could do to fatten up my dog. She advised I buy him minced (raw) lamb and other fatty off cuts, but she had sold out of that meat.

I went to my local butcher and asked him if he had and lamb, beef, chicken, whatever off cuts he could mince up for me. He did! I went home and gave some to Olli and he loved it! Happiness!

At last, I have found something fatty and somewhat healthy for him, which will hopefully put weigh on him. I also changed his dry food to Advance super premium dry dog food. It is an Australian brand dry dog food. He will nibble on that at night. I just hope he gains weight because he is far too skinny for my liking. I hope this post will help.
I have a Bichon Pomeranian cross. She eats a little of her dry puppy food so I give her a little table scraps, but she doesn't always like that either.
By Shirley
---
Most Recent Answer

By sarah bajan [1]10/08/2012
I have a dog exactly as you described I tried giving her cooked meat only for a little while and then switched back to dog chow. It worked but not for long so I had to mix back and forth. Hope this helps.
I have a Dachshund/Pomeranian mix; he is a very picky eater. I haven't found any dog food he likes. Are there any suggestions from anyone that owns this type of breed? He is 18 months old. What do you feed your dog?
By lady938
---
Most Recent Answer

By Dreamwvr [1]06/22/2011
The old saying of "when they get hungry enough, they will eat" sounds appropriate here...
I have a daisy dog; she's overweight a few pounds, but on a small dog that's not good. She only eats human food. What's the best wet or dry food for small dog?
By Jody B.
I have a three year old Boxer who has had health problems since she was born, such as allergies. She doesn't metabolize nutrients like she should, and she has had urinary incontinence since she was 4 months. Recently she stopped eating her food and only would get into the trash, now she is eating more than normal plus gets into the trash and eats anything (she has never gotten into the trash before). She is also eating a lot of grass. This is all in about a two month period. I work with dogs professionally and even I am just so stumped on what could possibly be the problem. I have been told by one vet they think I should put her down because of her health problems. I really am just looking for some advice and if anyone has ever seen this kind of thing before. She has been on very good dog food since we brought her home at 8 weeks. Also she is three years old but is the size of a six month old puppy.
By Monica
If I put dry food or canned food in the feeding dish, my Shih Tzu will go 3 days without eating, but she begs at the table constantly. We do not feed her from the table!
By C G
Archives
Thrifty Fun has been around so long that many of our pages have been reset several times. Archives are older versions of the page and the feedback that was provided then.
***
*** My dog is training me, he is a picky eater. I started to make him his food, because he would not eat his regular kibble, which was good quality. Yesterday after heating his pre-made food, he smelled it and did not eat. I have come to the conclusion he is just really picky. I love him, but if he is going to be that picky, I will just feed him regular high quality dog food. How long can he go without eating? He is not sick, just picky. Any ideas of what to feed him. Lady at store suggested wellness dog food. I tried to give it to him and he put his nose in the air and walked away. Thank you for any help. Picture is of when he was a puppy, he is Chu/Terrior.
Lisa from Westland

---
RE: My Dog is a Picky Eater
Trust me he will eat. My boxer, Rascalbaby, tried that when I first brought him home. I give him Nutro Puppy. He eventually started to eat and found out he indeed likeed "mommy's food". Good luck. Melissa (05/01/2007)
By Melissa
RE: My Dog is a Picky Eater
I pour just a tiny bit of either chicken broth or beef broth over her dry food and she loves it. (05/02/2007)
By Beverly
RE: My Dog is a Picky Eater
When my Pomeranian got "picky" I opened a can of green beans and added them to the kibble. She looked as if she would eat the bowl, too. The vet told me about the canned green beans, so we knew it was a safe way to feed her. (05/02/2007)
By hsorbits
RE: My Dog is a Picky Eater
My picky Yorkie loves roast and potatoes cut or chopped up good. She loves to see the crock pot. In the morning after she does her business she goes in the kitchen and sits on the floor and waits for me. Castor and Pollux has a great Organic canned dog food, organic turkey, brown rice, chicken, and veggies. (05/02/2007)
By Tracy
RE: My Dog is a Picky Eater
I raw feed my dogs and they go wild for liver. You can saute it a little first. (05/03/2007)
By Min
RE: My Dog is a Picky Eater
My yorkie, and jack russell, and newbie cockapoo love when I boil canned carrots, green beans, and one weenie cut up tiny pieces. I pour this over dry doogie food and it is a hit. My vet says the green beans and carrots are great for them. The vet told me she knows a lady who buys rolled turkey burger (on sale) bakes them with no added stuff and slices thin then freezes and uses those for "treats". So doggie gets hi protein with less fat and better quality then treats loaded with junk.
I try not to feed them the store snacks and they love the faux ear treats. Good luck. Mine get Pedigree canned food and dry food too, in moderation. Puppy gets Pedigree puppy. (05/03/2007)
By meoowmom
RE: My Dog is a Picky Eater
I have a 1 1/2 year Old Cockapoo, Lexii, who hates dry kibble. I started to mix her kibble with warm water and that worked for a short period of time. It is so time consuming just "watching" and making sure she eats her food when I have to be at work so early.
I also have a 14 year old cocker spaniel, Princess, who loves to eat, so I have to make sure she doesn't eat Lexii's food. I did some research and I tried, "Force" by The Honest Kitchen. The best food out there for dogs and cats. It is a bit expensive, but as long as my dog likes it, it's all that matters. Go to the website and take a look. If your dog is a picky eater and you no longer know what to do, you can buy a sample of force for like a dollar. Worth a try. (11/18/2007)
By Stephanie
RE: My Dog is a Picky Eater
My 3 yr old husky is also a picky eater, we tried mixing his dry kibble with Beneful and that worked for awhile. Then we started putting fresh salmon, that worked for awhile. Then i started making him a doggie tuna casserole, I found in a dog recipe book with milk, tuna, egg noddles, and peas in it. He loved it so much he licked the bowl until I had to stop him. (09/05/2008)
By Valerie
My 1yr old chihuahua is a very picky eater. Sometimes she will go for days without eating. I cannot find the right food to feed her; especially the hard food. She seems to like the Alpo beef w/gravy; and the chicken treats.
Our 2 yr. old YorkiePoo is kinda picky in what she'll eat. Right now she eats (sometimes) Caesar foods.