March 30, 2011
3

found this helpful
Your dog is picky because he's allowed to be. I'm a trainer and I've never seen a dog skeleton next to a full dinner dish! Being allowed to dictate what he will and won't eat gives him the upper hand in your relationship as well as being unhealthy physically. People food isn't a balanced diet for a dog. A lot of times, dogs don't eat what's put in front of them simply because they're not hungry! Usually it's a result of too many treats, pig's ears, rawhide bones, etc., between meals. Cut them out.
In the morning, put down half of the dog's normal portion of food. Leave it down for 45 minutes, and pick it up if it's not eaten. Feed nothing else until dinner time and do the same thing again. Of course, water should always be available.
If you don't cave under the pressure the dog is sure to bestow upon you and fall for the fussing and as long as everyone in the family agrees and does this, after a day or two, your dog will eat. This reverts the dog back to his roots, i.e., eat when food is available. Trust me on this; it works. And a day or two of not eating isn't going to kill him.
March 30, 2011
1

found this helpful
It's a wonder that dogs even eat that stuff they call dog food! If you research this you will find that perhaps the food company's use 4 D meat in their products. 4 D stands for animal carcasses from: Drugged, Diseased, down & dead animals - I even think they might throw a little road kill in as well. It's no wonder that our cats & dogs are getting cancer. Stop feeding your dog this food he probably can smell this stuff in his food.
Would you want to eat it? And oh yeah - China has put melamine in their wheat floor which goes into the dog food.
Start cooking chicken for him, add veggies & rice and you will find your dogs personality will come alive! You're poisoning your dog! It's not that expensive, go to your local Shop & Save you can buy big chicken breasts, boneless & without skin for $1.16 to $1.49 per pound when they have it on sale. Did I mention you will save a lot of $$$ on vet bills as well?
January 10, 2018
0

found this helpful
Y,ES GLORIA!!!!YOU GO GIRL!!! She's right!! Dog food is a big ole SCAM! It's an unhealthy raquet and our poor pets are trying to tell us "THIS STUFF IS GROSS BUT ILL EAT IT IF YOU STARVE ME"
June 21, 2011
0

found this helpful
I have the same mixed dog, my dog is a male and refuses to eat dog food. I have tried every brand of dog food available and he won't eat any kind. He eats what I eat salads, apples, bananas potatos gravy and a small amount of meat.
He has lost the use of his hind legs because of his long body and weak back. He is about 12 to 14 years old and has been on wheels for about 8 years. His name is Radar and I will admit he is very spoil but wouldn't have him any other way.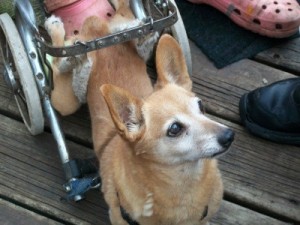 September 22, 2015
0

found this helpful
You never feed a dog human food feed them high quality dry dog food try different kinds but never give in to the dog that shows you are the boss they get hungry enough they will my male shih tzu was the same way