Sometimes your soup is good, but somehow it got too much sweetener. This guide is about fixing soup that is too sweet.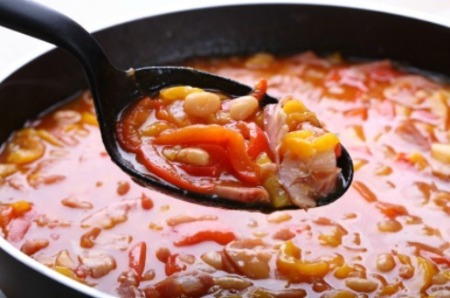 I made some beef soup and one of the ingredients I used was very sweet. I would like to know how can I take the sweetness out?
By nanakuligirl from Graham
---
Most Recent Answer
October 8, 2009
I like your answer better, thanks, that's what I had to do was to drain some of the liquid and add more.
---
By vivien 2
I made homemade tomato soup as I can't have salt. It tastes really good, but is a bit too sweet. Vinegar sounded like only thing I could use, but pickle juice is full of sodium.
It was a little thin so I put in a little mashed potato flakes. I used half and half to make it a bit creamier, but help! It's still too sweet. Thanks.
By Vivien from Fort Worth, TX
---
Most Recent Answer
By Nan Corpe 7 290 Flag
March 14, 2011
Be sure you're not using canned tomatoes with added sugar.
---
I made a pot of vegetable soup using soup bones, carrots, potatos, okra, and onion. The spices were two bay leaves, a teaspoon of thyme, a tablespoon of chili powder, a tablespoon of salt, about a teaspoon of pepper, and a couple of squirts of Worcestershire sauce. I also added a can of diced tomatoes but didn't notice until after the fact that they were fire roasted tomatoes. The soup has a sweet taste that is weird and I'd like to get rid of it. Any suggestions?
By Sue
If you make soup and it comes out too sweet, just add a little salt or a teaspoon of apple cider vinegar to it.
By ThriftyFun