Troubleshooting a washer that will not go into a spin cycle is not an uncommon event. This is a guide about a front loading washer not spinning.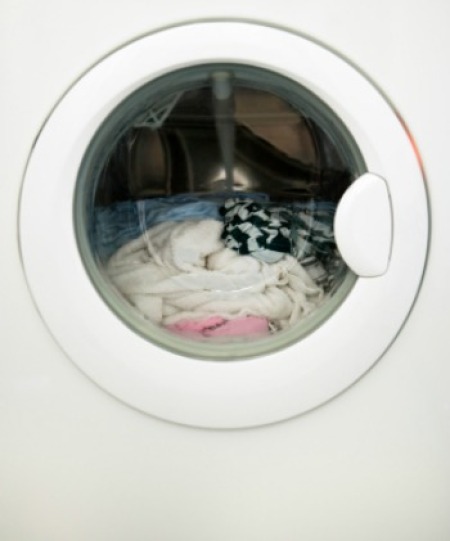 By lori 1
My Frigidaire front loader washer is not spinning when full. It spins ok if only a small amount of clothes are in it. We just replaced the belt, but it didn't help the problem. Should I just buy a new one or is this fixable?

Lori from Pleasanton, CA
---
Most Recent Answer
By guest (Guest Post) Flag
March 24, 2008
The drum is spun by the belt and motor, with it spinning with a half load I would say that the belt you got was the wrong size (to big) or the spring loaded self adjusting tenisoner isn't working, motors for the most part either work or they don't but it would be worthwhile to spin it by hand and see if it's freely spining, if it isn't it needs to be replaced.
---
My Hotpoint front-loader spins only when empty or with the motor removed from the machine. All else appears fine.
By Alex
---
Most Recent Answer
At first all it wouldn't do was fast spin, but it did everything else. Now it has stopped rotating altogether; what could the problem be?
By Sam
---
Most Recent Answer
December 26, 2014
You did not provide the washer brand, year model, etc., so difficult to help you. However, you can check the product booklet for possibilities, ask the store where purchased, and also check the manufacturer's website for help-customer service.
My GE front loader won't spin/drain at the end of the cycle. The washer goes through the whole cycle fine, but won't spin to drain out the water at the end. I changed the catch basin and it is still not working.
By B. J. from MO
---
Most Recent Answer
My LG WM2277HW front load washing machine would not spin after washing. I dissembled the washing machine and replaced the broken iron "spider" behind the tub. After I re-assembled it, it does washing fine, but would not do normal spin. It seems the machine was trying hard and the tub turned for a few rounds, but could not pick up the speed and stopped, and then tried again, still could not pick up the speed and stopped, then finally showed a sign indicating "abnormal stop". Not sure if I messed up some switches during the dissembling and re-assembling.
By Man A Home
---
Most Recent Answer
By PENNY K 14 564 Flag
February 10, 2013
How old is washer? If it is 10 years, tranny might be going; buy a new one. There should be a tech number for your company, technicians can give you a lot of clues to follow up on. They've been very helpful to me, when there was still life. But yours might be transmission.
My front loading Kenmore washer model #417 sounds like it is spinning, but does not even though the belt is fine.
By John F
---
Most Recent Answer
By Cliff Law 1
I have a Frigidaire Affinity washer, model number ATF6500FG0. It will not go into the spin cycle. The washer does everything else, but won't go into the spin cycle.
By Cliff from Cochrane AB Canada
---
Most Recent Answer
November 11, 2010
Not sure about yours, but my front loader had a built in filter and it got clogged and wouldn't spin, opened the a little door on the front cleaned it out and works like new. I hope this helps, try calling the company and asking them what the problem could be. It could be minor and they might tell you over the phone.
I have a Frigidaire front loader and it will run water for a time and not long and won't spin. Then sometime after that it will shut off. What could it be?
By Crystal
By Chad M. 1
3 days ago my Maytag front loader washer stopped and threw a code. So I looked it up and it turned out the drain behind the front panel was clogged. I fixed it. Well now when the washer is done I go to put the clothes in the dryer and they are soaking wet. So I checked the drain again just to make sure and it's clear. The washer is not throwing a code. Any ideas on what the problem is or could be?
By Chad M.
It spins with nothing in it, but with clothes it barely spins. I changed the belt and the motor sounds like it's rattling.

By Elmer T.
I have a Frigidaire front load washer and the drum and pulley won't spin. It feels like it's locked but when I apply a little pressure to spin the pulley it becomes unlocked and spins. When I start the washer it locks up again after a few minutes.
By Reggie M
By htisi 1
Why is my washer flashing 3E and not spinning? What can I do?
By htisi from Kamloops B.C. Canada