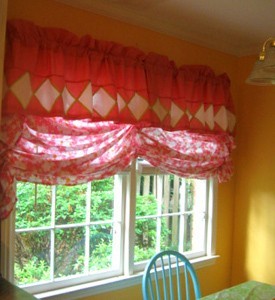 Purchasing drapes, window curtains, or coverings can be expensive. This guide is about frugal window curtains.
Ad
---
Solutions: Frugal Window Curtains
Read and rate the best solutions below by giving them a "thumbs up".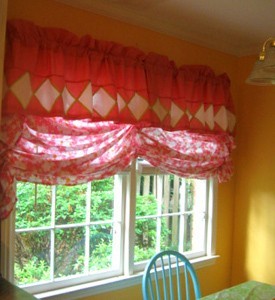 I've always had an unconventional way of decorating and this is just one of many examples.

This kitchen window treatment is actually a bed sheet topped with a valance. Table-cloths, shower curtains, and bed-sheets can all be used to create unique window treatments and doorway draping.

There's no sewing involved. Just a staple gun and an imagination!
By April from Albany, Ga
For really frugal and warm curtains, I purchased two of those fleece throws that are on sale for under $5 and used the inexpensive gold clips. The two throws fit a 76 inch picture window nicely, and they come in dark colors also nice for wintertime. Mine came with a nice cloth bow tied around it which I used for tiebacks.
By Peggy N. from Canastota, NY
Editor's Note: If you need larger curtains:
If you have a window that for some reason you cannot put a curtain on (e.g., you can't mar the wall or door to put up a curtain rod, you are a renter, it doesn't fit your design aesthetic, etc.), consider using adhesive-free static cling window film.
Think of the little UV stickers that come on new pairs of sunglasses; they cling to the surface of the glasses without glue and remove easily with no mess. They now make versions of this material in three foot wide rolls meant for windows, mirrors, and other smooth surfaces.
Home improvement stores like Home Depot, Menard's, Lowe's etc. carry a convenient but limited selection, but a simple Google search (try "window cling film") will turn up several companies that now make window film in hundreds of styles.
They have everything from simple frosted or tinted glass, to stained glass, to art deco, to country folk art designs, to various faux beveled glass designs and more. Some of the online companies I have seen are now also making cling film boarders and decorative corner cutouts for those who don't need or want to cover the whole window but have a particular look they are trying to achieve.
It is a great product for renters because it goes on and comes off in minutes. It can be used for privacy, to diffuse sunlight or avoid UV damage to carpets, for insulation, to hide a bad view, or simply for a decorative touch.
The product has been out for a few years, but having Googled it recently, I was amazed by all of the new designs that are now available.
By Tahlula from Northfield, MN
When you lose the little ring on your tie back that lets you pull the curtain to the side, use a curtain ring. It is easy and there is no sewing.
By Grace M. [1]
How good do things have to be? I bought a 99 cent shower curtain, mostly because the pattern/color was so right - and 10 months later it's still going and we are thinking of packing up. So a word to students and other transients - maybe the cheap colorful version will do you just fine for as long as you need it.

By Pam from L.A., CA
After Christmas sales are fantastic this year. I got some sheer white fabric with green holly leaves and red berries, there is also some gold metallic thread running through it. It was 70% off. I used some fabric glue and whipped up some sheer winter curtains by folding the edges over and gluing the edges and folding them over. I folded the top edge over twice, leaving room for a long 40 inch bamboo pole that I cut from my yard. The pole slips through the second loop. I could use long and fairly straight twigs instead of bamboo.

By Christine from Dover, DE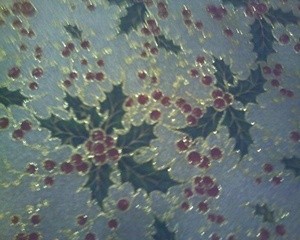 After Christmas sales are a great time to buy festive winter fabrics to make simple square curtains. Use fabric glue, fold the edges over. Fold the top edge over again leaving room for a bamboo pole or twigs to thread through to hang curtains. I just hung the pole on top of the old curtain rod.

By Christine from Dover, DE
Easy yet elegant curtains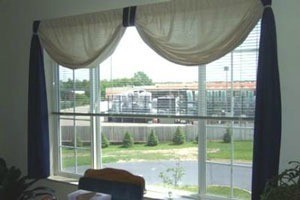 Approximate Time: 3 hours
Supplies:
fabric of your choice
tread to match fabric
sewing machine
trim to compliment fabric
Measure your window/windows. Purchase fabric to fit the window width and length.
Use contrasting colors to make your window covering interesting. Use the same color of fabric on sides to tie the top of the curtain. This will provide contrast and make them stand out. Then use trim that matches the top part of the curtain.

The curtains I made used a 3 inch rod. I hemmed the material to allow for 3 1/2 inches. I allowed enough fabric to make a slight ruffle at the top. Too much ruffle will cause the curtains to bunch up and they will not hang properly. Make them a length that you will feel comfortable with.

For the sides, I used a contrasting color. I used fabric that would fit the length of the window after hemming. I hemmed all sides of this fabric then used safety pins to hang them from the top corners of the top curtain and used the same trim that I attached to the tie at the top to gather the top ends.
These are very easy to make and my parents "whom I made them for" love them!
By Jean from Forest Lake MN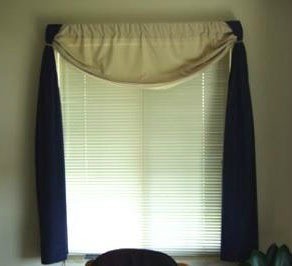 Being a new homeowner I didn't have enough curtains for all my windows, particularly the small kitchen window above the sink. I took a pillowcase and split the seams and cut it in half at the end, hemmed them and made a temporary pair of curtains for the window. They fit perfect and the pattern matches the wallpaper in the kitchen!

By Connie
Give a "thumbs up" to the solution that worked the best! Do you have a better solution? Click here to share it!
Questions
Here are questions related to Frugal Window Curtains.
I want to hang thermal curtains in my living room this winter to conserve heat. I only have one big triple window in the livingroom and would like to put a wrought iron rod across the top and hang (preferably) tab top curtains on it. Naturally I do not want to spend a fortune on this project. Does anyone have any sugestions to do this frugally? I want to save as much money as possible.

Cookiepom
Ad
---
---
Most Recent Answer

By EVY12/10/2009
I have two patio doors facing northeast in NH , I found that if I used Plain light weight White Blankets, as liners to my drapes this works well for me. I found four older Blankets at a Thrift store, already soft One side had a print the back side of the blanket was a white/cream color. Tacking with small sitches by hand or on the machine, alone the top of the drapes / blanket to the back side, just under the hook pockets, white side facing outward, Print doesn't even show, cut the extra off at the bottom, Blocks the cold in the winter months, darkens the room in the hot summer months so it's a win / win all year round Than the white blanket stops the drapes from fading. These four blankets have paid for thems self many times over.
I have found a second hand, king comforter the same as the one I currently have on my bed. I have 5 windows that I have not been able to treat affordably. The material of the comforters is a gold on red, good quality material.
I thought I might be able to convert to curtain panels since I now have 2 x the fabric to work with. I then could update with a solid and use the shams, etc. as accents. How would I go about making this idea take life. I have basic sewing skills, but don't want a basic look. Please help.
By Ryan from Madison, MS
Ad
---
---
Most Recent Answer

By Brenda J. Moore [1]06/27/2010
One good idea is to measure the windows first and decide on the fullness, i.e.: 1+1/2 the width or 2x the width for fullness in the drape. Then, if your a bit nervous here is a super simple method that looks great! Purchase decorative hooks from a fabric store, usually in the drapery area. These come in varied colors, metals and have numerous tops that are decorative, i.e. fleur de lis, stars, plain etc.

1: You will need to decide first how many clips you will need by measuring across your fabric and dividing by how ever many will hold up the curtain quite neatly without gaps, along the top, usually 1 ring/clip for every 4", to provide a clean look. Don't go cheap here it will look real shabby. Ask the rep in the fabric drapery area, they know more than most of the clerks will. You can even take your fabric in and ask them to quickly show you how this will work.
2: Make your curtain into the rectangle, square [whatever size you have decided] by sewing up a folded over, neat hem on all sides.
3: Attach the clips across the top evenly measured out.
4: Slip the clip loops onto your curtain rod.
* You can reverse these steps 3 & 4 if you want to.
5: Hang curtain rods in the wall attachments.
6: Stand back to admire your super work!

~ You could still add a valance across the top in front of the curtain by using a valance curtain rod.
Perhaps you will have enough with the pillow shames sewn together length wise into one longer piece.
Or, If pillow shams are quite a good size, you could cut them in half horizontally and then have four lengths to sew together to create one long length of cloth to form the valance. Most valances are about 12" -14" deep

Sew a simple set of hems across the top of the length of fabric. These are only as far apart as the width of your valance rod plus a half inch or so for ease of sliding the curtain across it.

*Just think 2 horizontal lines, a couple inches [whatever] apart. The rod will go through these. If you want to enha