Why struggle with putting up store bought shades and mechanics? Use your favorite fabric to make a great shade. I hot glued mine right to the valance. I roll them up when I need the light to come in. They look great from the outside too.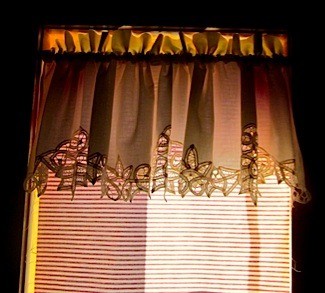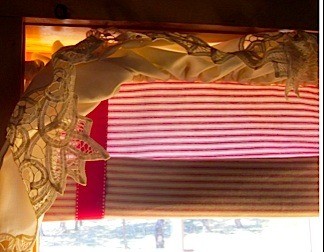 By lnygaard from Billings, MT
Read More

Comments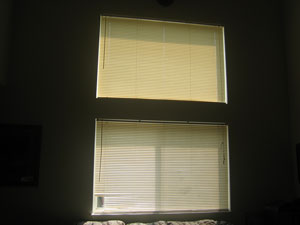 Suggestions For Easy Window Treaments
I have a window in desperate need of window treatments. Can anyone suggest something easy to do that 2 rambunctious boys won't tear down? Both windows are aproxx. 6' x 4'.
Thanks!
Kathy from Parker, CO
Answers
August 2, 2007
0

found this helpful
YOU COULD USE PRETTY TEA TOWELS OR TABLE NAPKINS. YOU CAN BE AS CREATIVE WITH THESE AS YOU WANT TO; I HAVE USED 3 OR FOUR TABLE NAPKINS, DRAPED THEM IN TRIANGLE SHAPES OR JUST FOLDED OVER THE ROD; YOU COULD EMBELLISH THE NAPKINS ON THE CORNERS WITH SMALL TASSELS.
THE TEA TOWELS COULD BE USED OR YOU COULD GO TO THRIFT STORES OR ANTIQUE STORES AND FIND SOME NICE TEA TOWELS TO USE; TEA TOWELS CAN BE PLAIN OR THEY CAN HAVE ELABORATE EMBROIDERY ON THEM.
COTTON DISH TOWELS THAT ARE PURCHASED FROM A LINEN STORE CAN ALSO BE USED AS WINDOW TREATMENTS.
August 2, 2007
0

found this helpful
I have two grandsons who are ADD/ADHD, they are ages 5 & 7. They can tear up an anvil. The solution that we came up with was window film. It works like contact paper, peal and stick over a clean wet window, press out the bubbles and Wow pretty windows and nothing to rip off the wall. The kind we got we got at Lowes it was a cloud pattern. They have stained glass look, all different kind.
But if you want to really make them wonder how you did it, fixit with the kind of film you use to put on your windows of your cars. Get the darkest tint, put it on while they are away from the house, when they come home they will be able to see out but no one can see in, kids are amazed.
With either treatment if you want a decoration for the room put a wood shelf over the window for toys, trains or cars and hang airplanes underneath to appear to be flying in the top half of the window. Have fun the boys will to.
August 3, 2007
0

found this helpful
I concur with the person that wrote about the film on the windows only i would put it on when the kids are not home so they don't know they can peal it off.. Lowe's does have some really nice patterns.
By Debi (Guest Post)
August 4, 2007
0

found this helpful
I have used contact paper the frosted look one.
August 6, 2007
0

found this helpful
I found a shower curtain cover at a yard sale for .50 cents. It came with these cute little flower hangers. I shortened the length and hung it on a rod. It slides easy and is durable. I put it on a tension rod, so if they pull it down, it's easy to put back up and virtually indestructible. If they would damage it, I have .50 in it! I often see these on clearance at dept. stores for $5 or less. One curtain cut in half would probably cover both of those windows.
Answer

this Question
I currently have a total window wall about 18 feet long and 12 feet high. I am tired of pinch pleated drapes. Are there any other ways to do this wall that will block the sun? Currently this is a hot room as it gets the sun almost all day. Right outside the window is a parking lot which also adds heat, so I am not trying to preserve any view. Please help. Aloha and peace from Maui.
By Pamela C
Answers
February 29, 2012
0

found this helpful
If you sew, you can make a simple casing drape. Use a thick drapery fabric (can be pricey), or bed-sheets lined with other bed-sheets to go across the wall. You can also use grommets or tab loops; run that through a rod for a contemporary look.
For cleaning ease you should think about using several panels across that expanse, and doing so will also make it possible to pull back just a few panels in the spots the sun isn't beating down on.
I love this site for inspiration:
March 2, 2012
0

found this helpful
Would a folding set of panels work? I am thinking of something like the old dressing screens used for modesty while dressing or undressing. It would be easy to change the fabric on them using some sort of hanging plant on a tall plant stand between sets of these. Or perhaps sliding panels rather like sliding doors. Using a reflective material on the back would reduce some of the reflected heat. For my little smartfortwo car, I painted a piece of cardboard with chrome bumper paint and slid that between the glass roof and the shade and it did wonders.
Answer

this Question