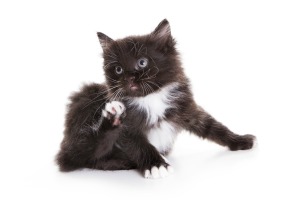 While topical flea treatments are readily available for older cats, young kittens will require alternative methods to rid them of these biting pests. This is a guide about getting rid of fleas on kittens.
Ad
---
Solutions: Getting Rid of Fleas on Kittens
Read and rate the best solutions below by giving them a "thumbs up".
Having a new litter of kittens in the house is wonderful, until you discover fleas. Unfortunately, there is not a lot you can do for fleas on newborn kittens. I discovered a great tip. Baby wipes with aloe! The kittens love being rubbed down with them. Don't worry about rubbing vigorously. They love it, just like momma giving them a bath. And, if I keep a close eye on them and do this daily, I won't see another flea.

By Kimber from WV

Editor's Note: Be sure to wait at least a week or two before handling newborn kittens and then only for a short amount of time. The mother can reject them if they don't smell right.
Give a "thumbs up" to the solution that worked the best! Do you have a better solution? Click here to share it!
Questions
Here are questions related to Getting Rid of Fleas on Kittens.
My cat had kittens 4 days ago. She had fleas before she was pregnant, while she was pregnant, and now after she had her 3 kittens. Her kittens now have fleas and I don't know how to take care of it.
Before my cat even had kittens we washed her and our dog, we bombed the house, we shampooed the carpet, we put on flea spray, but those fleas just kept coming back! Now that she had kittens we don't know what to do since they are so young. We don't know want them to get sick and die, so what can we do to get the fleas taken care of ASAP? Please respond ASAP. These kittens need help!
-Sincerely.
By Ally from Washington, DC
AnswerWas this interesting? Yes No
Ad
---
---
Most Recent Answer
By Vicki P. 1 05/22/20130 people found this helpful
As far as the flea problem, vaseline dabbed on the flea slows them down and makes it easier to comb them out. Good Luck, we just had 6 kittens and are having the same problem.
---
I am dirt poor except for my 3 kitties, Nala, Rajah, and Berlioz. We just got Berlioz 3 days ago and now all 3 of my babies have fleas. All 3 are indoor cats. Nala is the oldest, she's over a year old, but the other 2 are about 4 months. Please help. I don't know what to do for them.
By Lyndsay
AnswerWas this interesting? Yes No
Ad
---
---
Most Recent Answer
By Robyn 369 750 08/26/20130 people found this helpful
It is less toxic to sprinkle salt around the carpet. I think some people get boric acid mixed up with borax. I would not use boric acid on the carpet nor even borax but I do sprinkle salt around when I see fleas.

As far as flea control on the animal, I use Lufnuron. It interrupts the coating of the fleas outer shell. The adults will live but they will be unable to reproduce. The main problem with fleas is that they reproduce so fast.

Here is what I use and I have been very happy with it. I have a number of cats also. According to dose you have to open the capsules up and mix it with a small amount of soft food. I mix mine with a small amount of water and give it with a syringe minus the needle, orally. It is chicken flavored or some other flavor the cats actually like.

http://www.amazon.com/dp/B00AY6X7IM ... _pe_175190_21431760_3p_M3T1_ST1_dp_1

There used to be a place you could buy a large topical flea spot treatment and a glass vial came with it and you could buy one and use it among your cats.

I will send this customer review that describes what to do.
http://www.amazon.com/review/R3T3IK ... /ref=cm_cr_pr_viewpnt#R3T3IKPSH16APC

As far as a Dawn bath goes:
Dawn will kill the fleas, but it won't keep them from coming back on the cat. And when you use the dawn you have to let it sit on their coat for about 3 minutes or so.

If you can bathe your cats that is great. If not I could go over them with a flea comb or small tooth comb to get the fleas out.

Put the fleas in a container of water so they will drown. Vacuum everyday. Cover the hose of your vacuum so they don't crawl out. If you have a bag with your vacuum then put a flea collar in it.

Most importantly improve their diets. When you go to feed them, feed them a food that is not cheap. You can find them at farm supply stores. Use food that does not have grain or by products.
http://www.diamondpet.com/products/


I like to add a little squirt of olive oil to my cats wet food at night and I add a few egg yolks a couple of squirts of baby vitamins, and homemade chicken broth. I mix it all up and it makes the food go further.

The food that is a little more expensive is worth it, as far as your cats go, because the cheap food pretty much causes illness, and yeast problems, and attracts fleas like crazy. That is because of all the grain, wheat, corn and soy. The pet food industry uses corn to fill their product, and also wheat. Both of them are grains. Not good for your cats at all.

There are many foods on the market that don't have wheat, corn or soy. Any of these would be great.

I like to go the Tractor Supply myself to get the best selection of foods.

Here is one last overall link and a recipe for flea spray you can make at home:
http://www.wikihow.com/Get-Rid-of-Fleas-Naturally

Blessings to you and your cats!

PS Make sure you don't get Advantage which is good for cats and dogs mixed up with Advantix which is deadly for cats...review the above link for further details.

Once you improve their diets, then it will take a while but their overall health will be better.

You will need to set up a paypal account. Two people from the same house can sign up for this place.
---
I have a indoor cat that hides a lot because of my two dogs. So today I finally got him to come out when the dogs were outside and noticed he was scratching bad and had scabs along his neck, back and tail. while grooming my cat as always I seen he had fleas. he does not have claws to itch himself and I feel so bad for him. What can I do to help his skin and get rid of the fleas on the animals and in the house? Please help!

Thanks,
Sue
AnswerWas this interesting? Yes No
---
Most Recent Answer
By Martha Lofton 1 08/02/20090 people found this helpful
If garlic cloves are good for dogs then how about cats? as for the apple cider vinegar in the cats water, my cat may have a problem with that. I did use some garlic juice on a cotton ball and dabbed the cat's paws, behind her neck and on her tail the other day. she hated that smell. but either it dried or she licked it off. I use the cat flea shampoo on her plus the flea collar and sometimes the flea drops.she is an inside cat. but still gets fleas, have outside dogs and the fleas come in on us from outside. Will try to add some apple cider vinegar to her water and hope for the best. will try the garlic on cotton ball dab again and have some on hand in a bag. I hate chemicals.
Martha42
---
How old does a kitten have to be before wearing a flea collar?
By angel from Akron, OH
AnswerWas this interesting? Yes No
---
Most Recent Answer
By Andrea 1 10 04/21/20100 people found this helpful
Definitely no! I agree with the rest. Talk to your vet before using any flea product on a kitten of any age. Besides, most flea collars are also a safety hazard. They do not release like a break-away collar. Break-away collars are designed to break under pressure or weight, such as your cat's weight hanging from a branch. This prevents the collar from strangling or hanging your cat.
---
I have hardwood floors all over the house except the kitchen and bedroom which have tile floors. I read where you mix apple cider vinegar, Dawn, and water, and bathe both kitties. How much would I use of each or equal amounts?
By Carla Jo [1]
AnswerWas this interesting? Yes No
---
Most Recent Answer
By Lizzyanny 9 1,221 08/12/20150 people found this helpful
Use just enough Dawn to make good suds. Dawn by itself will do the job. Start right behind the ears so the fleas don't all run up on the head. Be careful not to get water in their ears. Rinse well and you can use a flea comb to get any that are left. Be sure and start a good flea prevention soon, so they don't get started in your house. There are some you can use on kittens, but be careful to get one especially for cats. The dog fleas products can kill cats.
---
I need home remedies to deflea infested kittens.

By danitaoster
AnswerWas this interesting? Yes No
---
Most Recent Answer
By hubnwife 1 2 10/03/20140 people found this helpful
You can try dusting your kitten with Diatomatious Earth (food quality, not for pools) like you would flea powder. It will kill the fleas and is harmless to the cat-just make sure NOT to get it in the eyes or inhale it. This stuff cuts the outer shell of the flea, and dries it out. Good for sprinkling on carpets and in corners, and easy to vacuum out.
---
I love animals. I have a little kitten that hangs around my house. She's my neighbors kitten. My neighbor abandoned her. I can't let her in because I am allergic and have a dog.
The kitten almost died of fleas, but I got her medicine. She was doing well, but she has fleas again. It breaks my heart to watch her suffer. I visit her everyday and sometimes lay in my bed crying.
She was rid of the fleas and I was so thankful. Should I take her to a shelter? or would they just put her down? I can't watch her suffer any more.
By Amanda
AnswerWas this interesting? Yes No
---
Most Recent Answer
By Lizzyanny 9 1,221 07/14/20130 people found this helpful
Check into some of new flea and tick medicines available on the internet. The prices have come down recently. If you do take her to a shelter, be sure to find a "no kill" shelter. Or you can check with friends to see if they can take her in. I had a homeless kitten I could not keep and I brought her back to good health and sent pictures out to my email list with her story attached. I had people fighting over her and she went to a wonderful home. Be careful and dont let her go to someone you do not know. Bless you for having a heart for this homeless girl.
---
My kittens are 2 days old and are infested with fleas. What can I do to get rid of the fleas?
By Natalie
AnswerWas this interesting? Yes No
---
Most Recent Answer
By roses 6 08/30/20110 people found this helpful
The truth is you may bathe the kittens in dawn dish detergent (the original blue one only). This will kill what is already on them. Give them a good brushing to free them from the dead ones, since they will probably end up eating them and that isn't good for them.

The next step is to rid the house of what might be eggs or larvae. You can spray distilled white vinegar all over the house. It is not fragrant but it works great. The smell of the vinegar will disappear in a day or so. I have older cats and I saturate a wash cloth with vinegar as well and wipe them down ears to toes, instantly the fleas die. I brush them a bit and they're as good as new! They also love the attention although chasing them for the vinegar rub (I have 5) is quite funny lol.

You must get rid of their favorite bedding or wash those items in the hottest water possible, but it's worth replacing for the sake of your pets. Be blessed and thank you thrifty fun friends for all the great advice in the past.

Also, I put two or three drops of apple cider vinegar in their wet food every day. This is great for maintaining flea free cats. Good luck with the kittens, they're wonderful and such a joy to have.

For the gal on disability who adopts cats, God bless you. People can judge but you are giving a loving home to the homeless. Keep finding tips here on thriftyfun.com and you will be able to care for those cats with minimal money to be spent. Vet's tend to overcharge anyway. Be blessed!
---