Some plants will thrive in water instead of soil and you have the added enjoyment of seeing the roots develop as your plant grows. This is a guide about growing plants in water.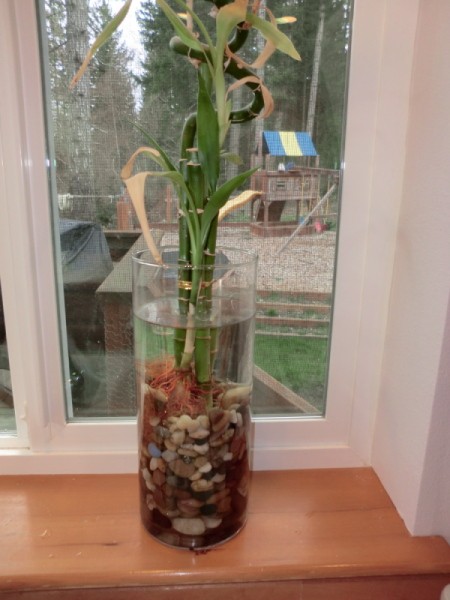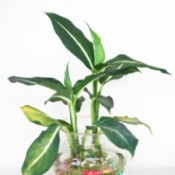 You don't need to have a green thumb to grow houseplants in water. Even if you've killed every houseplant growing in soil that you have ever had, your success is almost guaranteed when growing them in water. Other than sticking the cut end of a stem into a jar of water and setting the jar on your window sill, there's very little else to do except to sit back and watch it grow!
Five Advantages to Growing Houseplants in Water
Low maintenance (plants require less upkeep and are nearly impossible to kill).
Cleaner (no dirt, less odors).
Eliminates problems from soil-borne insects and diseases.
Reduces the need to fertilize because nutrients are distributed evenly to roots.
Plants can never be over or under watered and will be fine if you leave town.
Selecting Your Plants
When choosing houseplants to grow in water, it's important to select species that are known to perform reliably without soil. Surprisingly, this includes many herbs and even some flowering plants. In general, plants with strong, woody stems make the best candidates. Some will last for many years, while others last only a few (or even one). The following list of plants that grow well in water is by no means complete, so have some fun experimenting:
Begonias
Chinese evergreen
Coleus
Croton
Dracena
Herbs, including mint, basil, oregano, lavender, rosemary, and sage
Impatiens
Ivy (any type)
Philodendron
Pothos
Sweet potato vine
Wandering Jew
Selecting Your Vessels
Whether clear or colored, as long as it's translucent (see-through), anything you have laying around that is glass or plastic and holds water is a potential vessel for your houseplants. Dollar stores and craft stores are great places to find inexpensive bottles and vases, but old-fashioned canning jars or even drinking glasses work great, too. Providing your houseplants are healthy (and not dying or rotting in water), algae growth will seldom become a problem - even if plants are placed in direct sunlight.
Rooting Plants in Water
Rooting your plants in water is just like rooting them in soil. All you need to do is clip off a small, actively growing segment from the existing plant (right below the leaf), and insert it into a jar or vase filled with water. Once you have the cutting in the water, Mother Nature takes care of the rest. Roots will soon appear along the submerged stems, followed shortly by sets of new leaves.
Aftercare and Maintenance
Another beauty of growing houseplants in water is that the after-care is nearly as simple as the initial steps.
Sunshine: Some plants flourish best in a clear jar on a sunny window shelf; others seem happier in a ceramic vase on the living room table. Don't be afraid to move your cuttings around until you find the combination that's compatible. In general, a plant growing in water will have the same light requirements as it would if it were growing in the soil.
Water: Most tap water is either chlorinated or the nutrients have been filtered out, and soft water is too salty. Bottled spring water or well water will yield the best results. Plan to change the water about once a month. In the meantime, you can keep adding a small amount of water as it evaporates from the vase.
Feeding: Add just a few tiny grains of soluble plant food or a couple of drops of a liquid fertilizer to the water after each change. Be very careful here - a little goes a very long way. Unlike adding fertilizer to soil, fertilizer added to water is immediately available to the plant's roots so it's very easy to overdo it and injure your plants.
Controlling growth: If excessive root growth becomes a problem, simply cut back some of the roots or pot the plants in soil. Take care when transitioning plants to soil. Water-grown roots are different than soil-grown roots and tend to be brittle. They may snap off if handled roughly. Start by moving your water plants to a pot filled with porous potting soil. Keep the potting medium evenly moist for several weeks until the plants have time to make the transition, then move them to a heavier soil.
By lalala... 731 97
I began growing plants in water when I was trying to root a plant cutting that I had. I loved being able to see the roots as they grew so I decided to leave the cutting in water instead of planting it. I found an old Erlenmeyer flask at Goodwill and transferred it to the flask. I also found a neat vase that I put my bamboo into. There is a lot of neat glassware at second hand stores that would be great for growing plants in!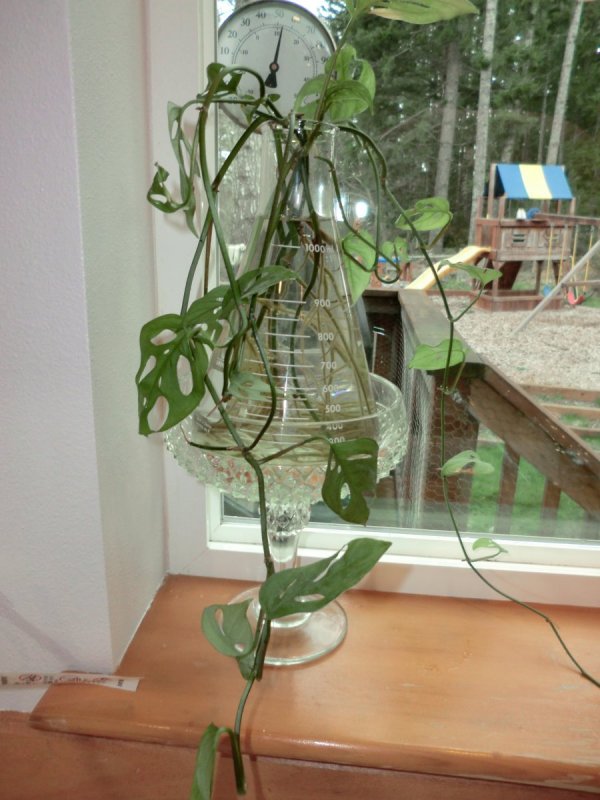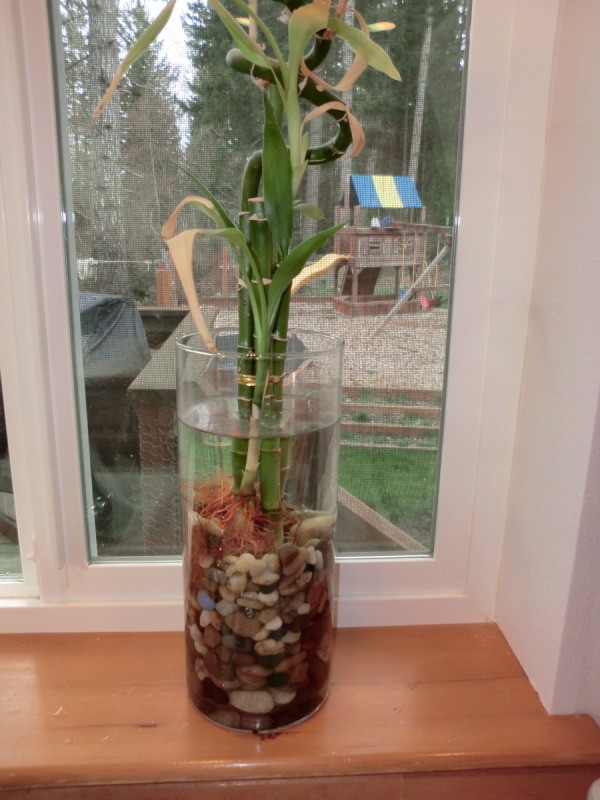 By Laurel from Port Orchard, WA
By EllenB 793 1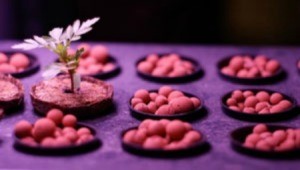 Who needs dirt? Not your houseplants, at least not all of them. Many can be cultivated using a technique called Hydroculture, where soil is replaced with water and a liquid fertilizer, and a clay aggregate is used to support the plant's roots. For people who travel a lot, or for those of us who tend to over or under water our houseplants, Hydroculture may be a good solution.
How It Works
Hydroculture is another word for hydroponics, a method of growing plants in water containing dissolved nutrients. Many of the foods we eat are produced this way commercially, especially in areas where land for cultivating crops is limited. A simple, scaled-down version of this technique is an ideal way to grow many houseplants.
Plants are grown in containers filled with water and liquid fertilizer. The plants take in nutrients from a water solution through their "water" roots. After continuously being submerged in water, they have adapted by developing a greater capacity to store oxygen. Once the hydroculture system has been set up, a float in the reservoir indicates when it's time to add more solution.
The Advantages
No more guessing how much to feed and water. One of the fastest ways to kill a houseplant is by giving it too much or too little water. Or, not understanding how to properly use fertilizer. With hydroculture, feeding and watering requires little more than topping off water levels. In soil, certain nutrients can remain fixed in the soil as insoluble compounds. In hydroculture, nutrients are evenly available to the root system, so plants tend to be more vigorous.
Reduces pests and disease. No soil means no more soil born pests, including those creepy little potting soil gnats. You can also say goodbye to mold spores and mildew-a boon for those who suffer from allergies.
Lower maintenance. Hydroculture is cleaner and easier to maintain. By eliminating dirt, you eliminate must odors and messy spills. You'll need to water less often, transplant less often, and worry less about leaving your plants unattended while on vacation.
Getting Started and Finding Supplies
As more people pickup on the trend, hydroculture supplies are becoming easier to find at local nurseries and garden centers. Suppliers can also be found on the Internet by using the search terms Hydroculture Kits or Interior Water Gardens. Here are some additional links:
Suppliers U.S.
Suppliers Canada
Supplier U.K.
I remember my mom growing sweet potato vines (as house plants) in a mason jar. How do you do it? I'd love to know. Can they remain in the water with some marbles in the bottom, or do they need to be planted? What type of light do they need? If I need to plant them, what do I keep the moisture level at for the soil?
I can't remember which end of the sweet potatoe to place in water to root it?

Thanks,
jenny from KY
---
Most Recent Answer
By guest (Guest Post) Flag
December 30, 2008
I think success/failure depends a lot on how long the potato was in cold storage before you bought it. So try again, after you ask your friendly produce manager!
---
I would like to have a vase on my desk with a plant in water. Which plants will grow this way?
By RL from Basking Ridge, NJ
---
Most Recent Answer
December 31, 2011
Bamboo does well this way also. In Dallas where I live, attractively-potted bamboo plants with rocks and water are very easy to find at Home Depot, Lowe's, and even grocery stores.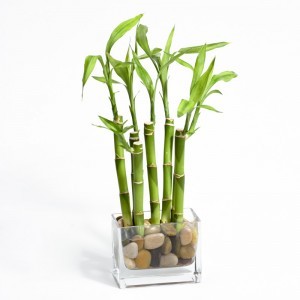 ---
By Tally 1
I'm doing a science fair project on how different liquids effect how plants grow. I'm growing radishes, pole bean and peas in orange juice, diet ginger ale, milk, water and diluted vinegar. I need some research on how each liquid can effect my plants. Can you help?
By Tally from Ontario, Canada
---
Most Recent Answer
February 14, 2010
In our area, we have a County Extension Agent who is very knowledgeable about the soil, plants, and so on in our particular area.
The County Extension Office offers a multitude offers of help. They will mail leaflets and brochures to you. Our extension agent will test the soil for you. And advise what should be added to your soil for the particular plants you'd like to grow. They also have a "test" garden here, which shows the plants that grow well here. They offer workshops for pruning grapevines and fruit trees. There is just a multitude of things available thru this office. I imagine they would be very helpful to you and your Science projects.
---
Can I grow indoor plants in water only? What do I do with indoor plants in water when the water begins to smell bad? Other than replacing all the water.
Hardiness Zone: 6a
By marianjn from Provo, UT
---
Most Recent Answer
By Cyinda 214 1,287 Flag
September 2, 2009
You can also add food coloring to the crystals:
---
By Daisy 5
Back in the mid 70s there was a company that offered their house plants through home parties. The plants were grown in some kind of lava looking pebbles and did not use soil at all. You watered with their plant food solution each time you watered. The plants grew beautifully! Does anyone know what happened to the company or know what type of pebbles and solutions were used?
Hardiness Zone: 7a
By Daisy from Franklinton, NC
---
Most Recent Answer
By Lois Johnston 1 Flag
June 25, 2010
I was a dealer in Iowa, I sold plants like crazy but the company I worked for went bankrupt. Hydroponics is what you are looking for, and yes it was lava rocks. However, weak miracle grow and a air pump from an old fish tank works great to grow soil-less plants.
By Franceska Marie McCaughan O. 1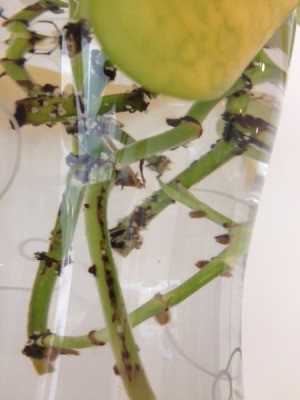 I've had my indoor ivy plant, which I have grown in water, for a couple of years now without a problem. I trim the roots when they get too long and clean off any algae that may arise from the sunlight.
A couple of days ago I did the same and noticed this thick black "scab" all over the stems. Now my leaves are all turning yellow. Anyone, any ideas on how to solve this issue?
By Franceska
---
Most Recent Answer
November 4, 2013
I think that is a philodendron or a pothos, not an ivy. Usually, they go yellow when they are not getting enough of something: water, light, nutrients. Since you have been growing them in water for so long, have you been adding any plant food to the water? I don't know anything about the black scab but maybe someone else will have some other ideas. Good luck.