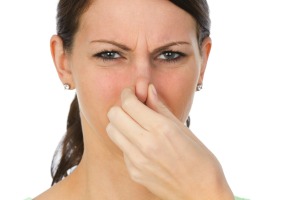 It is not always easy to determine where a bad smell is coming from in your home. This guide is about locating the source of a foul smell in the house.
Solutions
Share a solution for this guide today!
Questions
Here are questions related to Locating the Source of a Foul Smell in House.
For the past 4 months I have noticed a rancid dead smell in my house usually when the temperatures are above 90 degrees, the air conditioner is on, and smell is concentrated in the front of the house. I have been hit by this pungent odor all summer. I thought a dead animal in the wall, ducting, or even under house? After 4 months wouldn't it be dried and decayed by now? My landlord so far has been very conservative, waiting for it to disappear. Could it be the sewer, a nest? I have a lot of squirrels in neighborhood and I've seen rats running along the power lines in my back yard. Please advise.
By Dana B.
---
Most Recent Answer

By coville12308/22/2013
Sounds like it could be the sewer, but try dumping baking soda and vinegar in your drains in case its that.
We have a very foul dead animal odor in our home. The only time this odor is present is after my wife has used a hair dryer. We know it is not the dryer itself, because it does not smell if used outside our home, ie. vacation.
The smell seems to appear after using the dryer for a while and it does not smell in the bathroom where it is being used. It seems to be drawn in from another room. Once the dryer is off the smell slowly dissipates and is gone.
I can not find anything in the ventilation, attic, or crawl space. This has been happening for nearly five years. I think that if it were a small dead animal that it would have dried up and quit smelling by now. Any advice would be greatly appreciated.
By Charles from Indianapolis, IN
---
Most Recent Answer

By Beaufort12107/12/2011
Hi guys! I wonder if you can help me too. I sort of have a similar problem and its almost a week now. There is a terrible smell of a dead animal in my kitchen; I have tried to locate exactly where the smell comes from in the kitchen but have not been able to pin point the source. I have tried smelling the sink but the sink doesn't smell so I honestly don't know what to do now. The last post mentioned something about having chemicals under the sink. I do have a whole stack of cleaning detergents under my sink in the cabinet; I have removed all of them and will see if there is any change tomorrow.

Could it be the drain? How am I suppose to know if it's coming from the drain and yet the when I smelled the sink i didn't smell the rotten meat odour. Please advise. Thanks!
I have this odor that comes and goes. I think that it is associated with the furnace, however I have just had the furnace annual maintenance done. I had the air ducts cleaned and did the monthly cleaning of the filters and it is still here.
I find as I get older it affects my chronic bronchitis making it worse than usual and causes my eyes to burn. When it shows up it seems to be strongest when the furnace is blowing heat.
I know it is not the refrigerator, dishwasher, oven, washer, or dryer as those are new and the dryer duct was cleaned with the rest of the vents. I always figured it was associated with the cleaning of the furnace filters, but this time it showed up four days after I had cleaned the filters.
My husband does not seem to notice it and my son has no sense of smell so I feel like I might be crazy. Anyone know who I can call to get this looked into? My furnace people are clueless and have been no help at all.
By wjw
---
Most Recent Answer

By scalzocathy12309/24/2013
Hello, I had a similar problem. It was esp bad when the oil furnace came on. We finally tracked it down to a leak under the toilet that was dripping loaded water into the ventilation system. Yuck.
We have a odor in our basement which we only noticed about one month ago. The smell is very bitter and to begin with I thought it was the herb, dill, but as there is nothing like that downstairs. It wasn't that and it seems to be getting stronger as time goes by. It is now starting to come up thru the heat pipes.
As we are able to keep the windows open now it isn't a real problem, but it will be when it we have to close them. Is there anything like a meter that will read when we are close to the problem? We have been thru everything and washed what we thought might pose a problem with no success. Any help would be appreciated.
By Sharon L.
---
Best Answer
By Sandi07/28/2011
If you have gas, it will smell like rotten eggs. They put a chemical in it called mercapaden (sp?). It's for that purpose alone. It truely smells like sulpher.

You may have some kind of sealent, or acidic substance that has soaked through and old can and into the wood or piping system. You may also have a dead animal. You may want to call a plumber and see that your sewage pipes have not been cracked by tree limbs, or your local HVAC company. Good luck!
We bought a trailer house about 2 years ago and did a complete renovation on it. We tore out all subfloors, paneling, insulation, the works, and replaced it with new subfloor, insulation and drywall instead of paneling.
My question is, this summer a musty odor has started coming up and I'm not sure where it's coming from. It's strongest under the bathroom sink and kitchen sink. I tore out the kick plate under the kitchen sink and cannot seem to notice any leaks. I'm not sure if it could be coming up from under the house, as we took out all our skirting and replaced it with foam sheets glued to weather resistant 2x4s and covered with a stucco material. This has caused condensation in the past so we added a fan in the skirting to pull out some of the moisture under the house.
As a side note about a month ago we had an issue with gnats and could not find the source. I think it might have been from the dishwasher because we rarely use it. I cleaned out under the fridge and inside the dishwasher and the gnats went away. My question is, what can I do to diagnose it or who can I call that won't cost me a fortune?
By Mary
---
Most Recent Answer

By Norm33311/03/2013
If it coming only from under sinks and smells like dirt and you have seen gnats, there is stuff in your sink pipe trap that is decaying, molding, etc. (the u shaped part). You can fix it by pouring some bleach in the drains. But you need to make sure it is enough to fill up the u shaped part and you have to leave it there for a few hours at least. The idea is you want only bleach sitting in that trap for a while. The bleach will kill whatever is growing there, including the gnats that are living there, and the smell will go away.
I have an open floor plan with stained, scored concrete floors in the living room and carpet in the bedrooms. I have been in two different houses that are built the same just different floor plans. I noticed when we moved out of one house that it smelled awful. The smell was only in the living area. I have three dogs and thought it was because of them. I cleaned the house from top to bottom, opened all doors and windows for several days and placed baking soda boxes in several different places. The smell would never go away.
Now I am smelling the same smell in the new house. I clean, clean, clean all the time and my dogs are bathed regularly. It's not my furniture and I got rid of the area rugs. I don't even know how to explain the smell. It smells like dirt to me. This is a rental house built in 2005 and my landlord was very upset with me in the last house. I feel like I clean more than the average person, but yet my house always stinks! Is there a professional service I can call for help?
By TB
---
Most Recent Answer

By Kathy Kilian09/25/2013
My first thought is that it has something to do with the stain on the concrete floor. Perhaps they used a wrong kind of stain and it reacted with the concrete. I'm not an expert on this, but if you have cleaned very thoroughly and repeatedly and the smell is still there, then it must be in the concrete and/or the stain. Just a guess. Good luck in finding a solution!
For a few days now, as soon as I walk in the front door it smells like poop really badly. It's mainly from the front door into the kitchen. When the house is cool, it doesn't smell as bad. Any suggestions on what it could be?
By M&M
---
Most Recent Answer

By Brenda Hopkins G.11/09/2013
We also had this problem but the odor was the strongest in our master bath. We had everything checked: Toilet was looked at by plummer, he recommended having septic tank pumped out(we are in the country), did that but smell still remained. Well when all was said and done, it was a propane leak where the pipe came through the foundation of our house. Took us over a year to figure this out.
Ever year in the fall for about a week I have a foul odor in my house. What would it be? It lasts for about a week. It's very annoying. Please anyone have a answer?
By Beverley G
We just bought/moved into a house built in 2008/2009 and there is a horrible odor in several of the closets. At first, I thought it was just the closets with the air vents, but now it is moving to more closets that do not have vents. The main areas of the house and the bedrooms do not smell, just the closets. It almost smells toxic, as my nose burns after. Any ideas what in the world this is?
By DMA
Whenever my downstairs heater comes on after is been off for awhile, the bad odor smell will be coming through vents and when the heater stops, the odor goes away. It only happens in winters.
By Hafeez
We have an unpleasant bitter acidic smell in the house. The smell is coming from heat registers. We had the furnace and air conditioning coil checked we had one of the walls in the basement rebuilt. There are no visible leaks and no source of the strong odor. We would appreciate any suggestions about the source of the odor. My wife started smelling it last August at the end of air conditioning season.
By E.I.
I have this horrible smell in my bedroom of all places and I don't know what is causing it. We have had 2 things happen in the last week - first the basement got wet and I had to tear up all my carpeting and it is out of house and second we got a cat from someone who was moving. A week after both is these, I have a sour/dead rat smell in my room.
The cat has been fixed, but he has been in my room. And I'm embarrassed to say, I think it could be my bed or the furnace when it comes on makes it worse, but I don't notice it in the other rooms - only when I'm going to bed. The cat is skiddish of our dog, but I haven't seen anything evident of a spray, etc. I'm dumbfounded and feel like I need to get rid of this cat, but what do I do about the odor and what if it's not the cat?
By Beth
For 2-3 days we are smelling a bad odour only in my room. We suspect it is probably a mouse or rat (I hate the most). Firstly we thought it could be in the split AC fan and did a complete service of the whole AC. They found nothing in it and fixed it back. The smell still exists :(
The whole room has been twice checked by moving the furniture and nothing at all found, no trace! I can't even pin point a particular place :(
A kind suggestion would be really appreciated.
Thanks!

By Manakeesh
I have an odor in my house, there are no dead animals. It is just a funky smell. It's not on the walls or the furniture. I've cleaned top to bottom every day and my house still has this funky smell what could it be?
By Stacy from San Antonio, TX
---
Most Recent Answer

By Luana M.09/21/2012
If you have carpet I would use baking soda letting it set as long as possible. Check for mold under carpets,under sinks etc. What this reminds me of is sewage. Sorry but happened to me.

I kept smelling this horrible smell when I came in, walked by but it wasn't as noticeable to my landlord. I really was going crazy over it doing what you have been doing. I goggled it and yes it recommend changing toilet ring. Which most of the time does the trick. In my case however under the building was a broken pipe. If you have done every thing else this may be your answer.
Good luck. When I read this brought back "funky" memories.