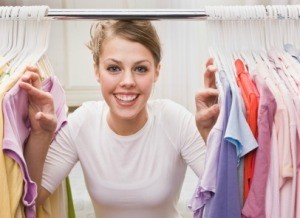 It can be challenging to keep your bedroom from collecting clutter. This guide is about organizing your bedroom.
Ad
---
Solutions: Organizing Your Bedroom
Read and rate the best solutions below by giving them a "thumbs up".
Okay! So your room is: messy, unorganized, boring, too dark, dull, too kiddish, too mature, sad, been the same "forever", no room, doesn't fit you, ugly, smells bad, or just looks like a tornado crashed through your room. I have the answers.
It looks like a lot but not really. Just pick your category.
Organizing
Clothes end up on the floor? Many people clean and clean and clean their room, but it still looks too packed and dirty or things just magically end up on the floor and you just don't know how it got there.
Well for starters, get a laundry basket. This will be your best friend. Make sure it's pretty. Or if your closet is big enough and it doesn't bother you, your could get a simple plastic nice colored one load basket at the Dollar store. It's not expensive. But for those people whose closet is small or there's no room in it for a basket, then hampers are perfect. Of course they're about 5-10 dollars, but that isn't that bad, and it's worth it. Get one that fits in a corner and has colors that match your walls or decor.
Every time you change your clothes, put them into the basket/hamper. It's so simple. Before the basket gets too full or to the top, wash it. Well that's for clothes, basically keep them off the floor. Even doing just this makes your room look bigger.
Bed always a mess? Okay, when you don't make your bed, not only is it ugly, but it makes your room look nasty! So if you have a lot of pillows and you sleep by yourself in a small bed, you really only need 2 and maybe 1 throw pillow for looks. Keep pillows off the floor. When you wake up, make the bed. If you have no time then at least make sure that there are no blankets, pillows, or sheets on the floor.
Shoes? Keep them in your closet or under your bed. If you're in a hurry, then at least kick them into a corner or against your wall. That way no one trips on them. For shoe organizers, the worst problems, I personally think tennis shoes are awesome to wear (Converse, Vans, etc.), but look ugly sitting on the floor, or a shelf in the closet. Racks are hideous, but what to do with them?
Okay, one thing, keep the boxes to your shoes. When you're done wearing them, put them into the box and then under your bed. If they don't fit under your bed, put them on the floor or a shelf in your closet stacked with all the other shoe boxes that are there. Yes, it's ugly until you get a shelf that has a door. OK I have 15 pairs of shoes, including 7 pairs of Converse, 2 Vans, 1 pair of boots, 3 pairs of Etnies, and 2 pairs of DC's. (yes I skate)
What Do I Do? Many people don't have a long shelf in their closet, but I do. What I do is have each pair of my shoes in order in a row and to hide them, I have curtains! After I get the pair of shoes I want, then I pull the small curtain over them and close my closet. The curtain is purple and is thick, and my feet don't smell, but I keep a bottle of Febreze in my closet and spray my shoes and clothes, occasionally.
Everything else? Nothing should not be on the floor! "If you use something, put it back", that's what my parents say and I do it. Guess what? It actually works.
Belts and jackets go on hooks in your closet or on hangers. Put them in your closet.
Books go on a shelf organized by color. It gives your room a clean spark to it.
Trinkets go on a shelf. If you have little brothers, sisters, or little people you hang with, then put things high. It's not that difficult, just as long as you can reach it.
Make up: girls keep that it a box or a small night table drawer. Put the night table under a mirror which is by your bedroom door. That way, if you need a touch up, then you can just reach for it on your way out. It's also a good way so you don't forget something. Then the night before, put it on the table and then in the morning you remember it! And for something extra, keep a little cute lamp on the table.
Jewelry: keep on an earring rack, necklaces on hooks, and rings on those cool fake hands and get a good color, something bright. Put them all together on a little table or shelf and it looks very pretty, something else that looks nice is to have a cool looking lamp next to it (a lava lamp, or those lamps that are shaped like hearts or pandas, or something). If you have nail polish, keep that all in one place, unless you have like a big collection, then put it in a separate drawer next to your make up.
If Your Room Stinks:
If you're the type of person who likes to keep your door closed all the time, that's a problem because you don't get any air circulation. I can't change that for you, so something else you could do is keep your window open while your door is closed. If you're very private and have peeping toms, then get sheer curtains. That way, you can see out, but they can't see in. (I would consider getting a nice bright color for the sheers like yellow, or a lime green.) This also is a good way to save electricity because of light, and fans, and air conditioning.
If You Want To Make It Homey:
Painted walls! Stay away from those red, black, navy blue, dark green, maroony colors. I personally like black, but it is depressing for everything to be that color; my room is a light purple. Making your room a light color makes it seem bigger which is great. Not only that, but if you have a bright light happy color, you can use dark and bright stuff in your room, which makes it nice.
Try getting (if you have the money) a love seat for when people come over. A love seat is a small couch made for 2 people. It is small and homey. Furniture is nice to have in a room.
Okay, well as you can see, I have much to say when I grow up. I want to be a organizer and clean people's homes and I would love to help and give you advice. I have much more to tell you but so little time. If this didn't help you, don't give up on me. I didn't say everything. I went through the basics. I have more on each topic and more topics I'd like to say but no time.
I would love to help if you have any questions about this.
I have ways to save money where you can buy things, what you should buy, and I'm good for all types of people. I'm pretty much free all the time so I will help you.
And for those who don't know, that's a laundry basket, lol.
By Destiny
My husband is a firm believer in piling and stacking. This is something he utilizes in every aspect of our lives including the bedroom. There are 3 sets of clothing that he uses daily (2 jobs and casual) so it is important that we keep them separate. In order to keep order in the corner of the room that he uses for laundry I have 3 things:
Laundry basket - self explanatory
Hooks on the wall - These are especially helpful for shorts or t shirts that aren't dirty, but never quite make it back to the closet.
Small trash can - This is a life saver. I used to think that wild animals foraged in his dirty clothes at night and left scraps of paper and gum wrappers everywhere!
After 17 years I figured out he wasn't going to do his laundry every 2 days like I do so I decided to roll with it!
By Jennifer from Central FL
If you live in a small home and need more space to store your crafts, yarn, and scrapbook supplies, think of buying an Under Bedskirt Shoe Organizer. They don't take up any extra room, come in all bed sizes, fit right under your regular bedskirt and, YES, all you gals with a shoe-fetish, you can even store shoes in them!
Here's a picture and more info:
Source: I found out about these wonderful little space savers through their TV commercial.
By CDR from near Seattle
A bedside pouch, easily made from a towel or yard of fabric, that fits between mattress and box spring helps keep clutter off night stands.

By Linda
Give a "thumbs up" to the solution that worked the best! Do you have a better solution? Click here to share it!
Questions
Here are questions related to Organizing Your Bedroom.
I share a bedroom with my two boys, ages 3 and 1. We have very little space to move around. I have my youngest son in the crib. My other son and I sleep in bunk beds. Our walls are blue and black and the room has a big closet. Is there a way to lighten up the room and create a little more space?
By Wanaya from Baltimore, MD
AnswerWas this interesting? Yes No
Ad
---
---
Most Recent Answer
By SummerSerinity 8 04/02/20110 people found this helpful
Paint and then maybe separate the bunks and form a "wall" out of bookshelves, with the backs facing each other, for storage and a little privacy. If privacy is not what you are going for. Paint, and in the closet put your stuff up high and the kids stuff lower. Enjoy this time, someday you will look upon it fondly. : )
---
I really need advice on how to clean my room. I spend almost every weekend cleaning it but I am just not organized enough to keep it clean. If any one has any tips please help.

Danielle from Kent, WA
AnswerWas this interesting? Yes No
Ad
---
---
Most Recent Answer
By (Guest Post) 02/22/20090 people found this helpful
Thank u kayrn, the tip about the running shoes in the house was really helpful to me becausse it seemed to increase my eneergy level alot. Now can u help me get my clothes put away. I have only one little dresser for my little girl , two shelves no closet ? ps I am on what I like to call the cash free biudget. HELP PLEASE
tks again jessica
---
I really need help to organize my room. I keep cleaning it, but it just gets messy again, no matter what. I try to store things but they just make it back out on the floor again.

Thank you,
Alicia, Oregon, 14
AnswerWas this interesting? Yes No
---
Most Recent Answer
By Clever Shirley 1 01/10/20120 people found this helpful
Assign everything a place... use items with a space for labels. Labeling space also helps others to know where you want your things and helps to avoid frustration and saves time. Also, when you have designated spaces and put things away then they may last longer than being on the floor and stepped on or broken.

The best part of having a clean room is you won't hesitate to have people over for fun more often. Enjoy!
---
I have no clue how to do my room. My mom says I have to clean my room and organize it tomorrow while she's at work. I share a room with my sister and have a small room with lots of furniture with more coming.
I have 2 closets one for me and one for her and 2 dressers one for me one for her. I have a twin sized bunk bed, a desk that is long, a chest, a laundry basket, mirror, and a sewing desk with a sewing machine and a lot of fabric. I also have a bunny and lots of crafts that need somewhere to go.
Please help.
By Kaylin
AnswerWas this interesting? Yes No
---
Most Recent Answer
By joanfry 28 74 01/05/20120 people found this helpful
Well, if you only have until tomorrow I think you need to take an emergency approach to the project. In medicine doctors call it triage - it means dividing everything into three sections.
Emergency
Intermediate, this keeps being divided into
Can wait
1. Make your bed.
2. Put all dirty clothes into your hamper.
3. Put other clothes into their place - on hangars or in drawers.
4. Go through the room with three big plastic bags.
a. Junk
b. Keep
c. Do not know
5. Empty junk bag outside in trash
6.Put keep stuff in bottom of your closet
7. Take all c. and put on your bed
8. Divide c. into 3 sections.
a. Junk
b. Keep
c. Do not know.
9. Keep doing this until you have a set of bags in your closet, a lot of junk in the trash, and nothing left that puzzles you.
10. Put all the keep stuff away as described by other people using boxes, bags, jars, etc.
Your mum will be so pleased and if you have bags of stuff extra, ask her if you can put some nails in the woodwork around the closet so you can hang bags of important things - you could make lovely bags from your sewing material.
I keep my sewing stuff under the bed in baskets. I have had the same containers for years and when I move they just go in boxes and go with me. Good luck. If you succeed in this then you will have loads more time for your hobbies. Wish this was more cleverly written but I think you will quickly understand my points.
---
My 13 year old daughter has a medium sized bedroom and a queen bed. My mom bought her a bedroom set which includes the dresser/mirror and 1 nightable and a new mattress (queen) and I don't know how to organize it. My daughter is thinking of putting all her clothes into the drawers and putting shelves and a small chair in her closet. Can someone please help? Her comforter is black and white. Also she wants it cute and girly.

Thanks.
By Keila
AnswerWas this interesting? Yes No
---
Most Recent Answer
By redhatterb 1 673 02/02/20150 people found this helpful
Organization doesn't have anything to do with whether or not it is cute and girly. Putting all her clothes in drawers will only work for certain items. If she has dresses/skirts they won't work real well in drawers. Also a drawer will only hold a certain number of jeans, then there will be shorts, t-shirts, socks, undies, etc.

My dresser is about five feet long and I still don't have enough room in it for everything, and I don't have any jeans. The only real problem you should have with organization is how to place the furniture. She already has a closet and I assume some kind of furniture that has some drawers, so don't worry about organizing the clothing. Also if she uses the closet as a sitting area, something to consider is that being the closet door would be open or completely removed you will be heating the closet too. I know in the winter when we open our closet doors the closet feels chillier than the bedroom itself.
My room is an absolute disaster and its only a 12' by 12' room. Things I have: a queen bed, a six drawer dresser, a large corner desk, a small 3' by 3' closet and, a floor lamp. I currently have everything under my bed and in my closet. I need to organize and we can't go out and buy anything.
By Erin
AnswerWas this interesting? Yes No
---
Most Recent Answer
By Krista Shackleford 3 80 03/14/20100 people found this helpful
First, get rid of the queen bed. go double or even single, (if you can). Also, think vertical, multi-purpose. See if you can get trade-in credit at a thrift or consignment shop. Try a hide-a-bed or even a daybed or futon that folds down to a bed at night.

A small room looks even smaller when large things are moved in. If you downsized to even a double, you may gain more space.

Have each piece of furniture do more than one duty: Desk that has a drawer for hanging files instead a separate stand for them. Dresser that will hold a TV, DVD player, etc, as well as clothes.

Go through your clothes with an objective mind. If you did not wear it in the last season it was meant for, donate it.

Same with books. Keep only a few that really mean a lot to you. Donate the rest. Magazines? Scan the articles you bought the magazine for, then donate to shelters, doctor's offices, and hospital lounges. (just be sure if you subscribe to that mag, your address does not remain on the mag, even if you have to use scissors to cut out that info.)

Post on local sites (like freecycle or craig's list) and maybe you can trade w/someone locally w/o any money changing hands. (just be careful if you have someone come to your home).

A note of files, receipts, etc:
I have a filing system that works for me. In a portable filing box (I bought it at Office Depot, it has locking tabs, like a briefcase) and I keep the current year's bills/receipts in it). I have three colors of folders: Red: Bank statements, rent receipts, anything legal, such as taxes, etc. Anything that needs immediate attention that is not a regular occurring thing. Yellow: medical, online purchases, schooling (report cards, progress reports, etc) Things that are not usual in everyday living, but not as urgent as red. and Blue: Bills. anything that comes with a regularity. Car payments, including insurance, DMV business, etc. Have a sub-folder in there for each car you own. We only have one, though.

Keep a black folder for new appliance handbook. Staple the receipt on the INSIDE of the cover of the handbook. Keep warranty information with the handbook.

For everything you bring in, one thing must go: buy a new purse, one old one goes out.

I know some of this sounds harsh, but I also live in a very small living space. I have gained a lot of space doing this.

Good luck. I'd be interested to know what you do with your space.
I need help organizing my room! I have a lot of stuff and I need it all. I have little storage, but a lot of clothes. I have tried every organizing tip I have heard, like throwing away or getting rid of stuff I don't need. I do it every month and my room is still messy and unorganized. I can never find anything.
I have a small desk with 3 large and deep shelves, a 6 foot long and 4 feet wide closet, 4 shelves, a night stand with no shelves or drawers (just a big opening), a 3 drawer dresser and 3 drawers underneath my bed. I would like the organizing ideas to be cute and fun.
Thanks.
Help from MI
AnswerWas this interesting? Yes No
---
Most Recent Answer
By Karly(: 1 03/11/20130 people found this helpful
Hi I hope this helps!(:

Desk with three drawers - this you can put all of your papers and supplies in and to make it look fun and cute decorate the out side with fun stickers and label each drawer what it has in it!

Closet - if you have a metal rod in it use that or buy one. You can hang all you're nice shirts on that then go to like Walmart and check out little individual mini totes. Put tanks, scarfs and socks in that and put those on the shelves. You can get colorful ones to brighten up youre closet like I have a yellow and green one(:

Next get a 5 ft tall storage thing and put all your shoes in that! On another of your shelfs fold all your jeans and shorts and skirts and more on those and take duct tape and label which is where. In your dresser depending on the weather if it's cold put your summer clothes or your winter clothes. On top of your dresser put your makeup and hair and lotions in little baskets.
I try doing everything I can to make my room organized and still look cool. I have a double sized bed, a stool, art supplies in desk drawer and a little desk. How can I organize this room?
By sweetie123
Archives
Thrifty Fun has been around so long that many of our pages have been reset several times. Archives are older versions of the page and the comments that were provided then.
I need help organizing my room! I have a lot of stuff and I need it all. I have little storage, but a lot of clothes. I have tried every organizing tip I have heard, like throwing away or getting rid of stuff I don't need. ,