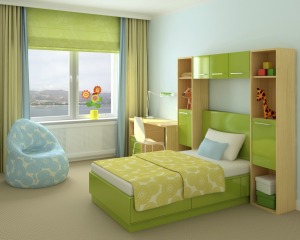 Solutions: Organizing a Small Bedroom
Read and rate the best solutions below by giving them a "thumbs up".
Bed for Small Bedroom
I have a small bedroom and want to not load it up with furniture. I bought a new bed and decided to get one with the built in drawers to save space in that room. This way a dresser is not taking up any space.
By Linda from Bellevue, NE
Old dresser drawers under the bed make great storage, you can even put casters on the bottom if you like.

By imaqt1962
Storing items under your bed doesn't require those expensive boxes for storage. Use the large garbage bags, use your vacuum cleaner to suck out the air. Works like a charm for Christmas decorations, and purses, winter clothes or whatever you like.

By Ardis
Give a "thumbs up" to the solution that worked the best! Do you have a better solution? Click here to share it!
Questions
Here are questions related to Organizing a Small Bedroom.
I am 15 and am a freshman. I am a straight A student, a cheerleader, a runner, a softball player and I love technology. I cannot seem to keep my room clean, neat, cute, organized and smelling nice! I need help! I have white walls and painting is not possible right now, but definitely in the future. My theme is purple but I have a lot of different colors too.
I have a twin bed, with some space underneath. I have a huge built-in bookshelf, a night stand, a vanity with a mirror, a long dresser with a mirror, a tall dresser, and a closet with a sliding door. The closet is not very big at all, but does have some drawers. My room is very small
! I have a lot of books, a lot of clothes, and a lot of shoes. I need a homework space, a beauty space, and a space for a lot of trinkets. I already went through everything and got rid of a lot of stuff! Help me please. :)
By Ali from AR
---
Most Recent Answer

By Paula Jo C. [6]12/16/2010
My teenagers had the same problem with 'odors lurking around' in their rooms but learned that 1/2 a quart of regular straight vinegar in a mason jar would make the bad smells (any bad smells) go away. Just sit the jar where it will not get knocked over accidentally. Perhaps in the corner behind your bedroom door?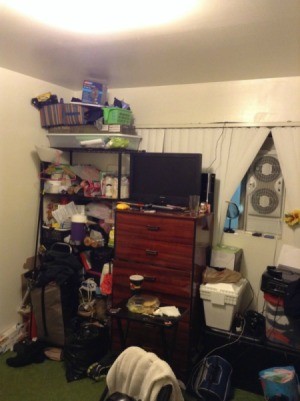 I had to move out of my apartment due to it being on the second floor. I have a knee injury so I couldn't climb those stairs anymore. My sis-in-law was so kind as to let us in her home.
One problem. The room is really small. We left most of our things in storage, but the things we do have, oh my, it is just that the room looks cluttered. I make cakes as a hobby and I also sew. So I have my craft stuff in our room. Food that doesn't go bad, like bread, cereal, etc. we keep in the room now. We use to leave it out in the kitchen, but our food would be gone before week's end and me without a job made it hard to buy food at a moments notice.
We also have a 6 drawer dresser and two ottomans, we have junk inside there as well. Our closet is a mess and one of the ottomans is blocking the other side of the closet. I tried organizing the room on my own, but it backfired. I just feel like there is more of a mess. There is no way I am able to stick nails into the walls, so we can hang stuff on the walls. We keep doors closed at all times for privacy. I am at my wits end. I don't know how else to keep this room organized and free of clutter. Help! I went from a full apt to a small tiny bedroom for two people :-(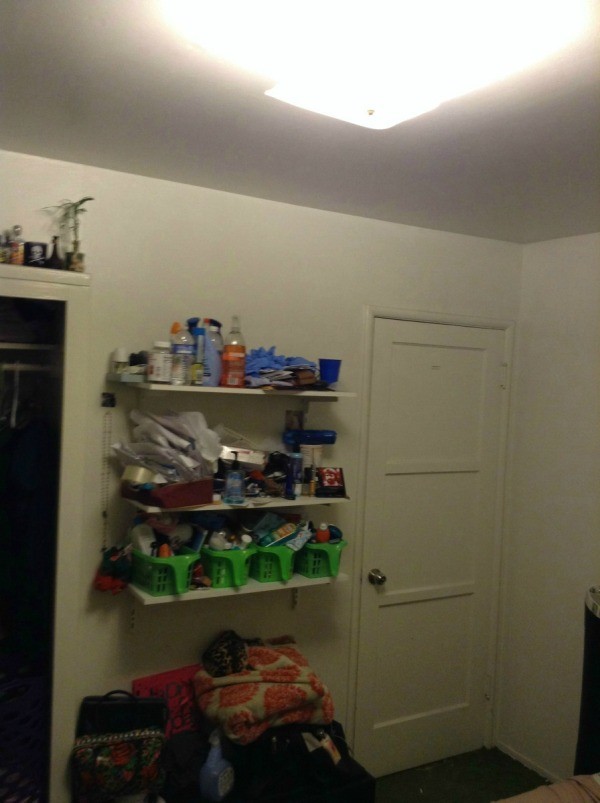 By Nataly from Whittier, CA
---
Most Recent Answer

By Sandy Gerber [22]07/21/2014
Get at least two covered rubbermaid-type boxes. Put as much cake decorating stuff as you can in one and sewing stuff in the other. These boxes can be stacked on top of each other. Buy some under-bed type storage boxes and use them - perhaps the bed could be put on risers to give additional space under the bed.

Talk to your sister-in-law and/or show her your room. Ask her if she has any advice for organizing or if she might be able to help organize. She might be able to offer you a little more of a storage space, like in an unused cabinet or in the basement, where your husband could retrieve things as you need them.
I have a very small bedroom, I mean 9 feet by 8 feet with a lot of stuff. There's a double bed, night table with drawer, a 3-4 foot clothes rack, TV stand with 2 shelves, and an Ikea 9 cubby organizer with a 30 gallon fish tank on top. How can I organize my room so I have a little bit more space?
Thanks.
By Marleigh M
---
Most Recent Answer

By designgirl17809/04/2013
You can mount the tv on the wall and remove the stand. Also you could remove the side table and hang one on the wall. Amazon has a two drawer unit that you can hang on the wall for a nightstand. Look in closet organizers, Rubbermaid. Also can you get rid of the clothes rack and put your clothes in under the bed storage units? Good luck.

I'm 18 and my sister and I share a bedroom (still!). The problem is between the two of us we have way too much stuff to fit in a room the size of ours. Even between the two of us we can't seem to come up with a solution that's both organized and cute. The solutions I've seen are great, but there isn't enough room for bins and boxes. Any suggestions?
By AC
---
Most Recent Answer

By Debi savicky06/23/2013
Think vertical space. Use your walls, hang shelves, baskets, anything you can find that would store some belongings. Another great idea is to hang an over the door shoe holder over your door. Those pockets can hold an array of personal items.
I live in a room very small; any organization ideas? I don't have much clothes and not much "junk" per say. Oh and I'm fourteen so keep it limited!
Thanks for the help!
By Charlie B.
---
Most Recent Answer

By cdoss [10]01/06/2012
I raised my bed with the little feet you can buy at home improvement and organization stores and have plastic bins with lids for some clothes that I wear only about once a month and for some craft supplies. I like the plastic clear bins with lids as the keep dust and our pets from getting into my things.

In the past, I've used the boxes that office copy paper comes in to organize items. They are sturdy, have lids that fit well, and you probably know someone who works in an office who would be happy to bring you a couple of boxes home. Another thing to consider depending on what type of closet you have is how the shelves and bar are arranged.

Sometimes moving the bar a bit lower and adding an extra shelf, or spacing the shelves closer together, can help a lot. Of course, how easy and inexpensive this is to do will depend on how your closet was put together to begin with. One more thing, you can hang a rack on the inside of your door to hold shoes. Even if you don't want to put your shoes in the pockets, you could put hats, gloves, socks, etc in there, freeing up precious drawer and closet space for other items.
I am looking for ideas, suggestions, testimonies of DIY bedroom makeover for a boy, age 12. The room is on the small size. He is sleeping on a full size futon, but that is really taking up too much room. Storage/shelves are really needed, it is a very unorganized room. I also need to make it exciting and clever. My budget is small. I won't have a problem figuring out curtains, bed covers, etc. I just need some practical ideas on how to make a small room more functional.
By Arlinn
---
Most Recent Answer

By Sandy Gerber [22]07/26/2011
Do like the college kids do and put a twin bed on top of two sturdy bookshelves.Somehow anchor the bed in place on top of these bookshelves and anchor the shelves to the wall. Place a desk, chair and shelves under the bed. He may need a ladder attached as well to get into and down from his bed.
I have a pretty small room. The walls are bright and colorful, but I have a bed, a desk, a wide dresser, and a tall dresser. My room's so crowded so I put one of my dressers in my closet. Please help organize my room!
By Michaela J.
---
Most Recent Answer

By susan [33]09/21/2011
Buy some risers for your bed, they will raise your bed so you can put boxes under it; they are cheaper than buying the roller drawers to go under and will allow more stuff to fit under the bed. You can also buy over the door shoe organizers to fit over your closet door, you can organize shoes, socks, scarves etc. in this. Also you can put double rods in your closet to hang tops and bottoms in your wardrobe.

Hang your purses on the sides of the closet or use your storage shelf. Belts can be hung on a hanger and earrings can be organized by using a mesh attached to a fancy frame and hung on the wall. Socks can be thrown into bins to put in the bottom of your closet or under the bed. Good luck.
I will be moving in to a home with a small master bedroom and have been trying to figure out a way to make the most of my small space. I don't remember what the measurements of the room are, but the previous owners had a queen size bed, a large dresser and a somewhat narrow armoire in the room. With these three pieces of furniture alone, the space looked extremely cluttered. The only source of natural light comes from the sliding doors that lead out to a small deck. If anyone has any ideas I'd greatly appreciate it.
By Lori from Chicago, IL
---
Most Recent Answer

By stassy06/16/2010
Your furnishings should be the smallest that will do the job, making the room look bigger. We used to have a queen bed and the room looked tiny, the double opened it right up. Then we painted the room yellow and that made it look bigger too.
How do you build a built-in, full size bed for an adult?
By Joyce from MO
---
Most Recent Answer

By Judy = Oklahoma [57]03/27/2010
Go to www.instructables.com & do a search. You'd be amazed at all the things you can learn to do on this website & they have some great bed instructions!
My room is 12' by 10'. My wall does a dreadful slant, leaving me not being able to stand in more than half the room nor put furniture in.

I don't know how to move furniture or organize my clothes, store my stuffed animals other than leaving them on display, store doll stuff, or what to put in my empty drawers. I sure have plenty of stuff.
My room is also very dark. It has a window, but it's not on the side of the house with sunshine. I'm looking out on the back yard.
I think I posted this once before, but it didn't get through. Thank you for any feedback.
By Lena from Portland, ME
---
Most Recent Answer

By Christy04/14/2010
I like Mikistewart's idea, but it sounds a little impractical when it comes to making up your bed every morning and changing your bed sheets. You'd have to crawl to reach the foot of the bed! My suggestion is to turn the space into a movable closet system.

You can get some wooden cubby crates, set them on their side and stack them two or three high, depending on the height of your wall slant to give you storage room hidden behind the crates. Add some small wheels under the bottom crates and use small screws to secure the upper crates to the lower crates. This will create a movable "wall" of shelves for storing shoes, purses, books, and what-nots. Leave yourself enough room at the end of your "shelf wall" for a hanging bar to hang shirts, pants, and short skirts.

You can get some clear plastic tubs to fit in behind your wall of shelves to give you additional storage for out of season clothes (winter clothes during summer months and vice versa), extra blankets, and items you don't need everyday. The rollers on the shelves make it easy to move them to reach the tubs behind them.

For the hanging part of your closet system, buy some extra long curtains and hang them using the flat, white standard curtain rods or even some decorative round curtain rods with decorative hooks. Mark the curtains where they overlay on the floor with white chalk or a fabric pencil and cut them two inches past this mark. Hem the curtains to create custom sized closet curtains to hide the hanging bar and your clothes.

You can get some large wooden dowels, some white plastic pipes, or even metal rods for hanging your clothes. Add one of those flat, round door stops you see on walls behind the doorknobs to each end of your rod with some hot glue or vinyl adhesive caulking to prevent the rods from slipping out of the chains.

Hang your rod using ceiling hooks (make sure you secure them to studs or they will fall out of the wall) and some medium sized plant hanging chains. Put the first and last links of the chain onto the hooks (cut it with bolt cutters if it's too long) and slide your hanging rod into the loop of chain. Create chain loops for each end of your hanging rod and the middle for extra support if you like.

You can even add small shoe box sized plastic tubs under your clothes for storing things like belts, scarves, and hats. If you don't have any place to store extra toiletries or office supplies, you can use these small plastic tubs for those items as well. Cardboard shoes boxes work well for this too, but you need to label them so you know what's in them.

You can also get a couple of those wire mesh hanging baskets for the kitchen and hang them in your room to display small stuffed animals, hair accessories, or even makeup. You can line them with some old scraps of fabric to keep things from slipping through the holes. You can store hair clips and claws to the chains that suspend the baskets and tie ribbons to the chains for your hair barrettes.

You can even get some small square baskets from Wal-Mart (they come 3 to a pack for around $1 each) and attach them to the wall with small cup hooks in a shelf pattern or go a little funky and hang them in a circle pattern for added fun. You can keep just about any kind of small trinkets, perfume bottles, cosmetics, and hair accessories in them. You can use them for your jewelry by adding some tiny plastic storage containers for earrings and lapel pins, and hanging your necklaces and bracelets from the holes in the sides of the baskets.

One idea I used in my daughter's room was to recycle the rail of an old baby crib. I used some large sized aluminum wire brackets (the kind that form a half circle and attach to the wall at each end) to secure the rail to the wall. Then I used some decorative ribbons to tie her stuffed animals to the rail so they would always be on display and she could still take them down to play with them.

You could use this same idea to hang your belts and scarves instead of stashing them into little plastic tubs or tie your stuffed animals to it. It can also be used to hang dresses, if attached high enough on the wall. Just use some pliers to turn the hook of wire hanger to make the dress hang flat against the rail. You can wrap the wire hanger in yarn or tie some old shoulder pads to the hanger to prevent rust stains on your clothes or hanger impressions on the shoulders.

Your room, as small as it is, has tons of potential storage space. Use your imagination and get creative with your space. You'd be amazed at what you can store in an awkward room.
I am looking for ideas to decorate a small master bedroom.
By hjasso05 from Fontana, CA
---
Most Recent Answer

By Valerie05/30/2009
I to have a small bedroom. About 12 x 12. Light colors for the walls always works great. Not white. Hang your curtains higher and wider than your windows. Make your bed your focal point of the room by using some really pretty bedding. I used double box springs to raise my bed and it added some depth to the room. Easy on the wall deco it starts to clutter up the space. Also, less furniture is better. If you have room in your closet for your chest of drawers, that gives a little more walking room. I actually eliminated our chest and found a 4 drawer storage unit that actually holds a whole lot more at Home Depot. It is in my closet. I have a ton of ideas. Feel free to ask!!