This Japanese paper folding art can be used to create beautiful decorations. This guide contains origami craft ideas.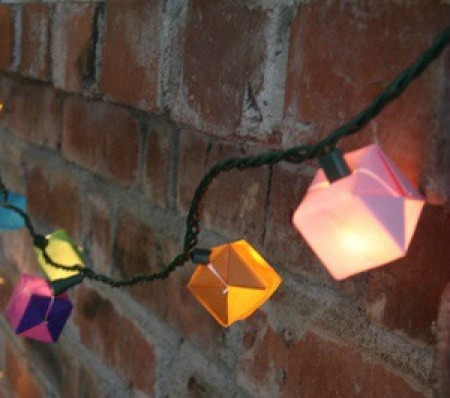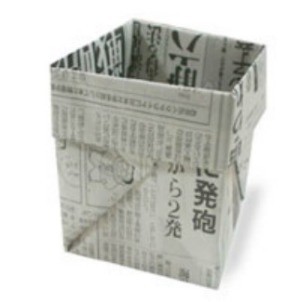 Another neat way to recycle newspapers is to fold an origami garbage bin!
I have only managed to make one so far. Because I don't subscribe to the local newspaper, I made mine from an advertising poster. You can sometimes get free movie posters at the video rental place, they have them rolled up in a basket behind the counter here and are FREE for the asking!
VERY handy little useful origami. If you have a cold your tissues could be thrown there and the whole thing discarded to prevent more germs! In the kitchen it would be handy for peels if you can't compost them! In the craft room or in the CAR! The possibilities are endless!
This is a simple origami flower made from paper. Kids can make this with their parents, too. It's great for gifts and party decorations.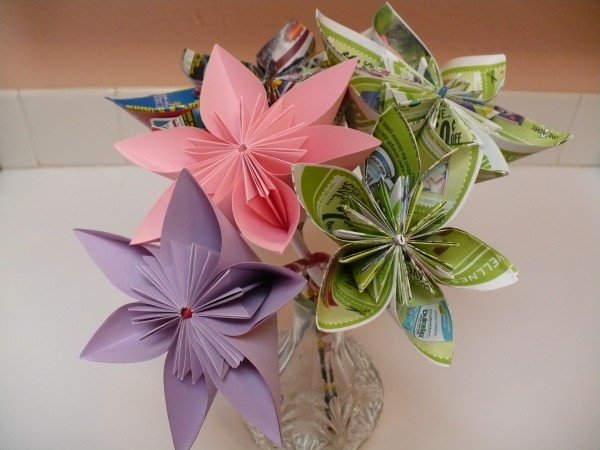 The long known art of origami has always seemed sort of mysterious to me so I decided to learn a few simple shapes to give to my grandchildren in their Easter baskets or for Valentine's Day and I am sharing a couple of them.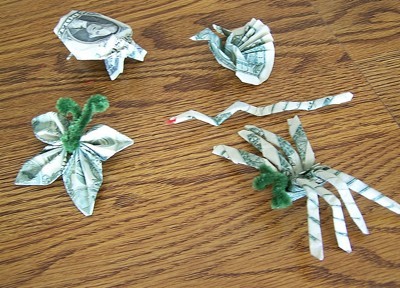 Approximate Time:
Supplies:
2 $1 bills
3" chenille stem
lots of patience
Instructions:
Dollar Bill Butterfly
Begin by folding the narrow ends in to meet in the center of one bill. The other bill fold the narrow ends in toward the center, but leave a space in the middle the same width as your folds. By looking at this bill it will be divided into thirds. See diagram A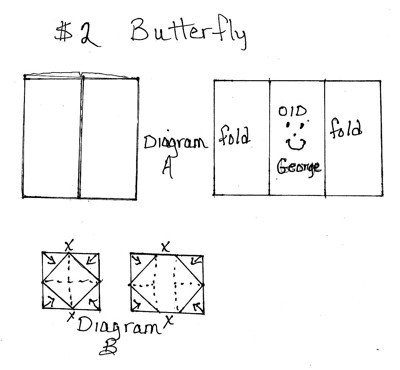 Now fold the four corners of both bills in till they meet in the center. See diagram B
OK, on both bills make narrow accordion folds from X to X. See diagram B.
Place both bills together at X and center your chenille stem, tie and shape for antenna.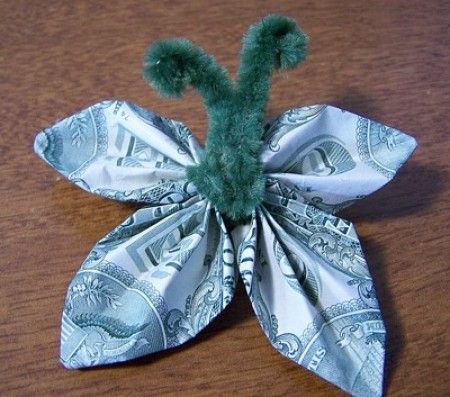 In the photo, you will see a spider which was hard to make. Also, a snake and a turtle (mine didn't look quite like I wanted, but you can get the idea) and the swan and butterfly.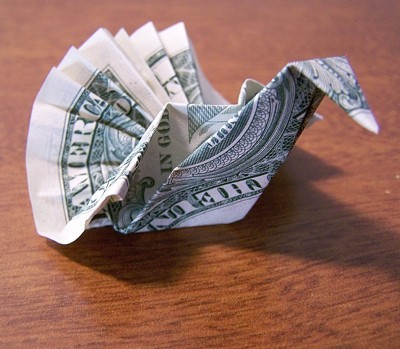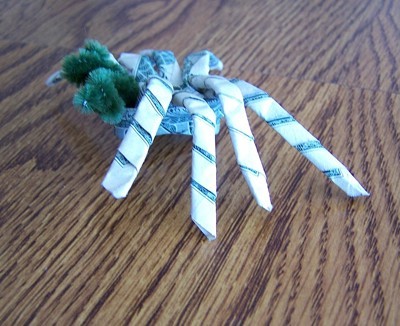 There are a lot of sites with free instructions if you want to try your patience.
By Ann from Loup City, NE
Origami Basket
Here is another wonderful paper craft from Maricel.
Click Here to download a PDF with step by step photo instructions for making this origami basket.

View This Page
This page is not on ThriftyFun, but we had to share it. Be sure to come back and rate it.
Stella Rivét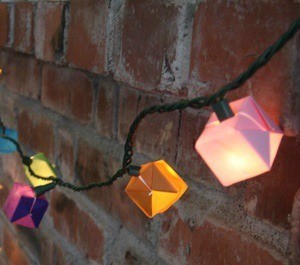 This is a great way to embellish your lights at anytime of the year. These do take some time, but if you get the whole family working on them, they can make nice decorations for your summer parties. Because they are paper, keep them out of the rain.
Supplies:
3 inch square origami paper, or wrapping or other paper cut into 3 inch squares
white LED Christmas type lights (regular small lights could be used, but the LEDs burn very cool and use very little electricity. If you use regular small Christmas lights, check to make sure they don't get too hot.)
Instructions: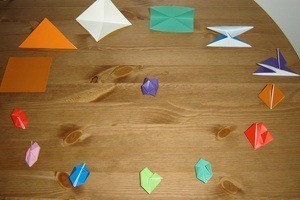 See the pictures for each step in folding your little box light cover.
Fold the square paper diagonally into a triangle with the color side of the paper on the outside.
Unfold and fold diagonally the other direction with the color side of the paper on the outside again.
Unfold and fold in half into a rectangle with the color side of the paper on the inside.
Unfold and tuck the two ends inward inward toward each other along the folds you have already made.
The remaining steps are hard to explain, but the pictures will show you what you are supposed to do.
Fold each flap up on an angle. Do both flaps on the front then flip the paper over and do both flaps on the back. The end result is a diamond.
This is the end result of step 5.
Align the diamond so the slit goes vertically up the front. Fold the two sides of the diamond in to the center slit. Flip the paper over and do the same to the back. The end result is a kind of hexagon.
Steps 8, 9, and 10 are best performed together. Do all three steps with one flap of the paper, then repeat with the other three flaps. First, unfold the flap which was folded in step 7 and instead fold the flap down as shown below.

Next, fold the end of this little flap back toward the center.

Finally, tuck the little flap you have made into the pocket formed by the flap created in Step 7. You can see how it looks with one flap tucked in below.

Repeat steps 8 through 10 on each of the three other parts of the paper.
You will see a little hole at one end of the paper. This is where you blow to inflate the box. Blow into the end of your box, inflating it and making it box-like. It sometimes helps to shape the box with your fingers a little to square up the corners.
Once you have your boxes, stick the end that you blew in over the light and make some more. Get the whole family involved to make a nice party string for your summer parties.
By KIM HOGGAN 30 46
This is a simple, but pretty, way to display your toilet paper. It adds an extra special touch when having guests over.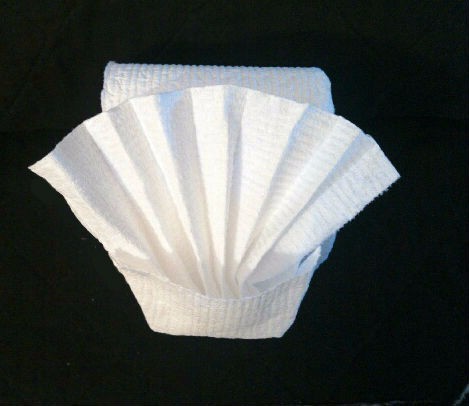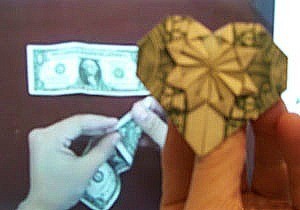 When were were at a Chinese buffet, I noticed several Origami hearts clipped over a glass at the checkout counter. The little Chinese waitress handed one to me to see. It was so neat!
On one side, you can insert a coin (no idea why, other than as a weight if you use it as a bookmark?), the back side clips over a page, but it's so neat. I traded her $2 for 2 of the hearts. I've been trying to take a picture of it, but it keeps turning out blurry. Here are instructions on You Tube.
Ariela from Jax, FL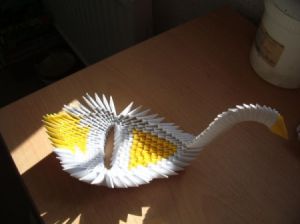 Where in the UK can I get a project book for 3D origami or Golden Venture Folding?
By Cliff L
---
Most Recent Answer
Here is a very simple pin cushion. Use the lidded box origami fold instructions and make at least one or the other, top or bottom of the box.. Use a felt scrap to fit down into the box, rolled and snuggly tucked in. You could place a piece of peel-n-stick magnet tape or glue in an old advertisement magnet into the lid.
I made only the bottom of the box (as pictured) from recycled kitchen cardboard that I doodled on the brown side of. Use whatever colors you have scrap of or choose colors to suit your mood! I hung a little craft punch lizard by the tail off the side of mine for fun!
By melody_yesterday from Otterville, MO
Long ago and far away (when I was in college), a guy that I was dating gave me an origami flower (it was 3D and had a 3D pyramid in the center - I think there were 4 or 6 3D petals). Does anyone know how to make this flower or other 3D origami flowers?

Thanks!

Heather from CT
---
Most Recent Answer
By Alyssa Lair 2 17
I was going to give my brother money for his birthday, and decided to do something besides stick it in a card. Here are some web sites describing how to fold dollar bills into interesting forms. Since I have never done origami, it will be interesting to see how it will turn out!
This one has lots of different origami diagrams.
By Alyssa from Mo

View This Page
This page is not on ThriftyFun, but we had to share it. Be sure to come back and rate it.