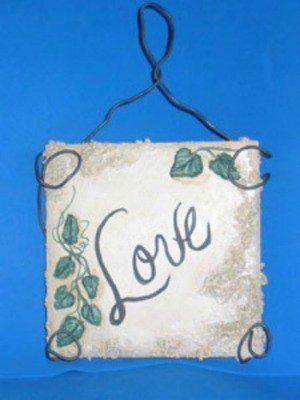 A friend of mine gave me ceramic tiles she had left over from her bathroom. She knows I paint on anything that stands still! Word Art is so popular right now. I decided to make the tiles look like stones. They can then be hung individually or in groups.
Supplies:
4x4 inch ceramic tiles
adhesive tile grout
enamel craft paints
script paint brush
stiff black wire
wire cutters
needle nose pliers
optional-strips of felt/craft glue
Instructions
Using a plastic disposable knife, apply grout to corner edges of tiles. How much you put on is a personal preference. Let dry until hard.

Paint entire top surface of tile with enamel paint. I usually use a darker shade to add depth to the crevices of the grout. Let dry.

Paint tile again with a lighter shade. This time, do not push paint into tile crevices, just brush over the top. This leaves the dark to add depth. Let dry.

You may need more coats depending on how thick your coats are. Make sure the center surface is smooth for the words.

Take the tile grout and put small blobs in a line, smashing them on with your finger. These will be your leaves. Before these dry, take a toothpick and shape into leaf shapes. Use toothpick to "draw" veins in leaves. Let dry.

Paint leaves. (You can add shadows around leaves if you desire.) Paint the vines to connect the leaves to each other. Let dry.

Paint words of your choice with script brush.

Optional: you can spray with satin finish for more protection.

For Hanger: Cut a 24" piece of black wire. I usually buy this by the spool at the hardware store. It's much cheaper than the craft store. A spool usually costs about $3.00 and lasts me for a couple of years!

Fold wire in half and make a loop for the hanger by twisting a couple of turns. You should have two ends, one for each side of the tile.

Place tile on top of wire and bend loops around the top corners of the tile from back to front. Push these down and they will hold the tile.

Take remainder of wire and fold under the bottom corners of the tile coming back up on top with a loop to hold the bottom.

Optional: you can glue felt strips on the back to protect your wall from the wire.
By Artlady from Edmond, OK
August 25, 2008
0

found this helpful
This is a great idea! I like simple crafts that don't require too many "ingredients." The only item I need for this is grout, because we have lots of white tiles we took off our bathroom wall (that is, the ones that hadn't fallen off already!), and I have paint & wire on hand. Thanks for the inspiration, Artlady!
August 28, 2008
0

found this helpful
This is a very cute idea. I make alot of mosaic tile things and I was kind of getting burnt out on them a little bit but I still have a garage full of old tiles so this will be a very cute idea for making Christmas presents. I always make all my presents and I can't wait to get started
Thanks
Jackie
September 8, 2008
0

found this helpful
I've seen this done, but didn't fully understand the best way to do it. Now, how about for the outside of the home, such as on a piece of polished granite? Any ideas?
God bless you. : )
September 9, 2008
0

found this helpful
Lynda, I'm not sure how tile grout would hold up on polished granite. I would think it would because it's kind of like concrete when dry. You'd need to be sure to use the enamel paints for outdoor use. I'd put on several coats of clear sealer on top of it all. If it's something you could re-do as it weathers, I'd try it! Good luck.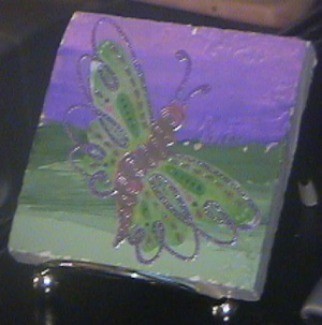 I received some tiles as a free sample, they were about 2"x2". As you can see they were just plain white. I did a stencil painting on one and on the other I painted then added a pretty butterfly sticker. I had another that I decoupaged on but my mom loved and it's at her house. I bought a little gold easel from Walmart for .58 cents. The tiles were free, I already had paint, stencils, and stickers so all this craft cost me was the .58 cents for the easel.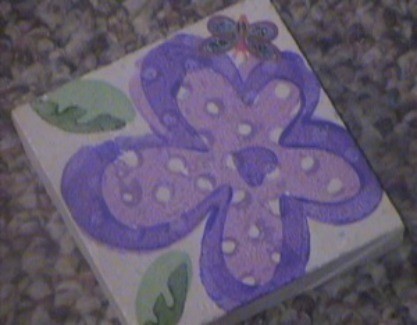 By Christi from Paducah, KY
July 23, 2008
0

found this helpful
how adorable
July 24, 2008
0

found this helpful
Do you know what else work's on plain tiles, are stencils that rub off. You can paint the tiles if you want to first, then put your stencil on and make sure you varnish or use a clear gloss finish for instance Dresden Clear Glaze. It will protect your art and also it will give it a shiny look. Also you can use tissue paper, scrapbooking paper and wrapping paper and just decoupage them right on to your tiles or walls.
(To continue your pattern). I have bought some vallium paper (scrapbooking paper) and I am going to try to decoupage my light switches and outlet covers with this paper with something that either sprays on or I can paint on plastic to protect the covers. The pattern is almost a perfect match with my cannister set and if you want to buy fancy covers like this each plug or outlet cover will run about $15.00 or more per outlet. That is highway robbery to me! Of course everything these days is highway robbery to me! But your tiles are beautiful and you obviously are talented. I am not, so I will be rubbing away on my stencils. My kids seem to have all the art talent! Good Luck and have fun. Darlene
July 25, 2008
0

found this helpful
You did a beautiful job. Love these. I wish I was talented enough to do such a thing. How exactly to you decoupage tiles? I am a little (ok, alot) stupid on how to do this. Is there any special paint, stickers, paper, etc that you use?
July 25, 2008
0

found this helpful
I used Mod Poge decoupage and then I just used pretty torn peices of paper, stickers. You put Mod Poge on first then whatever paper, sticker you want to use then put more decoupage on top of it. I dries clear and also seals your tile. Not on the ones on here but on the one I made my mom, I just tore pretty paper that was on the front of a magazine, hydrangeas, and decoupaged a strip of it on there, then I used some pretty green scrap booking paper and some stickers.
You can use anything paper or sticker. I had some stools once that weren't looking too hot and I painted the legs colorful colors for kids and the top of the stool, the seat part, I decoupaged with letter stickers, put the kids names on them. I am not particularly talented, just look for pretty stuff you like and glue it to something, lol.
July 29, 2008
0

found this helpful
Thank You! Sounds easy enough. Could even let my DD help with this to decorate some things for her room.
December 7, 2009
0

found this helpful
I love these. They look great, but could either the painting or the decoupage method be used to turn tiles into trivits for hot pans? Do you think they would hold up to the heat?
I went to a craft show years ago where a woman used small tiles to turn painted fingerprints into art designs on the tile. She then fired them in an oven and we took them home. I now have kids of my own and want to do this craft with them but can't find any instructions. I don't know what kind of paint to use or how long to bake in my oven. Can anyone help or give ideas?
August 1, 2008
0

found this helpful
You can buy kits in a good craft store. My granddaughter received one as a birthday gift and she made the loveliest coffee mug for her Mom for Christmas. The kit came with all the necessary supplies. She was 8 at the time (11 now) and did it all herself except for using Grandma's oven. It was very easy. For more serious projects, try a search on the internet.