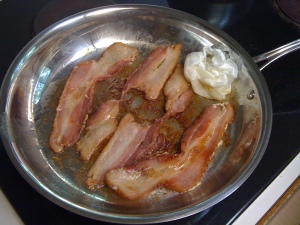 When you cook bacon on the stove, you can stop the splatter of grease on your stove and your hands and arms by putting a wadded up paper towel in the pan with the cooking bacon. The paper towel will absorb the excess grease as the bacon cooks. Add a second towel if you need to. When the bacon is cooked and the pan and the grease cooled; remove the towel and throw it away. I have been doing this for many years, and it never fails.
By Lizzyanny from Pacific Northwest
August 11, 2011
1

found this helpful
I save very drop of bacon grease I can to cook with. Yes, I know it isn't good for you. And I don't use it every day. Mom always said "Eat what you like, only not much of it " So when I make green beans, sauerkraut or cornbread, I use bacon grease...can't beat it for taste.
When cooking bacon , bake it in the oven for less shrinkage and save the bacon grease in the fridge in a covered container. GG Vi
August 11, 2011
0

found this helpful
Gosh, I would have thought something like that would catch on fire! I will have to try it. I hate the mess that bacon splattering makes on my stovetop.
August 11, 2011
0

found this helpful
That's a good point Eric. Bacon grease has a flash point (the temp at which it ignites) of 450 degrees. It has to be very hot and smoking to catch fire. Any oil or grease can be overheated and smoke or catch fire. I don't cook bacon at a very high temperature. I am not sure why anyone would cook at a temperature that would cause grease to catch fire, but it is a good thing to be aware of. Bacon grease heated above 450 degrees will catch fire with or without a paper towel. Thanks for you input.
August 11, 2011
0

found this helpful
You can also flour the bacon slices before cooking them and it helps with shrinkage and doesn't have as much grease. Good way to stretch out the bacon, old trick. Some may say you should not eat the flour and the grease, but, what is bacon besides 90% fat. It's the flavor people crave.
January 16, 2014
0

found this helpful
The problem with that is some toxin chemicals are used to process paper towels and could be transferred to yor food. I'll pass on that one.
For perfectly crisp bacon that doesn't make a huge splattering mess in your kitchen, add a tablespoon of water to your pan after placing the bacon inside. The water will render the fat, keeping splashes at bay, while the heat continues to crisp your bacon well after all the water has evaporated.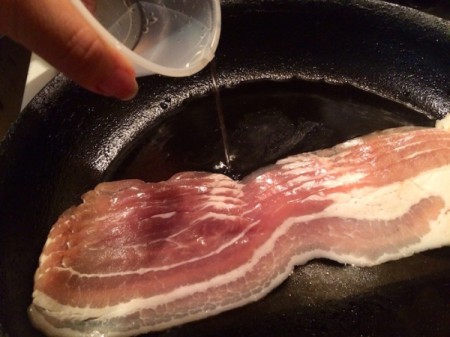 July 13, 2014
0

found this helpful
This is a great idea. But, if you are making bacon for a large group or to make ahead, you can't beat baking your bacon. On a rack in a cookie sheet, place the bacon close to each other, across the direction of the rack.
Here are all the tips you need.
July 6, 2004
3

found this helpful
Take a piece of bacon (not frozen) and dip it into flour, coating both sides, then fry as usual. Flour gives it more body and makes a beautiful crust. An added bonus is that the grease doesn't pop when frying, and shrinkage is less.
By Jen
By guest (Guest Post)
July 6, 2004
0

found this helpful
We have a large family, so a good helpful hint when you have to cook a lot of bacon, or time-saver, is to bake it on a cookie sheet in the oven. It comes out crispy and very good.
March 12, 2011
0

found this helpful
The cookie sheet works great and if you use parchment paper the sheet is very easy to clean.
March 12, 2011
0

found this helpful
Ooh.. Sounds yummy! I have to try this, if only to prevent the splattering.
March 12, 2011
0

found this helpful
That sounds really good! Here's how I do mine, on a plate I put a double layer of paper towels, layer of bacon (around 5 or 6 slices), layer of paper towels, layer of bacon, layer of paper towels etc. Microwave until done. The bacon is crispy yet tender when done and you've soaked up all of the grease on to the paper towels. There's no greasy splatter because you put paper towels over the top and no greasy clean-up in the kitchen. I'll never do bacon any other way (besides now coating in flour. ;) Thanks for the great idea!
July 29, 2005
2

found this helpful
I keep a shaker, with large holes, filled with flour beside my stove. When I'm frying bacon, I sift some on the bacon in the pan. The bacon does not swivel up or spatter as much when frying. The bacon goes farther because it lies flat. It's much neater too when making bacon, lettuce and tomato sandwiches. I also sprinkle some on squash and okra when I'm frying it because I like the crispness it gives.

By Martha
March 1, 2005
0

found this helpful
Robin is absolutely right. And for the rest of the grease that will shamelessly throw itself at you, you hold your potlid in front of you like a sheild. Poking the bacon occassionally with a meat fork can sometimes show it who's boss. But if you're new - don't push your luck.
March 21, 2005
0

found this helpful
When frying bacon, add some celery leaves to the pan. The bacon won't spatter!
By Stacie
March 21, 2005
0

found this helpful
To prevent bacon grease from spattering - use your oven. Simply lay bacon slices in a jellyroll type pan or cookie sheet (you needs sides to collect the grease) and bake at 350 degrees for 12-15 minutes. You can turn it over halfway through, but I have found it not really necessary. Crispy bacon, no mess.
July 29, 2005
0

found this helpful
If you sprinkle a little flour into your pan before frying bacon it will help to absorb some of the grease and keep you from getting splattered!
By Robin
January 27, 2013
0

found this helpful
That sounds like a good ideal. I do my bacon a lb at a time, sometimes 2 lbs, in the oven and it keeps in the fridge with a quick warm up in the microwave. My Mom always frys hers, so I will pass this on to her.