Keeping this shiny decoration on material can be a challenge. This guide is about preventing glitter from falling off clothing.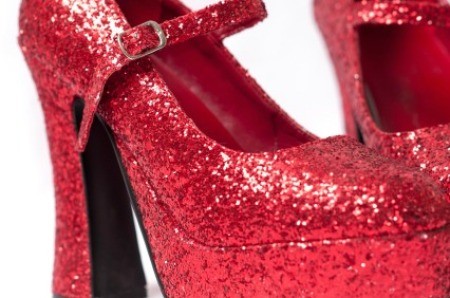 By pikkymama 1 4
Is there a way to stop glitter from coming off evening gown? There is a spiral type design with glitter on it throughout the gown. After getting up from sitting, there is glitter all over the chair. I've only worn the gown once because of this problem.

Pikkymama
---
Most Recent Answer
By guest (Guest Post) Flag
August 24, 2008
Thank you Dyan and Darlene both for your suggestions. I haven't lost a lot of glitter - it falls off a little when I walk and leaves a little glitter behind after sitting. The design is thin spiral type lines with glitter throughout the gown. I can hardly wait to see Phantom - I heard it was excellent. We're going to Las Vegas to see it. I have worn out the VHS already from watching the movie so much! I now have it on DVD. Thank you for telling me how much you enjoyed it Darlene. It'll be fun. Pikkymama
---
I bought some shoes with glitter on them and the glitter comes off. What can I put on them to stop it?
By Melissa
---
Most Recent Answer
September 15, 2013
I've been reading about putting decoupage glue on items after you glitter them - tools, etc. Should work on shoes! Let me know if you try it?
---
I wore my sister's dress to homecoming. It's the type of dress that has glitter all over and sparkles. But when I was dancing, a lot of the glitter came off of the butt and I have no idea how to fix it. Does anyone know a way to fix a dress like that?
By K.H. from Cottonwood, AZ
---
Most Recent Answer
By Elaine D. 10 23 Flag
September 28, 2011
I think you just might save the day with a bit of fabric glue lightly brushed on the areas where the glitter is gone. Use extra fine glitter and gently dust it over the glue and let it dry. This just might work but of course when wearing any garment the glitter is bound to come off. There is also a fabric glue especially for glitter that can be purchased at the craft stores. I've used this method when painting and dec orating sweat shirts and it's worked well.There are many colors and types of glitter so choose carefully to get as close a match as possible.
---
Is there a fixative for fabric to keep glitter from falling off excessively? I have a mother-of-the groom dress with an empire waist. The cloth above the waist has glitter threads throughout. It sheds glitter easily.
A friend suggested I buy a fixative to spray on it to keep most of the glitter from falling off. I have a few concerns: 1) would the white cloth turn yellow? 2) would the fabric feel tacky after the fixative dries? 3) would sewing alterations be made difficult, or would the needle on the sewing machine become gummed up?
By JLW
---
Most Recent Answer
By Karen H. 10 140 Flag
June 12, 2011
How about spraying a little unscented hairspray on it? You can always spray a light cologne to get rid of the alcohol smell in it. And it Is sticky & cheap! Good Luck. : )
---
By Lynda M. 1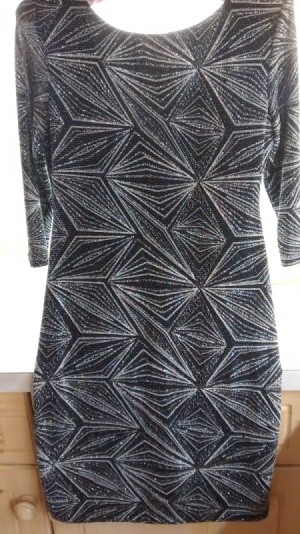 How do I stop glitter from falling off my dress?
By Lynda M. from Leeds
I have a dress that has glitter on the waist up and on a jacket. What can I do to keep the glitter from falling off? I do not have a photo of the dress.
By Doris
I have a dress for my son's wedding and I would like to know how to keep the glitter on, without it falling off.
By Doris
How do I stop the glitter from coming off of a ballgown with a very full skirt, I have purchased for my daughter's wedding?
By CB from Calgary, AB
I recently purchased hats covered with glitter. The glitter falls off the hats and is everywhere! Is there something I can spray on the hats so the glitter stays on the hats and off everything else?
By Sally V.