Recycled containers of all sizes and shapes can be used in crafting projects. This is a guide about recycled container craft ideas.
I am a person who cannot keep up with her belongings. Let me hasten to remind you that it is not age. I have always been a scatterbrain and I have watches, umbrellas, and car cups scattered all over. I can't make a watch or an umbrella, but I have come up with a freebie car cup. Older people in Houston need a ready supply of water during at least 10 months out of the year.
I took a large plastic mayonnaise jar and a bendy soda straw and voila! a car cup. DH drilled the holes in the plastic jar lid since he doesn't like me playing with his power toys. He drilled one hole for the straw and one for water displacement. If I lose it I have a ready supply of jars and straws on the shelf.
By MartyD from Houston, TX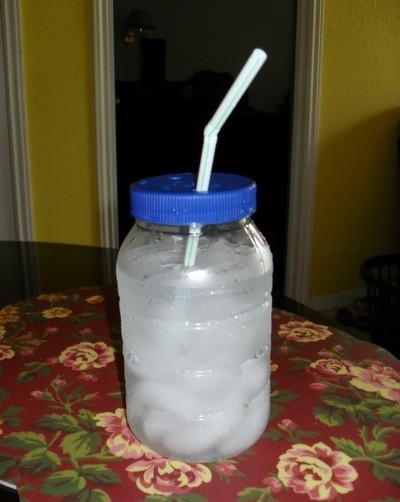 When a friend got some cherry tomatoes, it hit me this container looked like the mini terrariums from the 70s. All sorts of things came to mind, but I can't grow anything but mold so the next best thing was a faux terrarium. I was at the dollar store and saw these cacti and thought how cute that would be.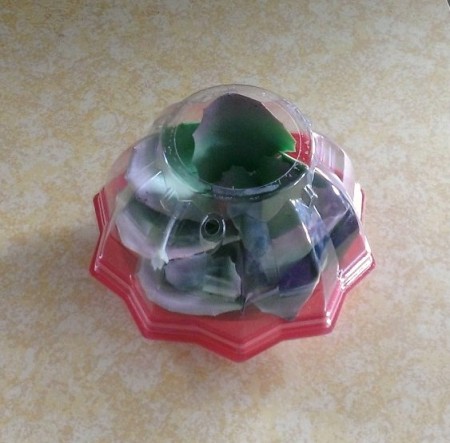 Just clean the container, cut down the whole plant so the stem is gone, then the other so the leaves are separate. I just placed them where I thought they would go, snapped on the lid and no one is the wiser!
This tip costs $1.00 and is fun for kids to do. Some real mini plants would do well in these too.
N-JOY!
Source: Never seen it but have seen faux flowers done this way.
Link: N/A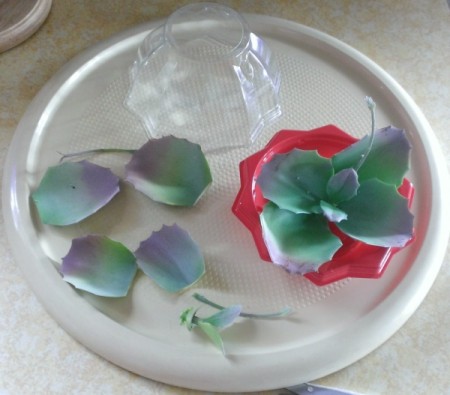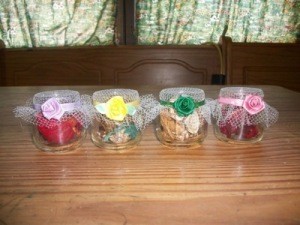 An easy and inexpensive craft to make for mom for Mother's Day.
Approximate Time: 15 minutes or less
Supplies:
baby Food Jar (2.5 oz.)
tulle
rubberband
potpourri
ribbon
flower or bow
hot glue gun
hot glue
Sharpie marker
dip container lid
scissors
newspaper
Instructions:
Cover your work area with newspaper. Fill a clean baby food jar with potpourri.
Use the dip container lid as a stencil. With a Sharpie marker, trace a circle around the dip container lid on the tulle. Make sure you have newspaper underneath the tulle. Cut out the circle of tulle and put it on top of the baby food jar.
Wrap the rubberband around the top of the jar to keep the tulle in place.
Hot glue ribbon around the top of the jar to cover up the rubberband and then hot glue the flower or bow on the front.
I made these as a little gift to give each woman in our church for Mother's Day. My sister gave me the baby food jars. The tulle came from wedding decorations that were going to be thrown away. I saved the rubberbands from my Sunday paper.
I made about 65 jars and only paid for the potpourri. It was $1.00 a bag at Dollar General and I used 3 bags. I had a bunch of small ribbon flowers that I bought at the Goodwill in a bag of crafting supplies. These jars cost less than 22 cents each to make.
These would make good gifts if you were having a mother/daughter dinner before Mother's Day. You could sit a jar at each table setting.
They smell wonderful. But if you have allergies like me, you might want to take an allergy pill before starting this craft if you're going to make a bunch.
By Dana from Normaville, PA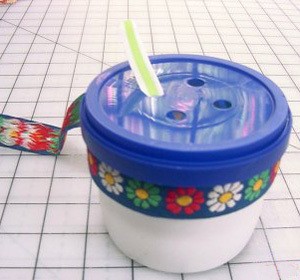 Try this idea for a quick, inexpensive way to organize and dispense elastic, ribbon, twine or yarn.
Approximate Time: 15-30 minutes
Supplies:
Heat-in-the bowl soup container
Ribbon or paint or paper or fabric
Craft glue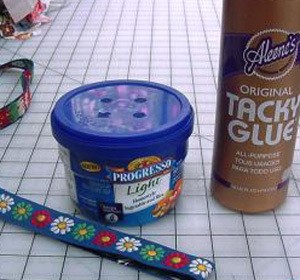 Instructions:
Empty your soup container, wash and dry it. (I use containers from Progresso soup but any variety that offers a plastic, snap-on lid will work.) I remove the paper label that covers the outside of the container.

Attach a length of cute ribbon around the upper edge of the container using craft glue. You could choose to paint the outside or cover it with paper or fabric.

Roll elastic into a loose ball. Make the ball small enough to fit inside the container. Thread the loose end of the elastic though one opening in the lid and attach the lid back onto the container. You can then pull out the required length of elastic needed for your project and snip with scissors.
This container works equally well to dispense ribbon, small balls of yarn, or twine!
I sit the container inside a drawer on my sewing cabinet. My elastic is contained (rather than tangled up in other sewing supplies) and is always close at hand when needed.
By Pam from McMinnville, TN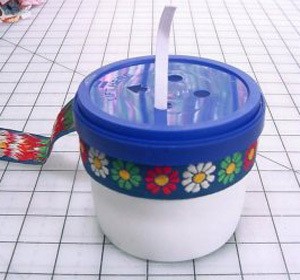 If you cut a circle out of a butter container lid, and then cut a 'U' shape inside of it, it will act like a temporary clothespin.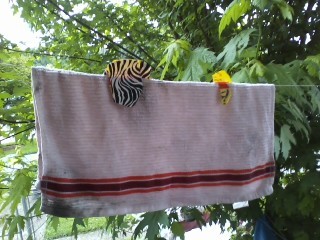 It is a lazy, rainy day and I didn't have any clothespins. I put duct tape on one side of it.
I am going to use a different type of plastic next time, since the paint will come off the butter container lid sometimes, depending on what kind of butter/margarine it is.