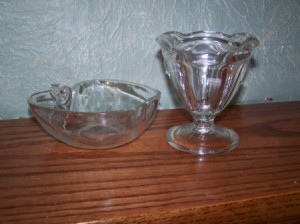 Mineral deposits and detergents can build up on glass and result in an ugly white film. This is a guide about removing cloudy film on glass.
Ad
---
Solutions: Removing Cloudy Film on Glass
Read and rate the best solutions below by giving them a "thumbs up".
To clean old windows that have a cloudy film, use Easy Off oven cleaner or any other that has LYE in it. Wet the window pane with wet cloth and spray oven cleaner over area. Leave set a minute or so and wipe off. If the film is not entirely off then repeat or leave on a little longer. I got this tip from a professional window washer. He also stated that a fine steel wool and straight ammonia will also remove the cloudiness from window panes if it isn't inside a double insulated window.

By Lorelei from Georgetown, OH
Give a "thumbs up" to the solution that worked the best! Do you have a better solution? Click here to share it!
Questions
Here are questions related to Removing Cloudy Film on Glass.
I have a small, old glass bowl that was my mother's. I would like to know how to clean the whitish film from it. I have tried using vinegar and hot water with no success and wonder if anyone can help me. Perhaps a baking soda mixture may do the trick? Thanks for any help you may be able to give to me.
By fanceefree
AnswerWas this interesting? Yes No
Ad
---
---
Most Recent Answer
By Janene [1] 05/12/20090 people found this helpful
Use LemiShine from Walmart. Works in dishwasher. Great stuff. Got the film off all of my dishes/glasses so now I use it all the time. Look for it with the dishwasher detergents.
---
I got a really great deal on a 40 gallon aqaurium setup. I have noticed the tank glass is cloudy, and need some solutions to properly clean the glass. I have tried vinegar and warm water without success. I would really appreciate any help.
AnswerWas this interesting? Yes No
Ad
---
---
Most Recent Answer
By Cassie [20] 03/24/20110 people found this helpful
The aquarium that I got from my sister had the cloudy look and rings in it and I took just plain baking soda and scrubbed the glass real good and it cleaned right up and rinsed real good to be sure I got all of the baking soda out.
---
I bought some clear bowls from the thrift store. They are really nice, however they have this film on them like they have been sitting in the cupboard for years. I have washed them in the dishwasher, used CLR on them, soaked them in hot vinegar and I still have a film although it seems to be getting better. Does anyone have another suggestion? I really like these bowls, but I guess I always have the alternative of throwing them away. Help!
By AnnMarie G.
AnswerWas this interesting? Yes No
---
Most Recent Answer
By Susan Mickelson [6] 03/26/20120 people found this helpful
I have used denture cleaning tablets to clean up glass vases/glasses and such. If the bowls are glass, try this. If they are etched, maybe a glass polishing and good washing would improve them. Good luck. I have many "treasures" from thrift stores. Love them!
---
Our new clear glass table top, has a cloudy stain on it after we had dinner on it one day. The problem is this stain is unremovable, I've tried a razor, lighter fluid, nailpolish remover and nothing has budged it. Has anyone ever experienced anything like this before, or do you have any solutions?

Thanks,
Helene
By helene
AnswerWas this interesting? Yes No
---
Most Recent Answer
I have tried soaking clear glass dishes and tumblers with vinegar and water, and that took off a little, but there is still more on them. Any ideas?
By Judith