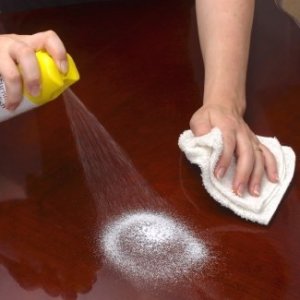 Those wonderful furniture polishes can often leave a dull buildup. There are methods and products you can use to remove the buildup and restore the shine to your furnishings. This is a guide about removing furniture polish buildup from wood furniture.
Ad
---
Questions
Here are questions related to Removing Furniture Polish Build Up from Wood Furniture.
I've received my great-grandparents beautiful dining set. However, there is a lot of wax build up that is showing rings. What is the best way to remedy this situation? Mayonnaise has not helped.
By Maile
AnswerWas this interesting? Yes No
Ad
---
---
Most Recent Answer
By gbk 45 368 10/22/20120 people found this helpful
Get some Ivory liquid dish soap and a wash cloth. Do small areas at a time and dry each spot before going to the next. U will find it will be a lot lighter in color because the wax has darkened over the years with the build up. You can also buy Fornby's furniture restorer and that will remove the old wax. I found it expensive before the job was done so weigh you choices.

You may also try paint thinner on a non showing spot and see if it will remove the wax like you want with less work and expense. Don't take it to a refinisher as he will dip it in a caustic stuff that weakens the glue joints. A favorite with some so called antique dealers. Personnaly I like the soap method and have done 4 dining room sets this way over the years....no mistakes this way.

This picture is l/2 table top I did this way over 20 years ago and when I finished cleaning it I put 7 coats of Tung oil on it and for the past 3 years it has been a ramp from my living room to the carport for my wheel chair and still like new..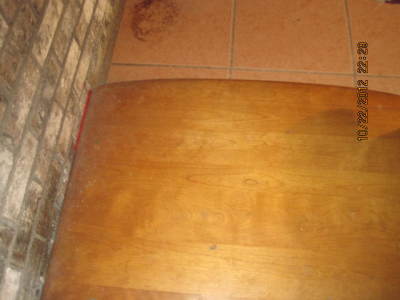 I purchased a dining table at a garage sale. The table is dark brown. I do not know what was used on this table. I have tried vinegar, and ammonia and nothing seems to take off the wax or whatever was put on the table. When I try to put a finish on the table it is like it beads up. Without knowing what was put on the table do you have another suggestion? It doesn't matter what I try to put back on the table it does not take. Help!
How do you remove furniture polish build up naturally?
By Lorraine
I have table I have only used beeswax on. Someone, who shall remain nameless (!), has been using cheap spray polish on it which contains silicone. Can I go back to using beeswax?
By Gillian Bristol, UK
What is the easiest and best way to refinish furniture? It needs to create the least amount of mess as I need to do it in the basement. I have used Strip-ease in the past and it makes such a mess. As help is appreciated.
By Maureen
How do you remove furniture polish buildup?
By Rose from Lake Wales, FL
How do I remove old furniture polish from a wooden table?
By Brian from Auckland, NZ
Solutions: Removing Furniture Polish Build Up from Wood Furniture
Do you have knowledge about this guide topic? Feel free to share a solution!
Archives
Thrifty Fun has been around so long that many of our pages have been reset several times. Archives are older versions of the page and the comments that were provided then.
To remove polish build-up, mix 1/2 cup vinegar and 1/2 cup water. Rub with a soft cloth that has been moistened with solution but wrung out. Dry immediately with another soft cloth.

By Peggy
I have 3 wonderful wood tables in my living room but they are sticky. I think it is polish build up. How con I get rid of the stickiness and then give them a good polish?

Lucy from Mexico
Feedback:
RE: Removing Furniture Polish Build Up
This is for polish build-up, and also people that have wood cabinets or paneled kitchens that have accumulated grease over the years.

3 parts linseed oil
1 part turpentine.

Use a 000 (triple zero) fine steel wool and lightly clean it. Wipe with a soft cloth to polish. It takes off everything, and I mean everything.

It doesn't damage the finish and also moisturizes the wood. It smells a bit, so make sure you have ventilation. Spring time with the windows open is great, and it just takes a few hours for the odor to go away. I have never used this on a painted surface, so I don't know if it will damage paint. This is meant for finished or unfinished natural wood only. (02/22/2005)

By klucretia
I have over polished my dining table. It has now gone cloudy and smeared. How can I make it look good?
By Emma B from England
Feedback:
RE: Removing Furniture Polish Build Up
Equal parts vinegar and water and if that doesn't work (because of way too much polish build up) try Murphy's Oil Soap. (11/28/2009)

By Deeli
How do you remove furniture polish build-up from a wooden dining room table?
By Tracy from Phoenix, AZ
Feedback:
RE: Removing Furniture Polish Build Up
My mother-in-law had some old nasty furniture that was not only covered with excess furniture polish after many years, but she was also a heavy smoker, so it was also covered with nicotine. To clean it, I used straight ammonia (with the windows open!) and left the ammonia to sit for a few minutes then repeat again if needed. After the furniture dried I applied Old English scratch-repair furniture polish then buffed it with a soft cloth.

When my mother-in-law came home to her newly fixed-up house she thought we had bought new furniture. It looked so nice she couldn't believe it was hers. And all I used was ammonia and Old English scratch-repair furniture oil. (Both available at any super market.)

* Use regular ammonia, not the sudsy kind and rinse well, then let dry before applying the Old English. Old English scratch-repair comes in dark and light. Pick the color that matches your furniture. (02/15/2010)
RE: Removing Furniture Polish Build Up
I would not use ammonia. I do much furniture refinishing and will often times use ammonia to remove varnish. Ammonia often times takes off a finish for me. The furniture Cyinda cleaned must have had a finish on it, that ammonia doesn't remove. Please be very careful using ammonia to clean furniture. You could have a bigger problem on your hands! (02/18/2010)

By skf620
How can I remove furniture polish build up from my cherry tables?
By Beth from Cookeville, TN
Feedback:
RE: Removing Furniture Polish Build Up
I had this same problem with my wood nightstand. I used Guardsman Wood Furniture Cleaner. It may make your furniture appear dull so use Guardsman Wax Free Furniture Polish. Now my nightstand looks amazing, even better than when I got it (then again someone gave it to me), but it still looks amazing. (08/20/2010)

By kiwipie97