Read and rate the best solutions below by giving them a "thumbs up".
Hard Water Stains on Windows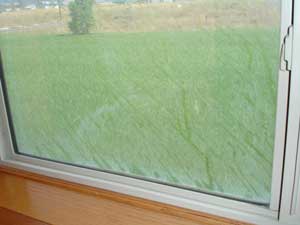 At my model home, the irrigation system sprays the windows and the storm door on the front door. They are all covered with hard water stains. I know Whink will work but I can't find it in my little neck of the woods. What else can I use that won't harm the brass tone trim or the vinyl sash? I have oxy cleaners and The Works. Will either of those work? I have several spec homes with windows that need to be cleaned so I am looking for the quickest and easiest cleaning solution.
Thanks,
Tracy from Twin Cities, MN
Vinegar and Water
Use 1/2 cup white vinegar added to 1 gallon of water. Just mix and apply with soft rag or out of spray bottle. I wear rubber kitchen gloves, as this can be hard on your hands. If the hard water spots are stubborn, I just use straight vinegar. Be sure and wear rubber gloves. By Gladys Hill (07/29/2006)
By moderator
Dishwashing Detergent
Powdered dishwashing detergent with jet dry. I used to use for the cleaning houses on the beach. Salt water spray is a pain to clean as well. (07/31/2006)
By Especielle
CLR and Lime-Away
I've used CLR and Lime-Away. Lime-Away worked the best. I squirted it at the top of the window and used a soft cloth or squeegee to distribute, waited a few minutes and washed off with a hose. This also worked on my daughters car when she parked to close to the sprinklers and got hard water spots on her door and windows. (08/01/2006)
By SweetCali40
Oxyclean Warning
I have a warning about OxyClean: Always use rubber gloves. It ate my hands and feet with a single layer of liquid splashed on them. It put our friend on the critical list at the hospital. It almost destroyed someone's toes. It is hydrofluoric acid, or something that strong, and there is nothing to help except from the hospital, and the damage is so painful for over six months! The chemical works, but requires more than careful usage and safety if used on things one touches with the skin. Good luck and god keep you in his care. (08/13/2006)
By Lynda
---
Hard Water Spots on Windows
How do you remove hard water spots from windows?
Manette from Park City, UT
Lime Away
When I would help my uncle clean his outside windows they would be covered in hard water because his sprinklers were constantly hitting them when he watered. No matter what he tried nothing seem to work until I tried good old Lime Away and the problem was solved.Use old newspapers and the spots should disappear,you may have to do this a couple of times if the spots are really caked on like my uncles were as his windows got a lot of the sun and the spots were baked on.
By celticwench
---
Hard Water Spots on Windows
How do I get hard water stains off a window? The sprinklers hit it and there is a mark.
Karen from Florida
Vinegar
I just used the pure vinegar on my windows and it worked great! I have been living here, in the Twin Cities area, for two years with cloudy, water spotted windows. Thank you for the tip!
By Michelle
Colgate Toothpaste
I just tried Colgate toothpaste (the white kind) and it worked great. Squeeze a little on a paper towel and add a little water. Apply it as if you were waxing a car. Then clean it off with window cleaner. Perfect results.
By Chris
Bring-It-ON
Try Bring-It-ON water spot remover. It's a paste that you wipe on, leave on for a few minutes to dissolve the minerals, and wipe off. Invented by a gal that got tired of trying things that didn't work!
By donrowlett
Tekon "b"
I called my brother that works in a glass shop and he told me to use Tekon "b." I tried it on my glass windows and it removes the waters spots, and the windows look good. It's supposed to last over a year without reapplying. I swear this product is good. It works like a charm. I lightly clean the windows with a mix of 1 part rubbing alcohol and 4 parts water for maintenance.
By Sandy
"Hot Sauce"
We use this stuff that we use on our boat, it's called "Hot Sauce." It's kind of expensive, but worth it. Not one window or shower door has hard water spots. It's also meant for fiberglass, so it won't damage your showers.
By Amy S
Glass Stove Top Cleaner
I used glass stove-top cleaner. It worked great.
By Linda
Vinegar
I live in Las Vegas, NV and the water here is very hard. The sprinklers had sprayed my brand new sliding doors and the water spots covered the complete bottom areas of both doors. I read this page and decided on the vinegar w/water solution. Together with a Magic eraser and scrubbing, the spots were gone! Amazing something so simple! I had tried Windex, shower cleaner, and nothing. It did take a couple of applications of the vinegar solution, but it was well worth it! Happy cleaning.
By Carlota
Stove Top Cleaner and a Brillo Pad
I used glass oven top cleaner and a Brillo pad. Wish I had known about this trick a long time ago.
By Ted
Whink
I work on a private yacht, therefore spots are a common thing with all the salt water/negligent crew previous to me. Obviously the darn thing has to look perfect so here's my secret:
Use Whink. I put some on a rag and rub it in a circular motion on a 12" by 12" square. I rinse and soap once a square is done and keep going. It's important to rub it good so it looks even because at first whink will sort of stain the window, so rub in well until it looks even (elbow grease needed here). Once the whole window is done, soap it again, dry and put two coats of rain x on it.
By David
Vinegar Worked
Tried elbow grease, various window cleaners to no avail. Used full strength white vinegar and they were instantly gone.
By ESL Barbara
"SCOTCH BRITE Cook Top Cleaner."
My wife recently (April 2010) bought a box (about the size of a milk carton) of a product called "SCOTCH BRITE Cook Top Cleaner." It consists of a pad with an ergonomic handle and 6 pre-moistened pads that attach to the bottom surface of the pad, almost like Velcro. But you can use both sides of each pad. And you'll find they go a long way.
Here's the process:
1) Clean the window with regular window cleaner to get regular surface dirt off.
2) Apply the SB Cook Top Cleaner using the provided handle. You'll have to apply some elbow grease, but not nearly as much as the steel wool technique requires. It has a flat pad, so it works great on house windows but I believe it will work on curved car windshields as well.
3) The SB pads leaves an oily film behind, so you'll need to clean your windows a second time to remove that film.
By recrem
---
Hard Water Stains on Auto Glass
There have been a lot of great answers for how to clean shower glass, but I'm concerned about how some of these suggested cleaning agents will react with rubber and auto paint. So I want to ask what people have found effective and safe for getting rid of hard water stains on auto glass. Thanks.
Daniel from Ocala, FL
Coca-Cola
Try a can or two of Coca-Cola poured directly over the windshield. Wash the car afterward just to be safe. I have done this several times to no adverse effects.
By Dedeswrkshop
Hand Sanitizer
Use hand sanitizer. The spots will come right off and it won't hurt car interior. I use this on my car interior, steering wheel, and dash.
By ashleybunkin
MX-7
I live in Hawaii and used a product called MX-7 (for glass) on an old truck that had years of hard water spot buildup on all the exterior glass. It took the hard water spots off with little elbow grease. When my son bought a place in Las Vegas a year ago, I looked all over the valley for this product but couldn't find it. I finally found it at one of the local hardware stores (Ace). They just started carrying it.
By Russ808702
---
Removing Water Marks on Windows
I have water marks on my windows and can't seem to get rid of them. There is also a substance that I think is paint, but I am not sure. I have tried vinegar window cleaners, but with no results. I would appreciate all ideas. I just moved into this house and am a fanatic about clean windows .
Elizabeth from Santiago, Chile
Newspaper and Alcohol
I have used newspaper and a sprayer full of alcohol or alcohol and water with excellent results to get smoke haze off the inside of car windows and smoke haze is hard to remove! It should work on the windows, or try vinegar and water instead. As for the paint, get a widget; hold the blade at about a 45 degree angle to the glass and push it toward the paint dots, should scrape them right off. Just be careful!
By purrplekat
Doobie Pad
I had something that sounds similar on my windows and had to resort to a Doobie pad. It's a nylon scrubber with a sponge inside. I used various window cleaners and just scrubbed until all the spots were off then cleaned as usual with clean cloths. I don't like using newspapers, but many people swear by it.
By Glenn'sMom