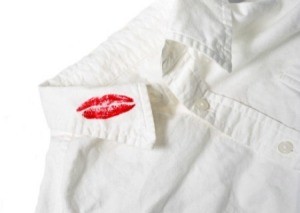 Lipstick leaves an oily waxy stain on clothing that can be difficult to remove. This is a guide about removing lipstick stains on clothing.
Ad
---
Solutions: Removing Lipstick Stains on Clothing
Read and rate the best solutions below by giving them a "thumbs up".
If you get a lipstick stain on your clothing, try pretreating it with cold cream or shortening. Then rub a little grease fighting dish detergent into it and launder as usual.
If Mom has makeup, even only for rare occasions, the lipstick will one day become the lip, face or clothing smear (of course only on the children's best clothing, not the play clothes which could go easily in the rag bin). It may also become a stain on the most obvious spot in the whole house, in the middle of the living room carpeting.

Lipstick On Carpet: Take a small amount of Skin so Soft and a soft rag and gently work it into the rug, gently not rubbing it deeper into the fibers, this can be dabbed until little is left and a good spot cleaner can remove the residue left behind.

Lipstick On Face: For the beautiful faces of lipstick, a soft wash cloth and skin so soft will do the trick without the tale tale clown look left for days.

Lipstick On Clothing: Spray or pour a small amount on the clothing, dab lightly rub, and launder the former reminder for years away and no one will no the lipstick culprit had struck again.

By Shelley
Give a "thumbs up" to the solution that worked the best! Do you have a better solution? Click here to share it!
Questions
Here are questions related to Removing Lipstick Stains on Clothing.
My daughter's first communion was yesterday and someone got lipstick on the front of her dress when giving her a hug. The dress says it's 100% polyester and can be washed in cold. She has to wear it again soon for pictures. How do I get the stain out?
By Marilyn from St. Charles, MO
Ad
---
---
Most Recent Answer

By Glenda04/21/2010
I've had great luck using hair spray. Just saturate the area, leave on for a couple minutes, then rinse. Repeat as necessary. It works on ink too.
I got red lipstick on a white silk dress, how can I get the lipstick off?
By furch from CA
Ad
---
---
Most Recent Answer

By Sandy [5]08/30/2009
Victoria's Secret sells a product specifically for lipstick and other oils on lingerie. I think it was $10 but a little goes a long way and it really does work.
Sandy
I have white jeans stained with lipstick in the dryer. How do I treat the stain?
By Vivian
---
Most Recent Answer

By sarah bajan [1]10/09/2012
Try adding warm water with detergent and see if that helps.
I dropped a lipstick on a white shirt and now I have a huge mark. How can I clean it off? I haven't done anything with it yet.
By Colleen M
---
Most Recent Answer

By eric02/12/2012
I've removed lipstick (and other oil and wax based) stains from my cotton and cotton blend dress shirts by doing the following. Will it work on other materials or your stains I can't say.
What you need:
Good old fashion Rubbing (Isopropyl) Alcohol
Liquid Dish Soap (amazing Dawn works well)
A clean cloth or two (face cloths works well)
How:
Wet a section of the cloth with alcohol
Blot stain with wet section of cloth. Keep blotting using clean wet cloth sections until stain lifts (large stain do in sections)
Next blot the area with some liquid dish soap and
Launder.
Keep in mind
Read the care tag on the shirt (Dry Clean Only - take to your Dry Cleaner)
Never Rub - Blot Only
Longer the stain has been - the harder to remove
If the shirt and stain has been laundered it may be too late
Never use hot water or heat dry the stain.
If all else fails, and as a last resort you may want to (and as crazy as this sounds) replace the Isopropyl Rubbing Alcohol with "WD-40".
How do you get lipstick out of a white, gauzy nylon blouse?
By Cindy
---
Most Recent Answer

By joan [6]09/04/2011
I watched a gal use plain white toothpaste to remove lipstick from a synthetic dress.
How do I remove a lipstick stain from my clothes? It was in my kid's pocket and transferred in the dryer to everything! Please advise.
By Sara M.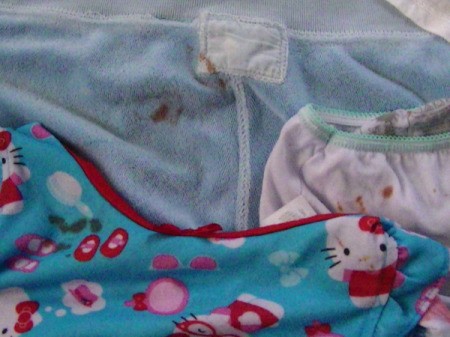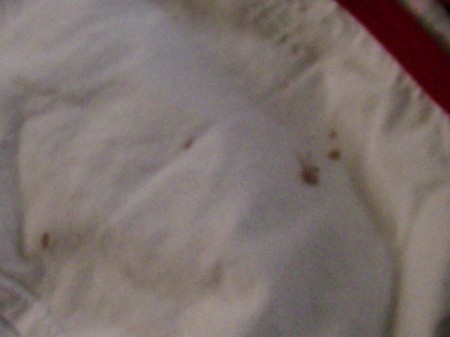 ---
Most Recent Answer

By am-am [1]06/22/2011
I would say try to boil water when its boiling pour it into basin and mix with tide powder and then put your stain clothe maybe the lipstick will come off from your clothe..Sometime my aunt do this way and it was working for her.
How do I wash lipstick out of a full load of clothes that got lipstick all over them from the dryer. They are formals and dress clothes and made from a variety of fabrics.
By Tamaria from Tacoma
---
Most Recent Answer

By Grandma J [46]03/06/2011
You have to consult the dry cleaners on this if you don't want to screw it up. My granddaughter just did this to my clothes and dryer. A scented and dyed lip gloss. I had to use Amway Trizyme, Amway SA8 in the washer on hot water to remove it.
How do I remove red lipstick from leather?

Nancy from California
---
Most Recent Answer

By marieaa65 [2]05/28/2006
Wipe it clean with WD-40. Won't hurt the purse.
How do you remove lipstick stains from clothing?
By Ronie
Archives
Thrifty Fun has been around so long that many of our pages have been reset several times. Archives are older versions of the page and the feedback that was provided then.
How can I remove lipstick stains from clothing?
---
Lipstick Stains
To remove lipstick stains from laundry, rub with petroleum jelly.
By Brenda Cole
Soaking
The best thing I have ever found to remove lipstick (after having washed and dried lipstick in pants pockets--twice) is to soak the stained clothes in a washer full of water with 1 cup powdered dishwasher detergent and 1 cup color-safe bleach. Don't know why it works, but it does!
Post by calnorth
Removing Lipstick and Other Oil Stains From Clothing
To remove lipstick, oil or oil based products - squirt a little Ronson's lighter fluid. That will break down the oil. Then a little soap to break down the lighter fluid. Works on everthing but silk.
I am trying to get lipstick out of white clothes that was washed and put in dryer.
Becka from Danvers, MA
---
RE: Lipstick Stains on Clothing
After getting the bulk of the lipstick out with whatever works, if the red stain is still there, be patient and keep it moist with Creme Perioxide from beauty supply, if a washable cotton. It works but MUST be washed out or it will eat a hole eventually/otherwise. It is the ONLY thing I know of or have found that truly gets stubborn stains out left by bleach and cleansers. (08/02/2006)
By Lynda
How do you remove lipstick from laundered clothing?
Candice
---
RE: Lipstick Off Laundered Clothing?
Buy a bottle of Greased Lightning. It removes all types of stains, even those that have set in from being in the dryer. I would spot test first to make sure it doesn't fade the material but to date have not had that happen. (09/15/2004)
By Patti
RE: Lipstick Off Laundered Clothing?
Be careful with the Greases Lightning. It took the paint right off my house! Usually if the shirt was already put in the dryer, the stain is pretty much set in... you could try putting a dab of detergent or Dawn on the spot and scrubbing it in with an old toothbrush, or maybe try oxyclean. (09/16/2004)
By kimmcg
RE: Lipstick Off Laundered Clothing?
Try washing the items with 1 cup powdered dishwasher detergent and 1 cup powdered laundry detergent. It even works on stuff that's already been dried. I accidently washed a whole load of khakis with a tube of pink lipstick, and this took it out completely! (11/11/2004)
By calnorth
RE: Lipstick Off Laundered Clothing?
Calnorth is a genius! I washed and dried a whole load of clothes with pink lipstick. Soaked it in one cup of powdered laundry soap and one cup of dishwasher detergent (in wash machine with hot water) and it removed all lipstick! Took two soakings, but worked like a charm! Thanks for the help. (05/27/2005)
By Kate
RE: Lipstick Off Laundered Clothing?
Thanks Calnorth, 1 cup powdered dishwasher detergent and 1 cup powdered laundry detergent in hot water works like magic on lipstick on laundered clothes. It saved my whole load of white laundry with Pink Lipstick discovered after dryer. (05/18/2006)
By Guest
RE: Lipstick Off Laundered Clothing?
An even quicker way to get lipstick out of clothes that have been dried in the dryer is to put dish detergent directly on the stains ( I have used Dawn detergent and generic they both worked.) Then quickly rub material together where the stains are. I have done this to about 5 different loads of laundry in the past, some of the clothes were literally covered with red lipstick. Just wash in hot water. It only takes one cycle and there is no soaking involved. Clothes come out without a single trace of lipstick! (06/12/2006)
By floridabelle
RE: Lipstick Off Laundered Clothing?
I had a few pieces of clothing that put in the dryer with wine colored lipstick. It melted and dried into them. I used Murphy's Oil Soap the original formula to rub on each stain then laundered. It worked like a charm. (07/17/2006)
By pyardy
RE: Lipstick Off Laundered Clothing?
A heavy duty hand cleaner like what painters use they sell at home depot works wonders! (07/27/2006)
By Nicole
RE: Lipstick Off Laundered Clothing?
The shortening-detergent method of removing the lipstick of of Mom's linen skirt worked like a dream. Thanks so much for the helpful information! (08/15/2006)
By M. Rach